Here's What Anwar Hadid's Tattoo's Mean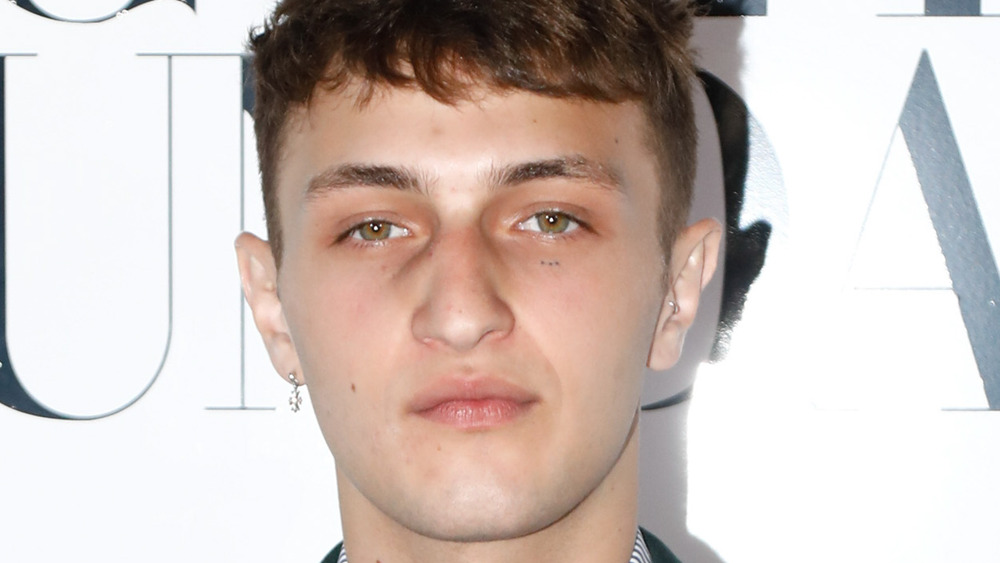 Julien Hekimian/Getty Images
In more recent years it has become a lot more acceptable for people of all professions to have tattoos. This has lead to a rise in the popularity of getting ink, which is increasingly reshaping the industry. 
Surprisingly, even models, who for generations have steered clear of permanently marking their bodies, have started to embrace the tattoo trend. IMG model and social media influencer Anwar Hadid appears to have a full-on tattoo addiction.
Like his popstar girlfriend, Dua Lipa, Hadid is covered in tattoos. As of writing, he has 35 and counting. The recording artist and jewelry designer's pieces are very striking and many even have special meanings. From simple dots to dates and portraits, Hadid has a wide array of tattoo designs and styles. Luckily for his fans, he is fairly open about what his tattoos mean and often shows off his new ink on his personal Instagram account.
Anwar has many religious tattoos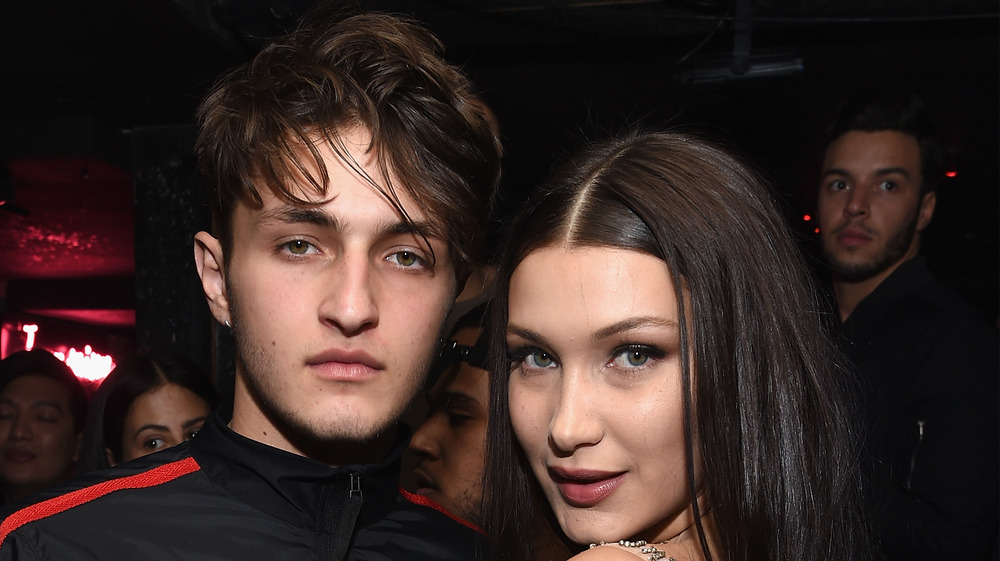 Dimitrios Kambouris/Getty Images
Though Anwar Hadid is commonly believed to be Muslim because of his paternal heritage, he revealed on Instagram in 2019 that he was baptized on a beach in Malibu. His sister Bella Hadid commented on his since-deleted post that their family will "support you (Anwar) thru this journey," which further confirmed that Anwar has converted to Christianity. 
According to Body Art Guru, Hadid has a tattoo on his back with four different bible verses each followed by the phrase "times Gods speed to infinity." He also has a cross tattoo and the words "PSALM 23".
In an interview with Vanity Fair Hadid shared, "I have that tattooed on me—'Same but different'—because I have friends that are Muslim, Christian, Jewish, black, Asian, Arab, white. Everything. We're all brothers or sisters at the end of the day." This sentiment shows that regardless of which religion Hadid practices he doesn't let it define him or his relationships with his loved ones.
He also has many tattoos representing, well, representation
One of Anwar Hadid's most recognizable tattoos is his giant "1999" tattooed just below his neck. This tattoo represents the year he was born. Hadid also has the initials "AH" tattooed on his right hand. The A is in an unconventional font, whereas the H is very traditional. This unique styling supposedly represents the two sides of Hadis's personality: the fun side and the straight-laced side (via Body Art Guru).
Hadid also has a tattoo of the address "2347 E. VALLEY DD." This tattoo was done by the wildly popular tattoo artist Jon Boy. According to Teen Vogue, the address is for a location in Montecito, California, and may lead to one of the Hadid's former homes. On his chest, Hadid also has a banner tattoo with the words "EARLY SALLY VALENTINE" written inside it. This represents his song "Sally Valentine" which he released in the spring of 2019.
Many of Anwar's tattoos feature women and angels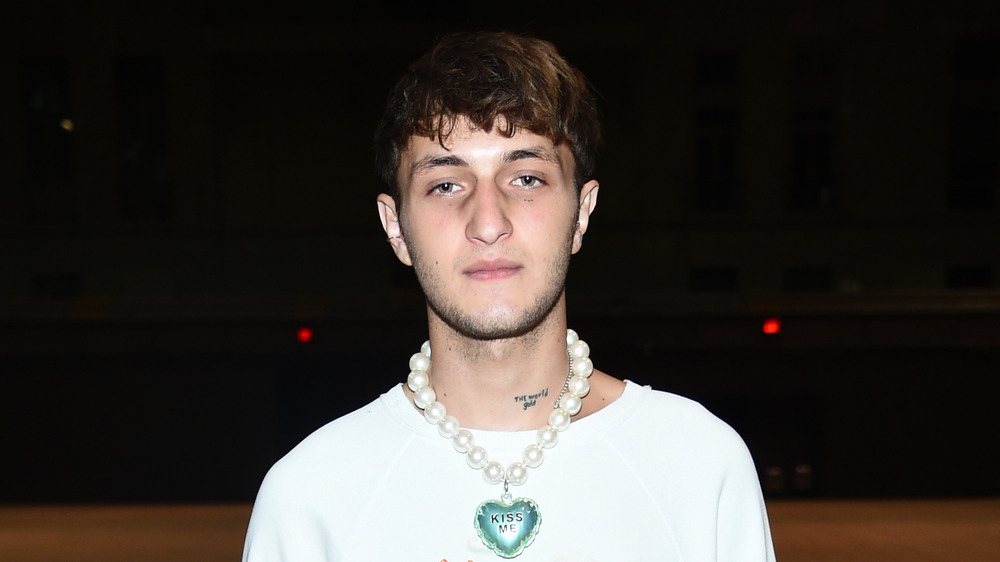 Dimitrios Kambouris/Getty Images
On Anwar Hadid's right side of his stomach, he has a portrait of a nude woman who is holding her clothes in her hands. The front side of his right shoulder has a tattoo of a girl who appears to be thinking because of the placement of her hand on her chin. On that same shoulder, he has a portrait of his mother Yolanda Hadid, with a banner below it that reads "MINE." 
Anwar has another tattoo of a woman's face on the inner side of his left leg. There's another girl's face on the left side of his chest, centered between the words "STORY TIME."
One of his more interesting tattoos is of a couple dancing. The piece is placed on his left bicep and is surrounded by what looks to be a cupid and little angels. Also on his left arm, he has a giant tattoo of a baby boy the has the words "NYC IV" tattooed right near it. Interestingly, Hadid also has a classic heart tattoo on the side of his left index finger. Along with another two hearts on his right leg next to an unidentifiable animal. Hadid also has three separate tattoos of swallows on his body and one butterfly on his right shoulder, which features a woman's face at its center.
Another big theme for Anwar's ink are quotes and numbers
Anwar Hadid has a tattoo on the left side of his stomach that reads "the poet lives on" underneath that tattoo he has a giant "A+" tattoo in red ink, that resembles a grade on a school assignment. On his back he has he phase "the violet flame" and on his neck, he has the quote "THE world gold," which references his jewelry line Martyre.
His right hand features the words "OHM KHABA" and his left shoulder has a banner that contains a poem inside it. Above the banner lies the words "Amor Vicot Omnia," which means "All Lanes of Love" in Latin. Hadid also has a tattoo of the words "ABOUT A GIRL," "WRITTEN," and "THE" in a scribbled font on his right arm and a quote tattoo that says "I LOVE YOU MY ANGEL" on his hand. Maybe a love note to Dua Lipa?
Hadid has a tattoo that reads "AND SO IT IS" in a traditional bold font on his left wrist and inside that same wrist, he has a "3/3" tattoo above a tally marks that add up to five, potentially a marker for the significant March 3 date. On his left middle finger, he has a tattoo with the letters, "CDXX" and a number "22" just below it. Even further down that same finger, he has an "OYL" tattoo which means "own ya light."
All of Anwar's tattoos have a meaning, even the ones that don't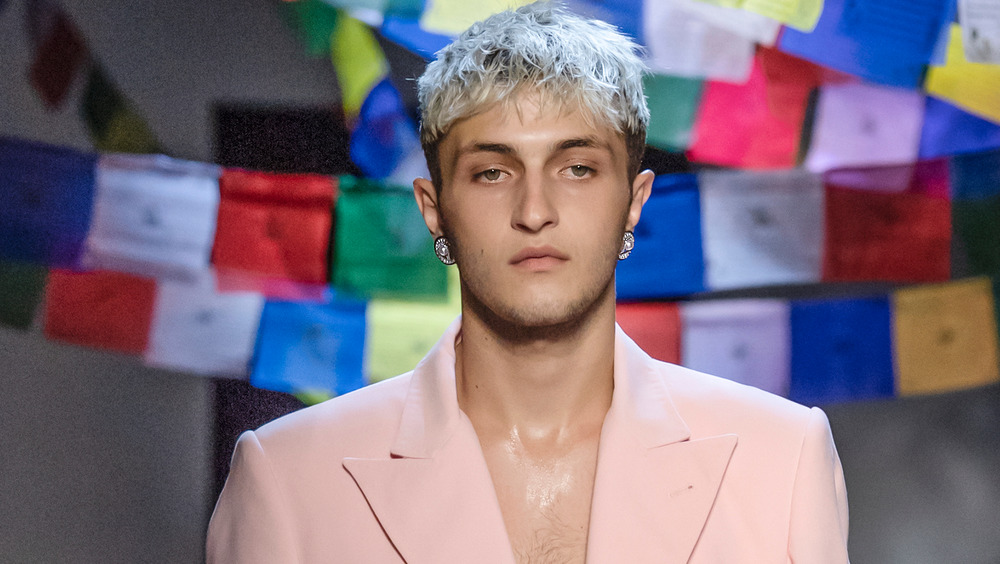 Shutterstock
Though Anwar Hadid loves getting tattoos he has expressed in the past that his tattoos don't always have a meaning behind them. In Hadid's 2019 Vanity Fair interview he said, "I have so many weird tattoos that at one point meant something to me, but no longer do." This sentiment could be about his three dots tattoo under his right eye, the lightbulb tattoo on his right leg, or the mystery tattoo on his hip.
While it's unclear which tattoos have lost their meaning for Hadid, he still appreciates all of his ink anyway. "I find it so beautiful that at one point I could have cared about something so much to have gotten it tattooed on my body," he explained. "I have to respect who I was at that moment. For me, these are reminders — [the way] a scent can be a reminder of a time in your life."