Abigail Heringer Weighs In On The Bachelor Nation Drama - Exclusive
Matt James' season of The Bachelor was groundbreaking for the franchise. It was the first time that a Black man had been chosen as the lead, and the cast of contestants on his season was one of the most diverse in the franchise's history. But despite the efforts, the season became unhinged when allegations of past racist behavior on Rachael Kirkconnell's part began circulating. Host Chris Harrison then weighed in, adding fuel to the fire, and it really seemed like the season had imploded. Rachael was given the final rose by Matt, but the two broke up before After the Final Rose had even aired.
So what was it like for the contestants on Matt's season to watch the franchise deal with such serious allegations? In an exclusive interview with Abigail Heringer, a fan favorite from Matt's season, we asked the questions that so many in Bachelor Nation have wanted answers to. What was it like to experience so much tension? Do you agree with Chris Harrison's departure from the show? Here are the answers you've been waiting for, because Abigail Heringer weighed in on the Bachelor Nation drama.
Abigail Heringer revealed that the controversies within the franchise were 'disappointing'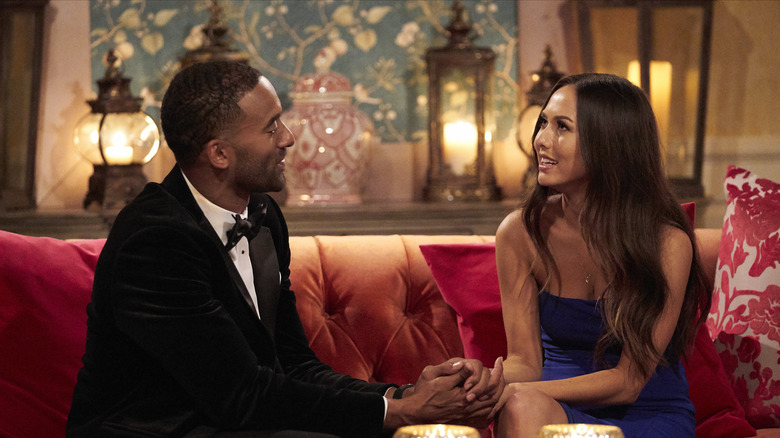 ABC/Craig Sjodin
It was hard to watch as figures within The Bachelor franchise started saying and doing some questionable things. After the allegations surfaced regarding past racist behavior by Rachael Kirkconnell, Chris Harrison doubled down during an interview with former bachelorette Rachel Lindsay, and things just went downhill from there. The drama in its entirety was a lot to handle, but what was it like for the women who competed for Matt James' heart? According to Abigail Heringer, it was "disappointing." 
"You would think in 2021 we are learning, and we should be much further along than the stuff that was coming out," she told The List. "I just hope that people know that not everyone that's associated with the franchise supports that, or even wants to be associated with that." 
In the aftermath of Matt James' season, Chris Harrison has stepped away from the franchise, and it was announced that Tayshia Adams and Kaitlyn Bristowe would co-host the next season of The Bachelorette (via People). Katie Thurston and Michelle Young, both contestants from Matt's season, have been chosen as the new bachelorettes for season 17 and 18 respectively (via People), helping to usher the franchise in a new direction (via Us Weekly).
Abigail Heringer said she's proud to be a part of changing the franchise for the better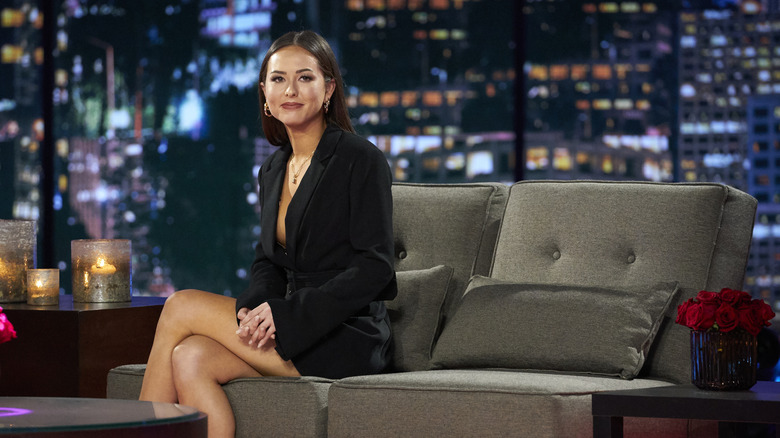 ABC/Craig Sjodin
Soon after the controversy surrounding Rachael Kirkconnell came to light, the contestants on Matt James' season of The Bachelor took to social media with a joint statement that read, in part: "We are the women of Bachelor Season 25 ... We are deeply disappointed and want to make it clear that we denounce any defense of racism." Abigail Heringer posted the statement in its entirety on her Instagram, and she told The List that dealing with drama surrounding Matt's season not only brought the contestants closer together, but encouraged all of them to educate themselves on issues of race.
"A lot of times, people just post on social media, and you're like, 'Well, how am I helping?' I mean it's like, 'Is it performance? What am I actually doing?'" Abigail told us, saying that she supports Michelle Young as one of the next bachelorettes, as well as Chris Harrison's departure from the show. "It's been definitely a roller coaster, not what I thought was going to happen on our season, but I think there's going to be a lot of good that will come out of it," she said.