Master Of Flip's Kortney Wilson Reveals Her Top Tip For Sprucing Up A Rented Apartment
If you're renting a place and want your deposit back, it can feel like you're just stuck staring at blank white or beige walls all day, every day. But don't despair — there is a way to help make a rented apartment reflect your own style without having to resort to paint. And it comes recommended by the one and only Kortney Wilson of HGTV's Masters of Flip. 
In an interview with 29secrets.com, Wilson revealed her recommendation for a budget-friendly and temporary way to upgrade your space: "Right now I'm really into DIY accent walls. I always say that wallpaper's back — not our grandmother's wallpaper, but peel-and-stick products are back with a vengeance. I'm also really into peel-and-stick barn wood — things you can actually do yourself, so you know you don't need to hire a big company to install it where it's thousands of dollars." For an idea of what Wilson's talking about, check out creative sites like Etsy, which has lots of temporary wallpaper options.
Collect second-hand frames to create a gallery wall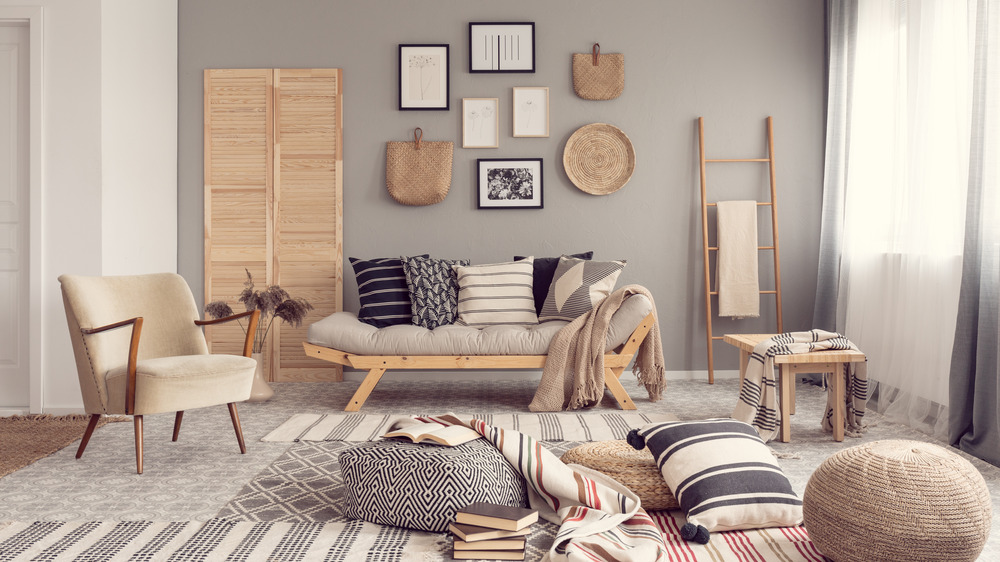 Shutterstock
Making an accent wall of your own isn't just about wallpaper treatments. You can also set up your own gallery wall with a collection of beloved images. Don't just stick photos to the wall with blue tack like it's a college dorm though. And don't worry about the high cost of brand new matching frames. "I love gallery walls and I think one easy tip for people is to just get a bunch of inexpensive frames," said Wilson, "you can go to a second-hand store, sometimes people even leave them in their trash — and you can paint them all one color." By painting them all the same color, even if they're wildly different styles, they will seem like they go together.
Wilson's got another idea for how to bring things together in an accent wall once you've got your frames collected: "Go to the fabric store and buy some pieces of fabric, and just frame fabric." If you're thinking about framing fabric, Tara Reed, merchandising and marketplace manager at Spoonflower, explained what to look for in order to display fabric as art: "Think big when it comes to design scale. The larger the repeat on a pattern, the more natural it looks as art" (via Spoonflower).