Why Jennifer Lawrence's Tattoo Reminds Her To Stay Hydrated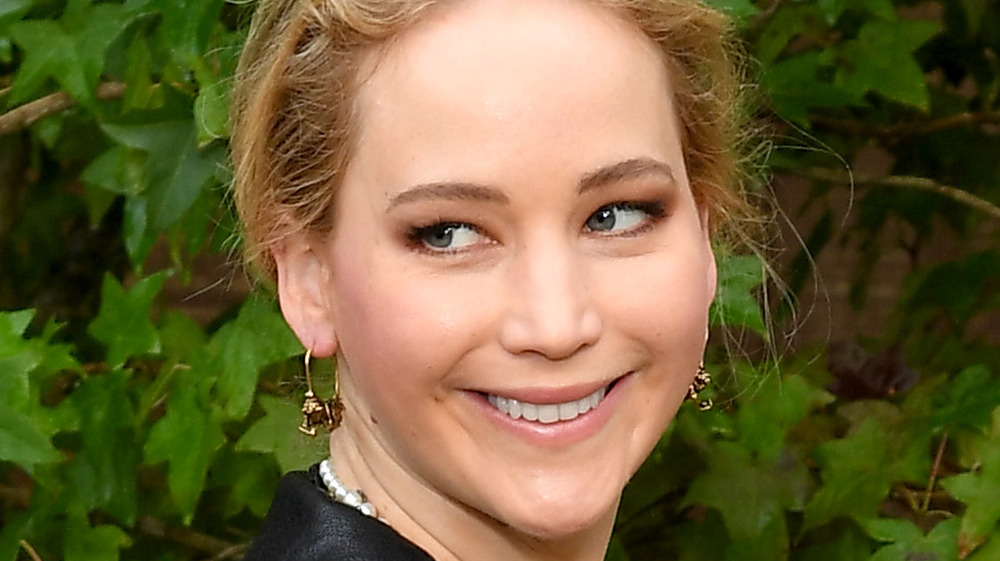 Pascal Le Segretain/Getty Images
Jennifer Lawrence is one of the most prolific actresses of our generation. From her breakout role in Winter's Bone and playing Katniss Everdeen in The Hunger Games franchise to her jaw-dropping performances in award-winning films like Silver Linings Playbook and American Hustle, Lawrence has shown her unprecedented acting chops time and time again. 
Not only can she play any character on screen, but the Kentucky native is one of the most-liked celebs around, thanks to her take-no-BS attitude and relatable red carpet interviews.
For instance, during a 2015 interview with a reporter from HitFix at Comic Con in San Diego, Calif., the X-Men actress got candid about the small tattoo she has on her hand, and shared the story of how she ended up deciding on the one and only tattoo she has on her body. She also explained — with her signature dry humor — why it reminds her to stay hydrated, and why it's the "most unrebellious tattoo" anyone could ever get.
Jennifer Lawrence's only tattoo is of the symbol for water
Jennifer Lawrence got the tat with her Hunger Games co-star Liam Hemsworth and his family, as part of a bonding activity. "You know, I call this tattoo a watered-down rebellion because it's not like a real tattoo," she explained, per Vogue. "It's just like, I was with Liam's family and everybody was getting tattoos and I was like, 'Well, I'm always going to need to be hydrated, so I guess I should just get H20 on my hand." 
While showing off the pink-tinted ink between the thumb and index finger on her right hand, Lawrence added, "And it's the color of a scar, all natural, so it's literally the most unrebellious tattoo that anybody could ever get."
Eagle-eyed fans may notice that Jennifer's H20 tat is actually factually incorrect — but as you can imagine, she already knew that. "By the way, I know that the two is high and in H20, the two is supposed to be low," she admitted. "I should have googled it before I got it tattooed on my body."
The star is in good company when it comes to celebs who've gotten tattoos with mistakes in them, though. According to Insider, Orlando Bloom, Ariana Grande, Hayden Panettiere, and Ben Higgins are among the many celebs with permanent grammatical errors or misspelled words on their bodies — so hey, it happens to the best of 'em!