What We Know About Jennifer Lopez And Alex Rodriguez's Joint Business Ventures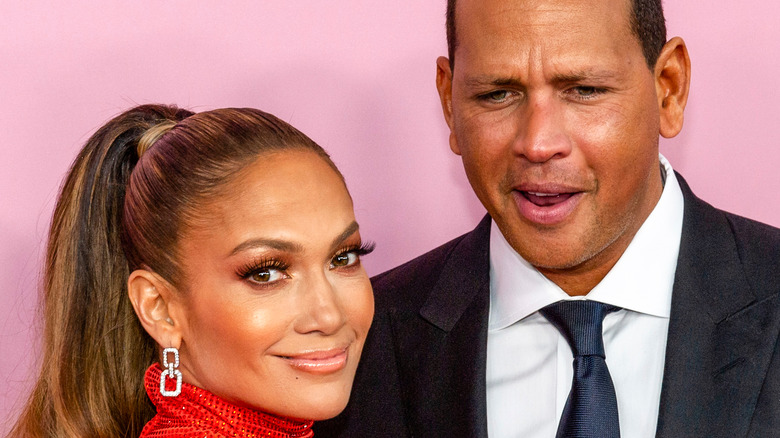 Shutterstock
There have been quite a few standout Hollywood breakups that have shaken the world: Chris Pratt and Anna Farris, Brad Pitt and Angelina Jolie, Ashley Benson and Cara Delevigne, and so many more (via Glamour). But there are those few standout couples that you never think will call it quits, such as power couple Jennifer Lopez and Alex Rodriguez. 
But alas, the duo have announced this month that they are no longer together, making us all question if love really even is real. A-Rod and J-Lo were together for four years and engaged by 2019, but never officially tied the knot despite having planned a wedding before COVID-19 hit in 2020 (via TMZ).
And indeed, breakups are never easy, as the couple is forced to face not only the end of a relationship, but the entanglement of their joint lives – which in A-Rod and J-Lo's case, involves a couple business ventures.
The couple was unable to buy the New York Mets, here's why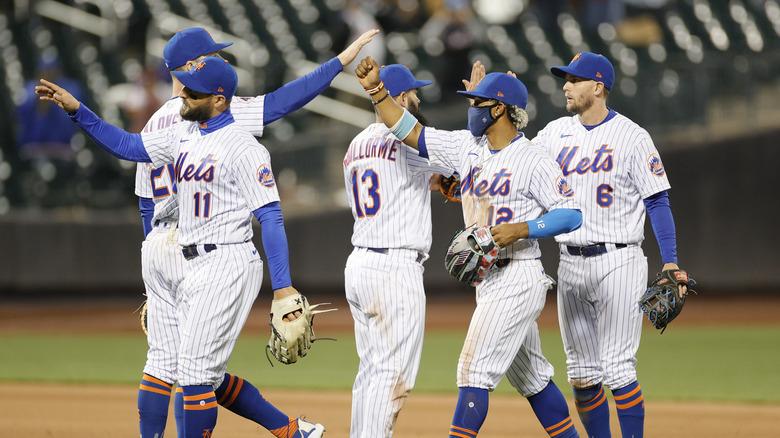 Sarah Stier/Getty Images
A source close to Jennifer Lopez and Alex Rodriguez told People that the breakup was "a long time coming," but the couple's myriad business affairs made the split much more complicated. 
"They are tied in their business worlds so it's not a cut-and-dry breakup," the source explained. "It's taken a while for them to even think about untangling it all."
In 2021, the couple attempted to buy the New York Mets but ended up being outbidded by billionaire Steve Cohen. They weren't too bothered by the loss, however, having been grateful to simply be a part of the process (via Fox Business). However, business associates close to the couple were allegedly quite relieved with how the bidding went, with many saying, "Thank god they didn't buy the Mets," per Page Six. An insider noted, "Even though the deal would have seen Alex and Jennifer putting in their own separate investments, it would have been a huge mess to get out of it."
They have tried their hand in a variety different types of businesses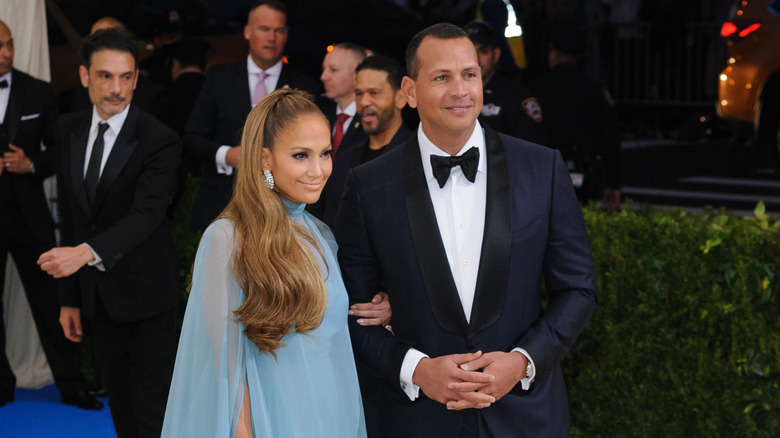 Shutterstock
Further business ventures include self-care company Hims and Hers, which Jennifer Lopez and Aaron Rodriguez partnered with and became investors of. 
Their work with the company seeks to "gives people affordable access to high quality products and doctors, to help you take better care of yourself." In addition, the former couple had begun making moves to join the hospitality industry, allegedly putting $650 million into the development of 20 hotels by 2023 (via the Daily Mail). Per the Miami Herald, the hotels would be based primarily in Miami, New York City, and Seattle, as well as the Caribbean.
"There have been frantic meetings at A.Rod Corp in the past few days about how to divide their assets," another source told Page Six. "Jennifer and Alex were in business together on many business projects and real estate deals." But as difficult as the division of assets may be, many predict that the process should be more simple due to the fact that they never married.