What A Psychic Medium Aura Reader Noticed At Prince Philip's Funeral Procession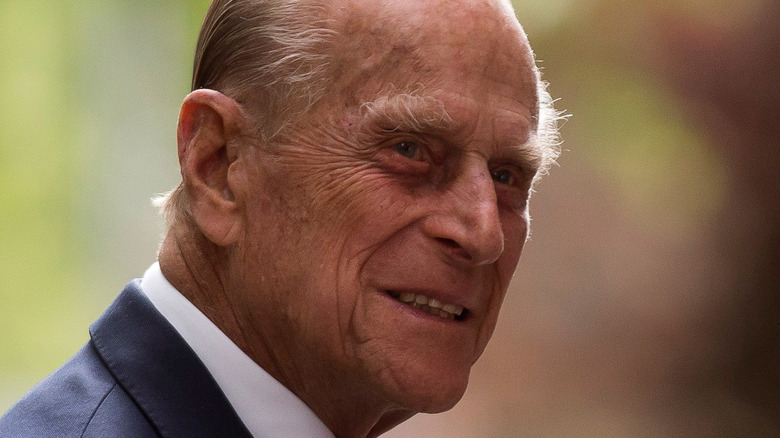 Wpa Pool/Getty Images
Crowds of mourners have gathered outside Windsor Castle and Buckingham palace, despite the royal family's pleas to stay away. All are intent on saying a final goodbye to the late Prince Philip, Duke of Edinburgh. Putting aside for a moment, the very real health and safety concerns that Philip's public mourners have provoked, they are, of course, just one more symbol of how well-loved Prince Philip was.
Celebrity aura reader, psychic medium, and spirit guide, Megan Michaela Firester, sat down with The List to help us decipher the prince's funeral. "Prince Philip had a red and blue aura," Firester, who goes by "Mystic Michaela," told The List, exclusively. "Reds are about leadership, innovation, and above all respect," Firester noted. "Reds love to lead, and [Philip] took a backseat to [Queen Elizabeth's] role as monarch. He led in other ways, in the family, and as an example." Just as Philip was in life, Firester told The List that his funeral had "a very respectful vibration." Prince Philip, per Firester, "was predictable and steadfast. He wanted that shown in this final display of goodbye, and I feel it is. He wanted this about the country and duty, not about him." 
How Prince Philip's children are taking their father's funeral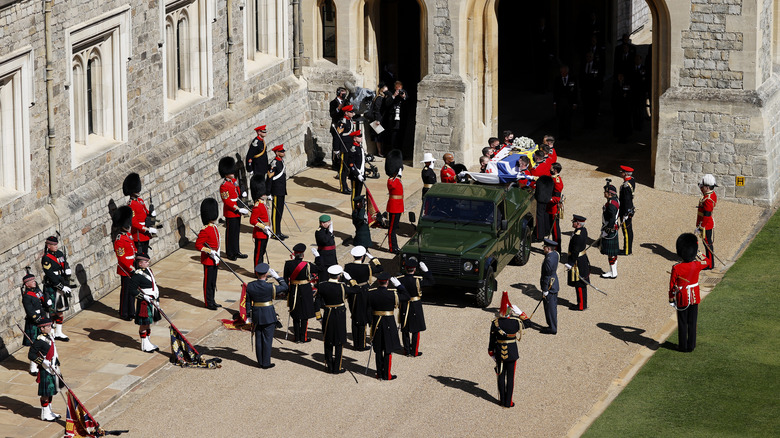 Wpa Pool/Getty Images
If the Duke of Edinburgh's funeral, as a ceremony, was duty-oriented and respectful, some of the prince's children are having a hard time remaining stoic. Prince Philip's son, Prince Andrew "is green and purple and looks as if he is trying to completely disappear from view," as per what Firester exclusively told The List. Meanwhile, his brother, Prince Charles, seems to be trying hard to put on a brave face. His aura, according to Firester, is "blue and purple, but he wears a lot of inauthentic green," a result of the royal having had "to absorb ideals which weren't exactly his own throughout his life." During his father's funeral, per Firester, Charles may be "feeling strong now," but he's also detached, and "feeling sad at the same time." His wife, Camilla, is visibly struggling. She "feels very displaced and nervous," Firester observed. That is largely due to her yellow aura, which makes her hyper-vigilant to detail. Formal, royal ceremonies like these "take her back to her origins in the family," Firester explained. This, in turn, makes her "insecure."
But, of the prince's four children, Firester told The List that it's Princess Anne who is most visibly shaken. "Princess Anne feels devastated," Firester explained. "She has a green and blue aura. I feel her father was her best friend and her confidant." Firester said that the princess's aura is also distressed. "Her blue is very muted and watery, her green is very faint. She feels completely awash in grief."