Sharon Osbourne Has Something To Say About Prince Harry
Wpa Pool/Getty Images
Prince Harry might be grieving the death of his grandfather, Prince Philip, but that hasn't stopped media pundits from attacking. On the eve of the Duke of Edinburgh's funeral, Harry readied to navigate no-doubt complicated family dynamics, prepping to see his brother, Prince William, for the first time after moving to California. Sharon Osbourne, meanwhile, gave her first public interview after leaving The Talk. 
In a tell-all with Bill Maher, Osbourne insisted that she was "hurt," "angry," and would not put up with being called a "racist" (via Rolling Stone). In between a rampage on "woke" culture, the reiterated defense of her friend, Piers Morgan — along with his refusal to believe Meghan Markle's explosive story about her mental-health struggles while she was a working royal — Osbourne found time to lash out at Harry. "You know when they say white privilege? You know, right there with Harry. Right there. He is the poster boy," Osbourne fumed (via Page Six). "So you know, he sits there and says 'daddy cut him off and he's not on the wages anymore' and he was boohooing about it. You can't feel empathy for that," Osbourne continued."Because you're a healthy, bright, educated young man. You can do whatever you want to do. Your life is your own."
Twitter is in disbelief Sharon Osbourne's latest royal commentary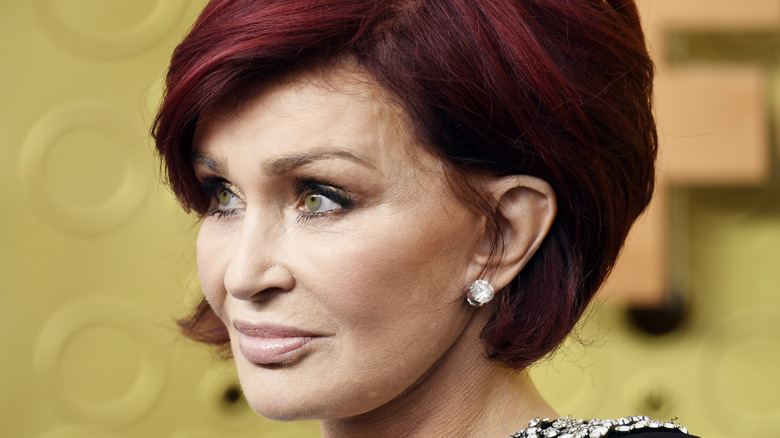 Frazer Harrison/Getty Images
During his interview with Sharon Osbourne, Bill Maher also went out of his way to be disrespectful — not only to Meghan, who he called "a girl," but also to the entire British royal family. He called Queen Elizabeth "an old bag," and noted that The Firm was generally "cold to everyone" (via USA Today). 
But if Osbourne thought that her inappropriately-timed offensive would win her redemption or a pardon from Twitter, she was categorically wrong. "Why do old farts interfere with what the younger generation is up to – bearing in mind the inordinate mess they've left them?" asked one Osbourne's critics via tweet. "Sharon Osbourne is no victim. She can cry all she wants but she is a racist. Period," tweeted another critic. "Is Bill Maher's show the Red Table Talk for racists?" suggested a third after listening to her interview (via Twitter). A fourth had a hard time processing Osbourne's contradictions. "It's so weird to me when documented racists go on a press tour to prove how racist they aren't" they tweeted. "But I have to say Sharon Osbourne calling Harry the definition of white privilege is both true and incredible projection and I'm just flabbergasted at this woman's caucasity."