What Experts Noticed About Prince Harry's Body Language During Prince Philip's Funeral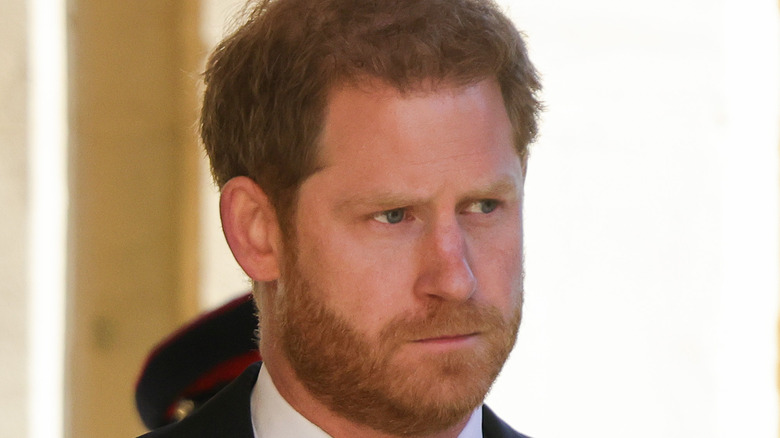 Chris Jackson/Getty Images
After having stepped down from royal life and moving to California in 2020, Prince Harry is back in England to attend the funeral of his grandfather, Prince Philip, Duke of Edinburgh. Because of Covid, the funeral could just allow 30 guests, and Harry's wife Meghan Markle is pregnant and couldn't get medical clearance to travel (via Elle). This is the first time he's been back to England since leaving, so eyes were on Harry during the funeral events, and The List spoke to three body language experts for their thoughts on the day.
Body language expert Jason Lee, who is a former professional poker player and currently a relationship science and data analyst with Healthy Framework, watched Harry and told The List, "I was very interested in seeing if Prince Harry displayed awkwardness or uncomfortableness due to his hiatus from the royal world." But in watching as Harry and Prince Philip's other grandchildren walked behind the coffin, Lee didn't see much evidence that Harry was out of practice. "During the processional, though, he appeared confident and comfortable in the setting. His head was high, his shoulders were back, and he regularly looked around the grounds at people and the sights with unwavering eyes. Despite the slightly more curious amount of looking around than the other princes, he looked like a man in his element."
Prince Harry's homecoming for a funeral must be causing stress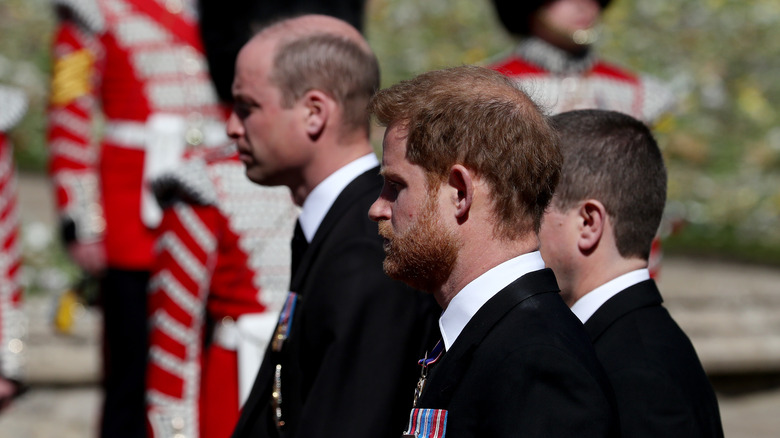 Wpa Pool/Getty Images
Body language expert Jennifer Tomko, a psychotherapist and the owner of Clarity Health Solutions in Jupiter, Fla., spoke to The List about the inevitable internal stress that Harry must be under. "I am respecting the role strain of what prince Harry must have experienced. He was likely having his core value of Loyalty being challenged as his loyalty to his wife versus his family of origin on such an intimate day. I am sad that he doesn't have the support that he may need today."
Tomko also acknowledged the drama and potential stress that Markle's attending the funeral could have caused. "With that, I also respect that Meghan's presence was a huge strain on the emotional capacity of the family, this wouldn't have been appropriate to have had her there either."
"I'm trying not to read too much into Prince Harry's actions because I know this has to be an extraordinary homecoming for him but I did notice him biting his lip nervously along the procession," said Kinsey Schofield, founder of ToDiForDaily.com, a website about the British royal family. "What's going on in his mind, we'll never know but I do know that he was particularly fond of his grandfather and this has to have been a day he was dreading."