The Subtle Way Meghan Was Part Of Prince Philip's Funeral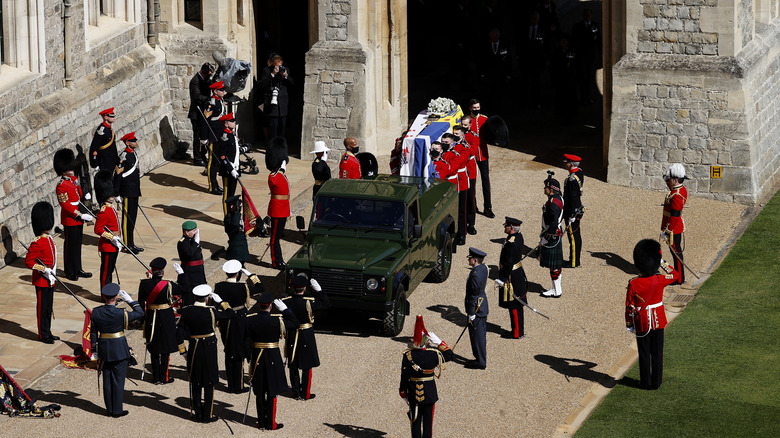 Wpa Pool/Getty Images
Meghan Markle, Duchess of Sussex, may be back in California with her son Archie Harrison, but she found a way to make sure that she was still present in Windsor for her grandfather-in-law Prince Philip's funeral. The Telegraph reports that Meghan, who is pregnant with her second baby, created a handwritten note for one of nine family wreaths that have been laid out in St. George's Chapel. The wreath is said to have come from a florist that is known for its locally sourced flower arrangements. The publication also said that Prince Harry and Meghan Markle had asked for specific flowers that included rosemary, lavender, and bear's breeches, which is the national flower of Greece. 
Meghan has repeatedly said that she had wanted to be in the U.K. for the funeral but was advised against attending because she is heavily pregnant. Vanity Fair reports a source close to the Duchess of Sussex says that "she would have put all the family tension aside to be there with Harry," even though they were "still not on amazing terms with the family."
Meghan was given 'private arrangements' for the funeral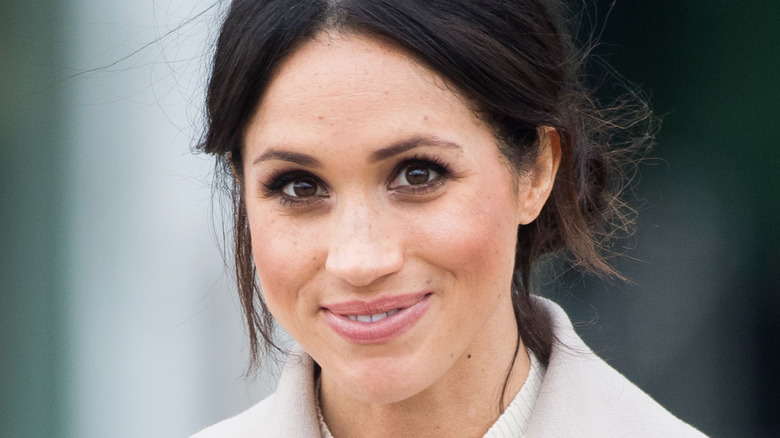 Shutterstock
While Meghan Markle might not have been at the chapel personally to be at her grandfather-in-law's funeral, The Sun said she was given what it called "private arrangements" to watch the ceremony through a live stream with Archie — which meant that she wasn't glued to the television like we might have been during the event. Instead, she was given a clean video feed, which was the same as what was seen on live television, but without the back talk and the commentary which many of us would have heard.
A total of 30 guests were present for the funeral which took place at St George's Chapel at Windsor, all were socially distanced, with the queen sitting all by herself, presenting an image which tugged at viewers' heartstrings. "Can't believe I started crying like I did when I saw the queen sitting by herself at this ceremony," one social media user said. "This is just heartbreaking to everyone who has had to experience a funeral during the pandemic, the Queen looks lost sitting by herself," another tweeted. A third added: "What a poignant image. Her majesty sitting alone at her husband's funeral, no one within touching distance. She's doing what thousands of spouses have done in this last year. No special treatment for the Queen at this moment. She wouldn't have it any other way."
Princes William and Harry reunited amicably after the funeral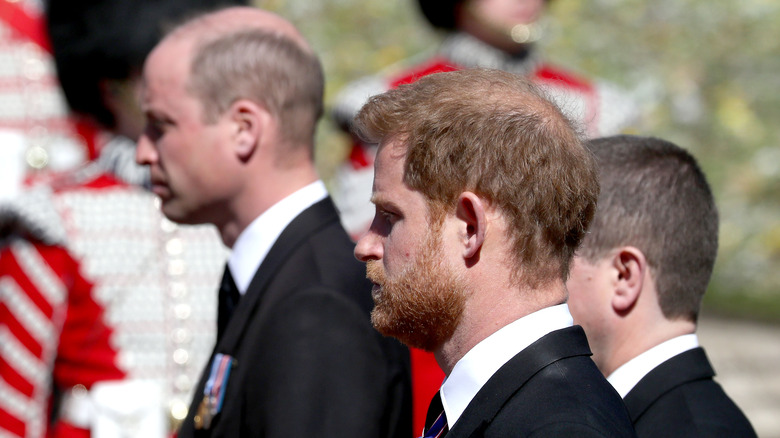 Wpa Pool/Getty Images
Meghan Markle may be worried about her husband, but Prince Harry has reportedly started trying to mend fences with his family. Page Six reported that before the funeral, Harry met with his cousin Princess Eugenie, who is living in Harry and Meghan's old home, Frogmore Cottage. Prince Philip's funeral actually marked the first time Harry had been seen in public with his father Prince Charles and brother Prince William since March 2020. The Sun also says that Harry reached out to both his father and brother, to "park any disputes" ahead of the funeral.
Those who were looking for fireworks arising from the event would have been disappointed. The brothers might have taken part in their grandfather's funeral march separated by their older cousin Peter Phillips, and they were indeed placed across from each other during the service, but Prince William and Prince Harry left the service together with the Duke of Cambridge's wife Kate Middleton. The show of unity came a year after the trio had last seen each other in person, and after Harry and Meghan Markle consented to a bombshell interview with Oprah Winfrey while Prince Philip was in hospital. 
The Telegraph, which reported the post-funeral reunion, said Harry was seen speaking to Kate, as they began walking, then she hung back to allow her husband William a few moments. As one Twitter user pointed out: "Seeing William and Harry walking back from the funeral together chatting is really going to ruin some media narratives today."