Why Miranda Lambert's Outfit At The ACM Awards Left Fans Divided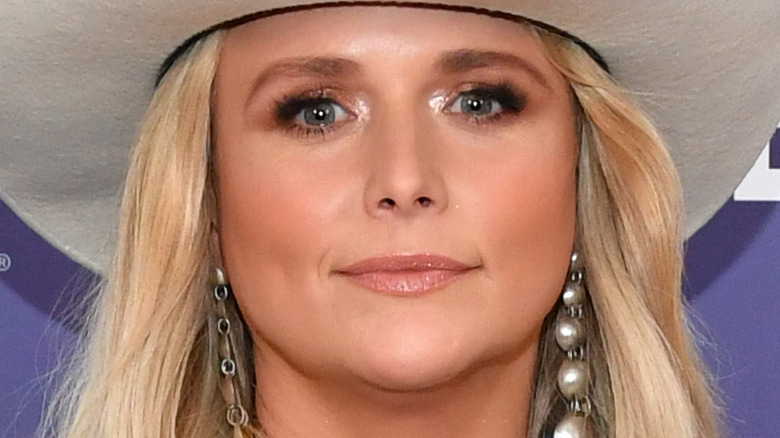 Jason Davis/Getty Images
Miranda Lambert isn't one to shy away from a hardcore country outfit. The singer, who is the most-nominated female artist in Academy of Country Music (ACM) Awards history, per People, has worn her fair share of sparkly cowgirl boots and hats. Southern pizazz was therefore a given in her performance outfits for this year's ACMs. However, no one could have predicted the floor-length fringe.
Lambert kicked off the show with pregnant Elle King. The pair sang their rock party song "Drunk (And I Don't Wanna Go Home)" live for the first time, via Hollywood Life, and they made sure no one would forget their performance. The singers wore matching black leather outfits, with sparkles down their flared pants legs. Lambert's jacket boasted extremely long, highlighter-pink fringe, while King showed off bright blue fringe. The 56th ACMs celebrated the outfits in a tweet, which read, "RT if you want to be at the next party Miranda Lambert and Elle King [sic] throw!" Many viewers celebrated the fringe as well, while others cracked jokes.
A debate over Lambert's and King's fringe jackets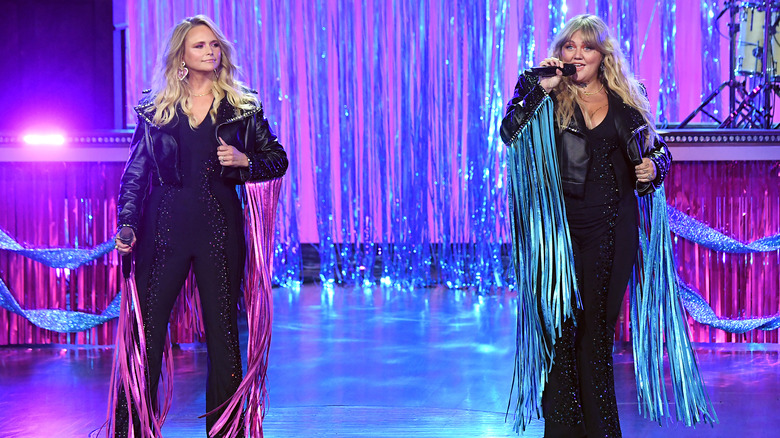 Kevin Mazur/Getty Images
Country radio host Robin Harper was the first to compare Miranda Lambert and Elle King's outfits to macho man Randy Savage. "This opening of the #ACMAwards brought to you by Macho Man's fashion choices in the 80's! Love the look," he tweeted. Other users chimed in with their own jokes. "This is a candidate for #Eurovision2021," one person wrote under one of Lambert's tweets, which showcased a clip from the singer's performance with King.
Some users felt that the outfits and the song choice were a sign that Lambert was moving away from traditional country. "Well, [sic] that wasn't country!" one person tweeted to the official ACM account. Lambert fans were quick to respond. "No, it wasn't, and it wasn't meant to be," one user replied. "It is a fun, crazy awesome crossover song, and it's amazing! Great dance song and they both have so much fun together!" Whether Lambert wears floor-length fringe again in the future or not, it seems as though her fans will always have her back.