Prince Philip Made This Surprising Arrangement For His Own Funeral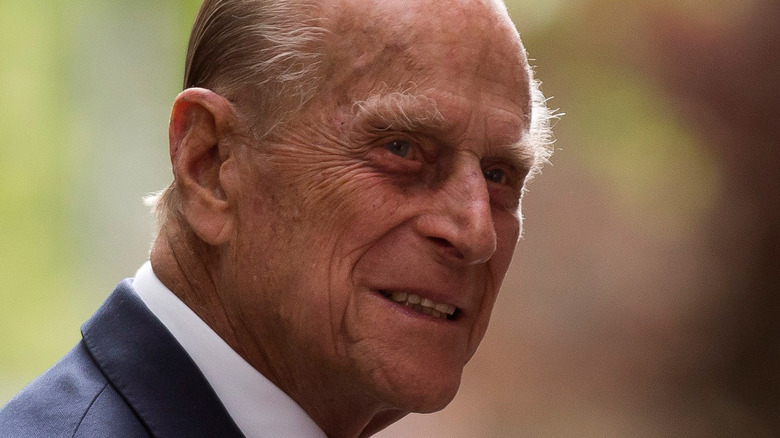 Wpa Pool/Getty Images
In addition to making final farewells, Prince Philip spent his last days on earth planning every moment of his own funeral service (via Page Six). Although the strict social distancing guidelines prevented the close proximity and embraces the attendees likely wished for, the service proved to be a tasteful and moving tribute to one of England's most longstanding royal members, and there are scores of photographs to prove it. For the majority of the shots that are currently circulating media outlets, photographer Arthur Edwards stood behind the lens. 
According to Page Six, Edwards has covered the royal family for more than four decades. This well-established rapport led Prince Philip to handpick the 80-year-old as the chief photographer at his funeral, which took place at St. George's Chapel on April 17. However, the late Duke of Edinburgh left some oddly specific instructions for the snapper: He was to hide inside a fake pillar at the top of the stairs.
Prince Philip's photographer witnessed signs of reconciliation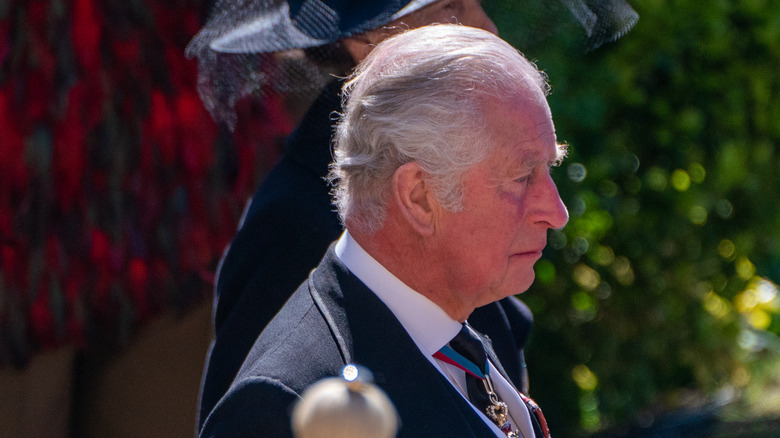 Arthur Edwards/Wpa Pool/Getty Images
The photographer didn't mind the surprising request. In fact, he found some solace in it. "With a letter box-shaped slit, it was just like the bird-watching hides where Prince Philip spent hours during his retirement at Sandringham, his Norfolk estate," he told The Sun. This inconspicuous hiding place, mere yards away from the spotlight, allowed him to capture the array of emotions up close — including from Philip's beloved son, Prince Charles. "From the most unusual vantage point of my 44 years of photographing the royals, I was close enough to see Prince Charles — the man I have known for more than half his life — look broken," Edwards said.
He also kept a close eye on Philip's grandsons, William and Harry, wondering if the headlines referring to a feud were true. "As they passed me on their way into the nave of St George's Chapel, Windsor, William and Harry never glanced at each other," he said. But the air of animosity didn't stick around for long, as Edwards witnessed the pair walking out of the chapel together after the service, chatting as they went. For him, "It was a sign I had been praying for that this unique royal would show there is hope of a reconciliation in the House of Windsor."