Lady Colin Campbell Makes A Bold Prediction About Meghan And Harry's Future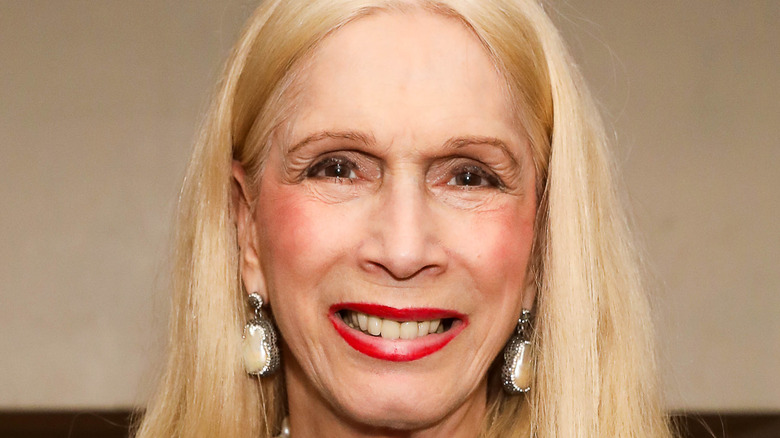 David M. Benett/Getty Images
Lady Colin Campbell, British author, podcaster, and "I'm A Celebrity ... Get Me Outta Here!" alum, is once again making bold claims about Meghan Markle and Prince Harry.
Campbell, who penned a book about Princess Diana and most recently published Meghan and Harry: The Real Story, told Page Six's Cindy Adams that Meghan and Harry's relationship won't last. "Once she became the royal Duchess of Sussex, it was off with everyone's head," Campbell said. "Disconnected from reality, she lost it. She froths at the mouth when my name is mentioned. But nothing she can do because I made no legal mistakes. With all I stated about her — her background, how she learned about him — I am legally okay." 
Other than, perhaps, Piers Morgan, Campbell has proven to be one of the UK's most vehement and persistent anti-Meghan Markle media personalities. In 2018, for example, on MTV UK, Campbell called Meghan Markle's final list of wedding invitees, and her decision not to invite her nephew, Tyler Dooley, an "international embarrassment." This time around, Campbell went on to claim that Meghan's name is "mud" in the Commonwealth following her tell-all interview with Oprah earlier this year. In addition to her prediction about Meghan and Harry's marriage, Campbell lobbed a number of other accusations at Meghan.
Lady Colin Campbell claims Meghan entrapped Harry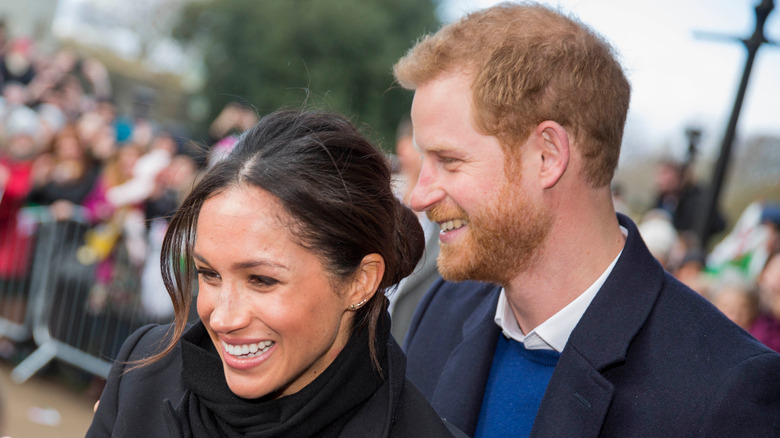 Shutterstock
Lady Colin Campbell went on to claim that Meghan lied during her interview and has "entrapped" Harry. "This wrong-footed woman stated untruths," Campbell told Page Six. "She couldn't keep her mouth shut. Knowing some statements could not be massaged into reality, Harry went along. Not pleased, he knew they were not true."
She pointed to Meghan's statement that she and Harry were actually married in a private ceremony three days before their televised wedding, which the Archbishop clarified wasn't an official marriage due to British laws.
Harry told Oprah that he was "trapped" in royal life and he believes his brother, Prince William, and his father, Prince Charles, remain trapped. Campbell gave a wildly different take. "[Meghan's] picked America and a communal property state and has two children," she told Page Six. "She's got him. Difficult for him to get out. He's entrapped."
How much of an insider is Lady Colin Campbell, really?
Tim P. Whitby/Getty Images
Campbell talks about the royal family to anyone who will listen. Her official Twitter page has amassed a small following of just under 20,000 at the time of this writing. But it's her sensationalist media appearances that regularly make headlines. For example, Pedestrian Daily noted that during an appearance on "Good Morning Britain" she defended the friendship between Prince Andrew and Jeffrey Epstein.
And, per Pedestrian Daily, any claims Campbell makes should be taken with heaps of salt. In the 1970s, she was briefly married to Lord Colin Ivar Campbell, but has continued to use her royal title since (via The Guardian). During her time on the British reality show, "I'm a Celebrity ... Get Me Out of Here," Campbell made headlines for saying things like "I have five tiaras and I turned down one of the richest men on Earth." 
But she's not a "royal insider." For example, she claimed that Princess Anne was the royal who raised concerns about Archie's skin color and that the royal family thought, at first, that Meghan and Harry's relationship was a "fling" (via Mirror). She failed, however, to provide any evidence to back her claim and acknowledges that she doesn't know Anne and has only met her a few times.