Mahatma Gandhi Once Gave The Queen A Strange Gift. Here's What We Know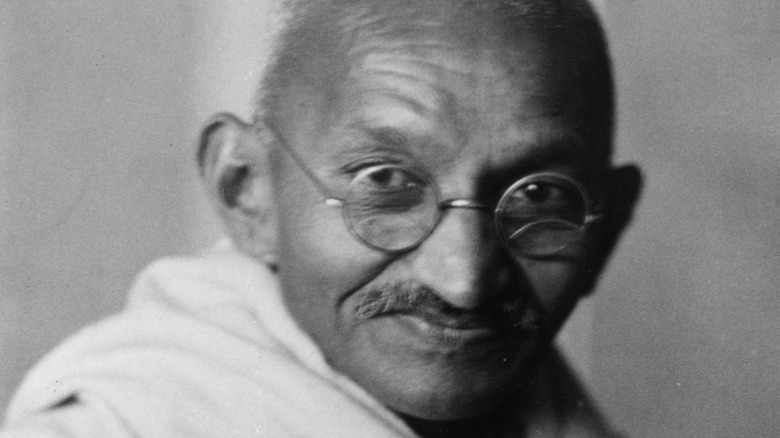 Elliott & Fry/Getty Images
A thoughtful wedding gift from Mahatma Gandhi was briefly believed to be offensive. The mistake was made by Queen Mary, according to the ITV documentary "Inside the Crown: Secrets of the Royals." 
Per The Sun, a royal expert shared, "Gandhi sent a tray cloth that he'd spun on his own loom and old Queen Mary famously mistook it for a loin cloth and complained about the indelicacy." 
The square cloth read "Jai Hind," according to Pamela Hicks, the cousin of Prince Philip, and the daughter of India's governor general Lord Mountbatten. She shared it was her father's idea for Gandhi to gift the bride with the handmade cloth. "Princess Elizabeth had written me a sweet letter asking me to be one of her bridesmaids and I, of course, was honored to accept," she said (per Hindustan Times). "Before we left, my parents saw Mahatma Gandhi and he told my father, 'I so want to give Princess Elizabeth a present, but I have given all my possessions away.' My father, however, knew he still had his spinning wheel and he told Gandhi, 'If a cloth could be made from yarn you have spun, that would be like receiving the Crown Jewels.'"
Queen Elizabeth still kept the gift for years nonetheless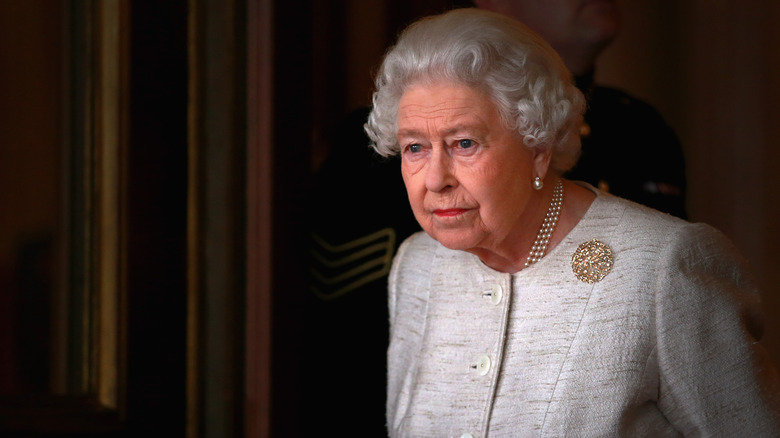 Chris Jackson/Getty Images
Pamela Hicks also shared what exactly confused Queen Mary about the unique gift. She explained, "We took his present to Britain for the wedding, but Queen Mary (the Queen's grandmother) wrongly thought it was a loincloth and that it was a most 'indelicate gift."
Despite what Queen Mary thought the special gift was, Queen Elizabeth held onto it for years. In July 2018, the queen gifted the crocheted, cotton lace to Indian Prime Minister Narendra Modi during his visit to the United Kingdom (per The Hindustan Times). 
Ravi Shankar Prasad, Indian minister for law and information technology, announced the gift at a meeting of the Overseas Friends of Bharatiya Janata Party (BJP). "When Prime Minister Modi went to make a personal call on the Queen Elizabeth, do you know what she gave him? She gave him the handwoven cotton handkerchief which Gandhiji gave Queen Elizabeth at the time of her marriage," he shared. "This shows the kind of respect Modiji is having."