What You Don't Know About Prince Charles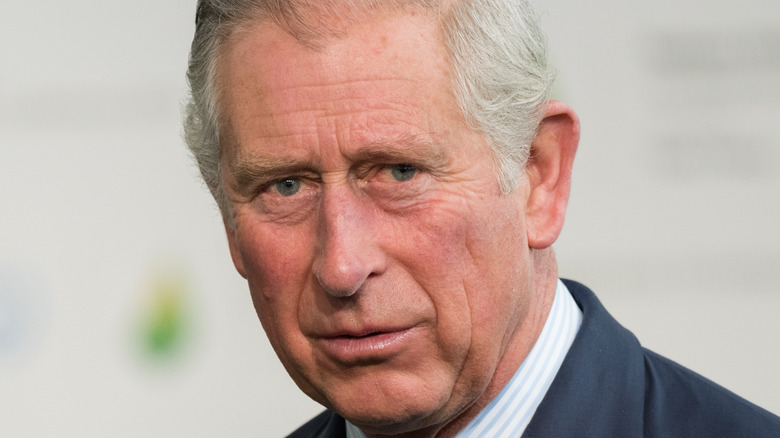 Shutterstock
Would you believe us if we told you that there were things about Prince Charles that you didn't already know? You might not, but it happens to be true. 
Charles is one of the most well-known, most photographed, most recognizable figures in the world. Having been in the public eye pretty much from the moment he was born, Charles has served as the Prince of Wales and direct heir to the British throne for decades. It seems like from his divorce, to his second marriage, to his charity work, and everything in between, there isn't a ton left out there to discover about him. Or is there?
We did some digging and found some surprising tidbits about the Prince. Would you believe that Charles is a massive fan of organic food, so much so that he created his own line of food products? What if we told you that he runs his car not on gasoline, but on red wine instead (via Town & Country)? What's his official title and what kind of films does he like? We did the searching so you don't have to — here's what you don't know about Prince Charles.
Prince Charles can choose to change the royal family name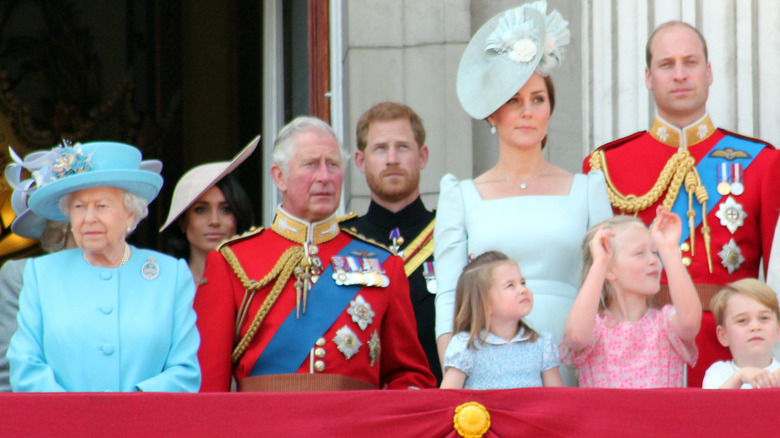 Shutterstock
We know that the royal family doesn't have political power. However, as noted by Good Housekeeping, Prince Charles will one day have the ability to change the royal family name, an issue that's been a point of contention in the past. As of publication, Charles is the Prince of Wales, but when he becomes king it will be up to him whether or not the royals keep the last name Mountbatten-Windsor. 
So why is it such a big deal? When Queen Elizabeth took the throne, her late husband Prince Philip threw things for a loop because he wanted her to take his last name. Officials in Great Britain at the time were adamant that the royal name of Windsor be used instead, so the couple compromised and hyphenated the two last names. 
Philip was once quoted to have said that he was "the only man in the country not allowed to give his name to his own children," certainly suggesting that the name was a soft spot for him. After all that stress, Charles will one day be able to change it if he so desires.
Prince Charles has waited to ascend the throne longer than any other royal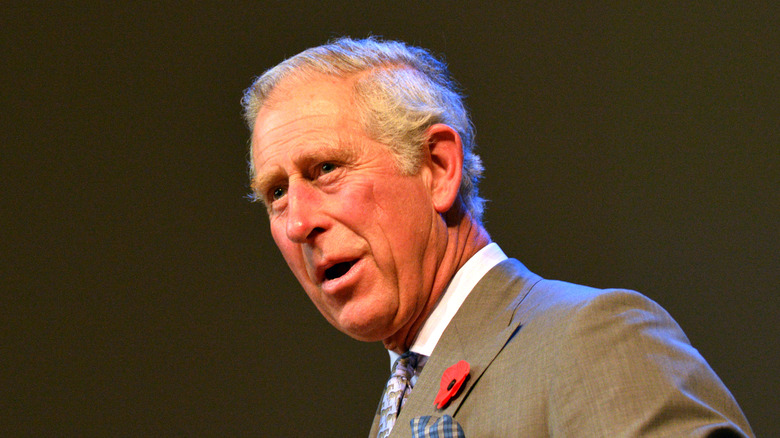 Shutterstock
If you think that Queen Elizabeth will live forever, you're not alone. She's been on the throne for nearly 70 years, and it doesn't seem like she has any plans of giving up her crown. Because of her reign, the Queen has made her firstborn son, Prince Charles, the longest heir apparent in royal history. As noted by The Guardian, Charles broke the long-standing record of eldest heir apparent when he turned 62 — surpassing Edward VII, his great-great-grandfather, who waited 59 years to take over the throne. 
So how long has Charles been the direct heir to the British throne? Only since he was 3 years old (insert shocked face here). Yes, you read that correctly, his mother became Queen in 1952 when he was just a tiny kid, and she later dubbed him the Prince of Wales at 9 years old. To give him credit where credit is due, Charles has done a lot to help the British public while waiting to ascend the throne, as noted by royal commentator Richard Fitzwilliams (via Express). But we can imagine that he's eager to become king.
Prince Charles had a unique education for a royal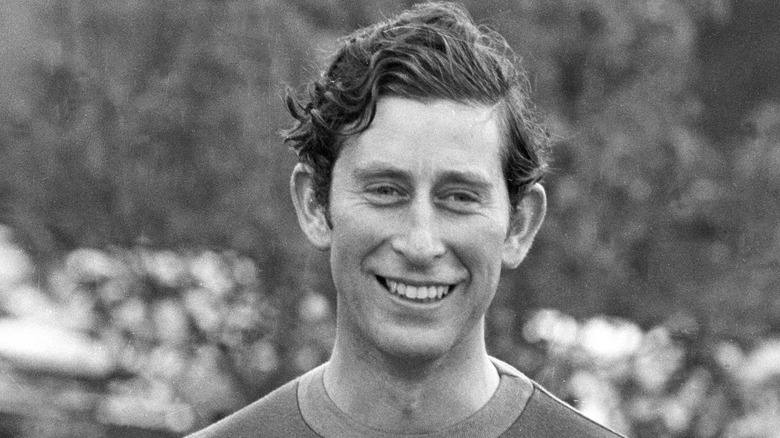 Anwar Hussein/Getty Images
If you're a fan of "The Crown," then you know that education — primarily Queen Elizabeth's education — was a bit of a sore spot for the monarch. Many royals were, at one point, exclusively educated by tutors or nannies, making the academic experience that Prince Charles had fairly unique for a man in his position. As noted by his official royal biography, Charles attended Hill House school in West London as a child at the request of the Queen and Prince Philip. He then went to boarding school, and later attended Gordonstoun, a school located in Eastern Scotland. According to Express, Gordonstoun was a favorite institution for the royals as Charles, Prince Andrew, and Prince Edward all attended. Later on, Princess Anne enrolled her children at Gordonstoun. 
Like many college-aged students, Charles spent time studying abroad and stayed two school terms at the Geelong Church of England Grammar School in Australia. He returned to England, took his O Level exams, and went off to university. Charles studied archaeology, anthropology, and later history at Cambridge University; he graduated in 1970.
Prince Charles had a naval career, not dissimilar to other men in his family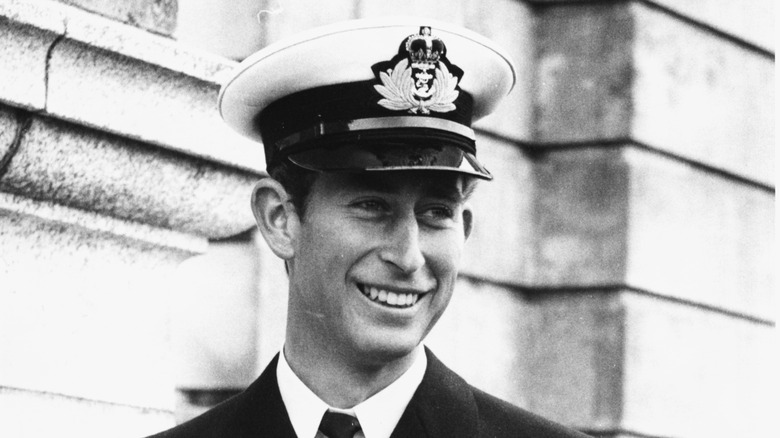 Dennis Oulds/Getty Images
Numerous members of the British royal family have served in the armed forces. Even Queen Elizabeth served as a mechanic during World War II. Not dissimilar to his royal heritage, Prince Charles spent a period of time in the military; according to his official royal biography, Charles started his training while attending university. 
While a second year student at Cambridge, Charles began taking flying lessons, and by 1971 he flew himself to Royal Air Force Cranwell to continue his education as a jet pilot. Later that same year, Charles started his career in the navy, a decision reminiscent of his father, grandfather, and his great-grandfathers on both his maternal and paternal sides. He then embarked on a six-week long course at the Royal Naval College before serving on the HMS Norfolk. 
Three years later, Charles joined the 845 Naval Air Squadron as a helicopter pilot (yes, we were surprised too). He spent his last leg in the service in command of the HMS Bronington.
Prince Charles was 32 when he married 20-year-old Diana Spencer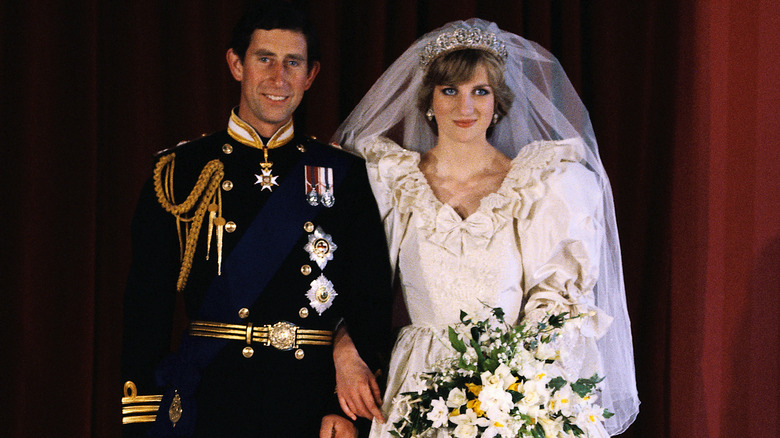 David Levenson/Getty Images
We were a little weirded out when we discovered that Diana Spencer was only 20 years old when she married Prince Charles, but there you go, that's the truth. As noted by Town & Country, Charles was born in 1948 and Diana in 1961, marking a 12 year gap in their ages. The couple met in 1980 and by February of 1981, Charles had asked then 19-year-old Diana to marry him. They'd known each other just six months and had only conversed with each other about 13 times before they got married, which in hindsight, should've been a glaring red flag. 
Diana turned 20 on July 1, 1961 and was married to Charles on July 29 of the same year — we can't even imagine being able to cook ourselves anything other than ramen at 20. And if you're doing the math, then you know that Diana was still very young when her marriage began to crumble; she was just 30 when the formal separation from Charles commenced, and was barely 36 when she tragically passed away. Take this as a sign to not get married young. 
Prince Charles has a soft spot for cars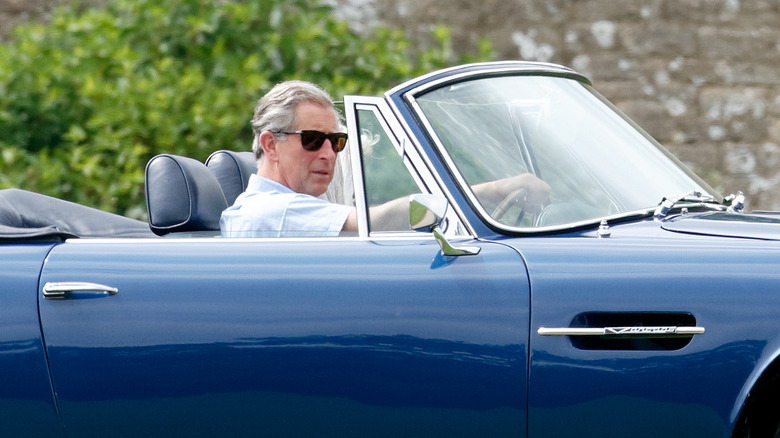 Max Mumby/indigo/Getty Images
Prince Charles is an interesting man. On one hand, he's lived his entire life with splendors, and on the other, he's an environmental advocate who goes out of his way to make his cars efficient. According to Town & Country, Queen Elizabeth gifted Charles an Aston Martin car for his 21st birthday. The car burned a lot of fuel, which became a point of concern for Charles — he didn't want his vintage mode of transportation to be such a polluter. 
So what did Charles do? He went to the engineers at Aston Martin and discovered that his car could run on a white wine/whey blend. While Charles was encouraged by said engineers not to use it in his vintage car, he marched to the beat of his own drum. "I said, 'Well I won't drive it then,' so they got on with it and now they admit that it runs better and is more powerful on that fuel than it is on petrol," Charles explained. "And also, it smells delicious as you're driving along." Charles drives a vintage Aston Martin that literally runs on wine, you really can't make this stuff up.
Prince Charles' full royal title is so long, you won't believe it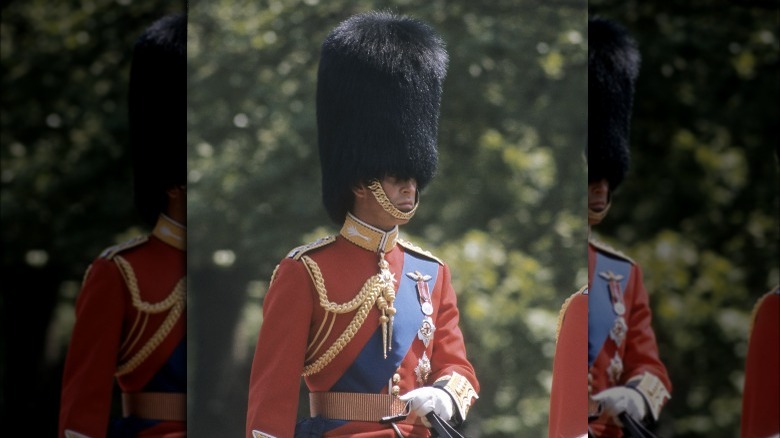 Anwar Hussein/Getty Images
Get ready for some abbreviations, because we're about to list off Prince Charles' official title. Thanks to Time, we have it in full; Charles' full title is His Royal Highness Prince Charles Philip Arthur George, Prince of Wales, KG, KT, GCB, OM, AK, QSO, PC, ADC, Earl of Chester, Duke of Cornwall, Duke of Rothesay, Earl of Carrick, Baron of Renfrew, Lord of the Isles and Prince and Great Steward of Scotland. 
The coupled letters — like KG and KT — represent different knightly orders. For example, KG stands for Knight of the Garter, which according to Business Insider, is the "most senior chivalrous order." KT stands for Knight of the Thistle, GCB stands for Knight Grand Cross of the Order of bath, and so on. 
You'll see that Charles is not just a prince, but is also the Earl of Chester, the Duke of Cornwall, etc. These are titles that are automatically given to the heir to the British throne. When Charles eventually becomes king, it's likely that Prince William will take on many, if not all, of the titles as he will then be the direct heir.
Prince Charles is a big fan of the Harry Potter films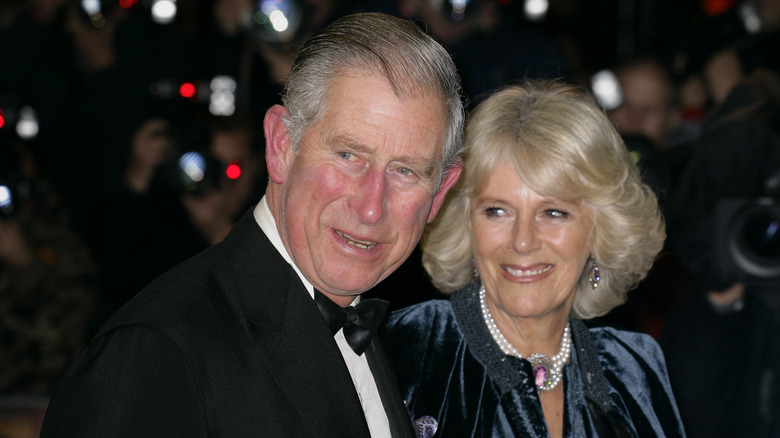 Max Mumby/indigo/Getty Images
As far as most people are concerned, there are two British institutions that are worth noting: the British royal family, and the "Harry Potter" franchise. It seems like just about every British actor made it into the wizarding films, and along with a brilliant story line and amazing visuals, the movies became international hits. So if you're a Potterhead, you'll be pleased to know that Prince Charles is a big fan of the series, and he told this coveted information to none other than the actress who brought Molly Weasley to life on screen: Julie Walters. 
As noted by the Daily Mail, Walters was named a CBE (Most Excellent Order of the British Empire) and was presented her honor from Charles during a ceremony at Buckingham Palace. He told the actress that he "loved" the films, which honestly makes us pretty pleased. "The Prince said he loved the Potters and said what great films they were and what great fun they were," Walters said. We wonder what Hogwarts house the sorting hat would put Charles in.
Prince Charles launched an organic food brand in 1990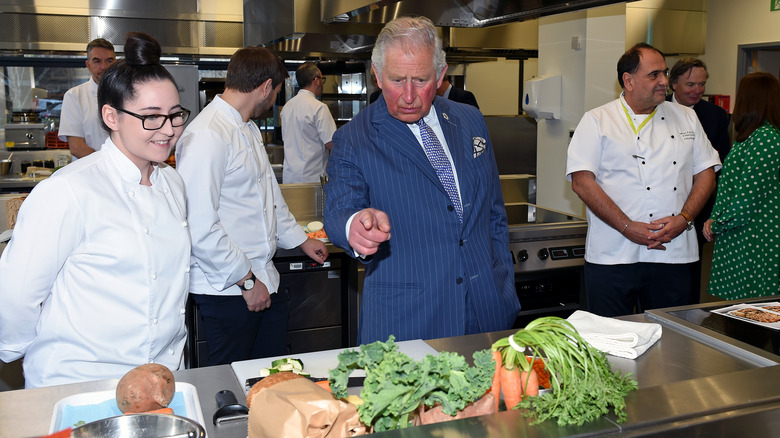 Stuart C. Wilson/Getty Images
Prince Charles has been known for a lot of things — like his career, his divorce, and his caught on camera moments — but if one thing has really become his legacy, it's his dedication to organic foods. As noted by his official royal biography, Charles became passionate about providing good quality food to the masses, and established his company Duchy Organics in 1990. In 2010, Duchy Organics joined British supermarket Waitrose in partnership, and has been selling its products in the mainstream market. To top off a good thing, all the monetary profits made by the company are donated to charity. 
Queen Elizabeth spoke about her son's commitment to Duchy Organics and conservation in general, and according to Marie Claire, championed him for his service. "Over his 70 years, Philip and I have seen Charles become a champion of conservation and the arts, a great charitable leader — a dedicated and respected heir to the throne ... and a wonderful father," she revealed. "Most of all, sustained by his wife, Camilla, he is his own man, passionate and creative." 
What's the company's best selling product, you might ask? Biscuits. Count us in.
Prince Charles is a member of this mysterious magician's club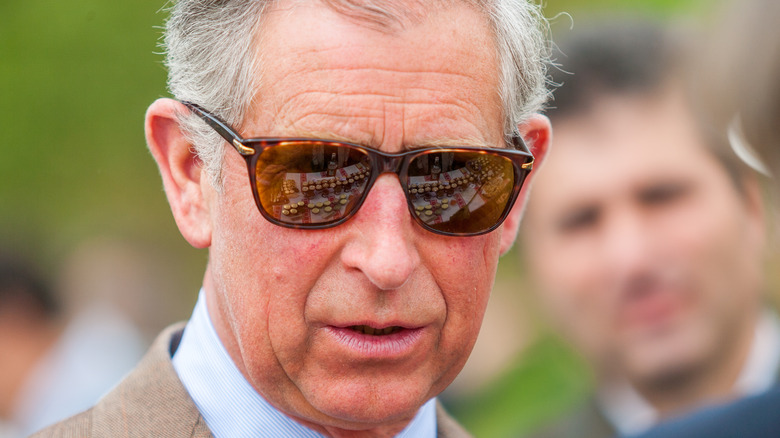 Shutterstock
Here's a fact about Prince Charles that's unexpected: he's a member of the exclusive magician's club, the Magic Circle. As noted by Yahoo! News, Charles was invited to join the Magic Circle in 1975 after he successfully executed a magic trick. He was made aware of the club by Earl Mountbatten, his great uncle, who'd been a member for over two decades himself. 
Magic is certainly a love affair that's lasted throughout Charles' life, because for his 70th birthday, he went all out and included a televised magic show in his celebrations. The show took place at the London Palladium and featured some big name magicians, including street magician Dynamo. This is a little bit of a heartwarming story, too. Dynamo's career was in-part supported by funds from Charles' trust, and he said that the support was life changing. "When I said I wanted to be a magician they didn't laugh in my face as so many others had done, they gave me the help I needed," he said, which is really lovely, honestly. So Charles the Magician, wonder if he'll ever perform a trick for us.
Prince Charles' divorce was one of the most high profile separations in royal history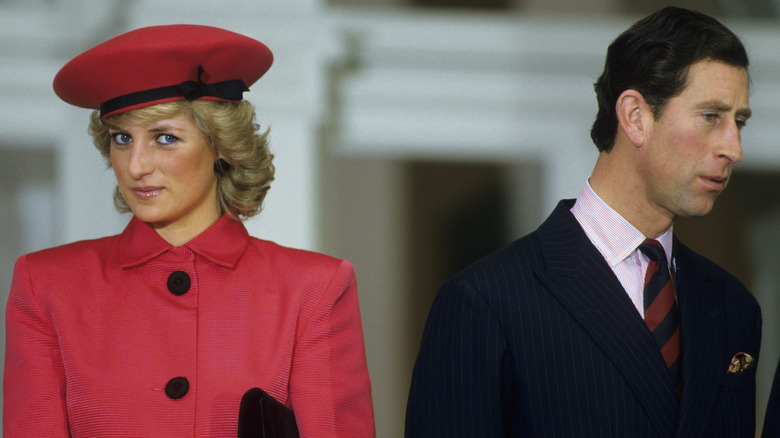 Georges De Keerle/Getty Images
If there's one thing that's for certain about the British royal family, it's that scandal — of any kind — is looked down upon. So it might come as a surprise to learn that out of her four children, three of Queen Elizabeth's kids got divorced, one being (and perhaps the most high profile of them all) Prince Charles. As noted by People, Charles' 1995 divorce from Princess Diana was one of the most high profile separations ever, in part because of her fame, and in part because he was (and still is) the direct heir to the British throne. 
So what caused the marriage to go so awry? Well, it was rumored that Charles had maintained his affair with Camilla Parker Bowles for the majority of his marriage to Diana, and she went ahead and confirmed that to the BBC in a sit-down interview in 1995. "There were three of us in this marriage, so it was a bit crowded," she quipped. Diana tragically died two years later, and Charles eventually made his relationship with Camilla public. More on that later.
Prince Charles helped launch a clothing line in 2020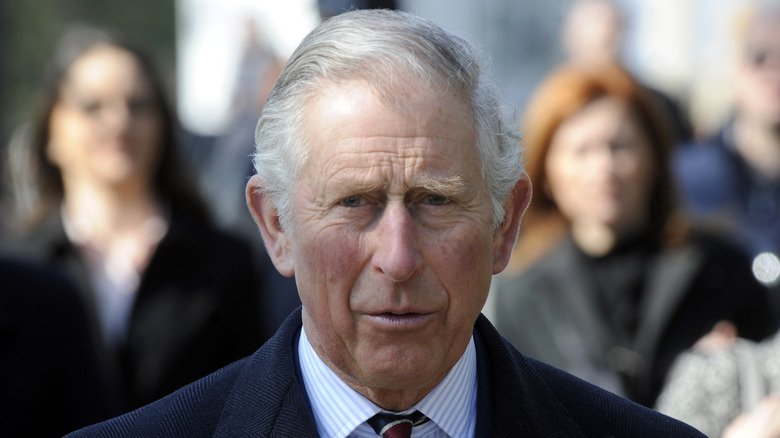 Shutterstock
Prince Charles might be known for his dapper suits and coordinated ties, but it might come as a surprise to learn that he's behind a Net-a-Porter clothing collection. Yes, you read that correctly, the heir to the British throne is partially responsible for a clothing line. As noted by Marie Claire, Charles partnered with the Modern Artisan project through his foundation to support design students, located in Italy, in their fashion pursuits. The goal was to create a sustainable clothing line that utilized the latest technology — digital work, AI, and data from Net-a-Porter's consumers. 
Charles said in a statement that he was "enormously impressed" by the work produced, and was hopeful about the "vision shown" by the designers. "Hopefully they will take away a great deal of skill and understanding of sustainable approaches to design and manufacturing that they can apply to their own businesses or future careers," he shared, before doubling down on his commitment to environmentalism. "The key for me is to rediscover the importance that nature plays, understand where natural materials come from and how they can be used in exciting and innovative ways," he said.
Prince Charles and Camilla Parker Bowles got married in 2005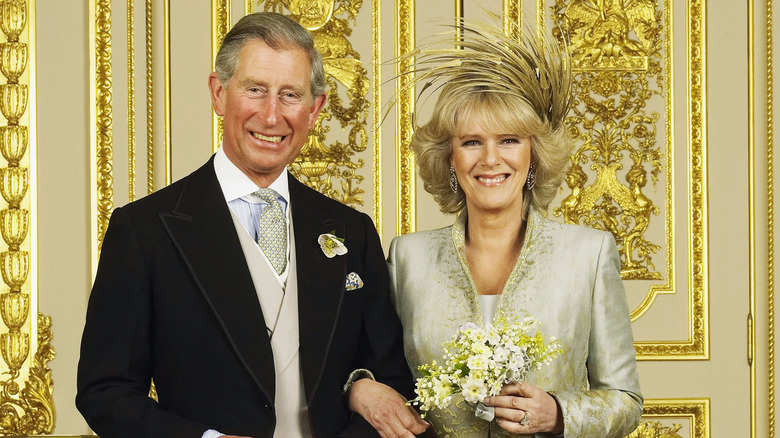 Pool/Getty Images
Everyone pretty much knew that Prince Charles was dedicated to his love, Camilla Parker Bowles, and has been for many years. So it didn't come as a surprise when the two got married in a civil ceremony on April 9, 2005 — and to be honest, they both looked enormously happy. 
Why a civil ceremony and not a royal wedding? As noted by People, both Charles and Camilla had been divorced, so they had a small civil wedding and a blessing at Windsor Castle in place of the pomp and circumstance of a huge royal affair. To make things a little awkward at the time, neither Queen Elizabeth or Prince Philip attended the wedding ceremony. Elizabeth even reportedly said once (after a few martinis) that Camilla was a "wicked woman" and that she wanted "nothing to do with her" (via the Daily Mail). 
But despite the drama, Charles and Camilla tied the knot and in 2021, were set to celebrate their wedding anniversary. That was, of course, until Philip passed away — on their wedding anniversary, April 9 — at the age of 99. Yikes.
Prince Charles was named best dressed man by Esquire in 2009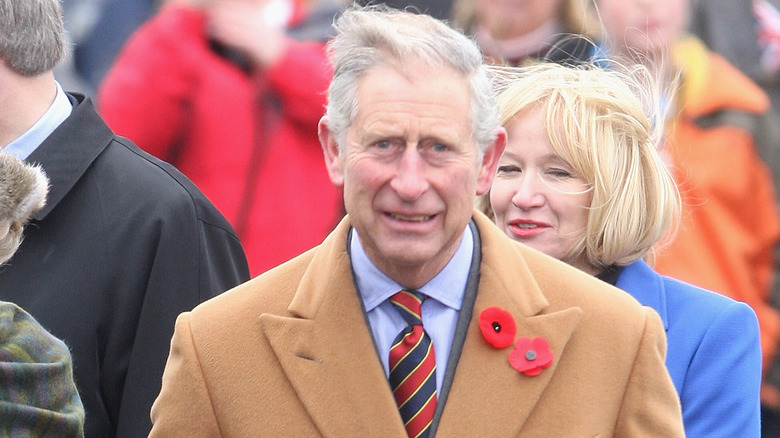 Chris Jackson/Getty Images
It's no secret that Prince Charles is a snappy dresser. It's probably pretty easy for him to be, given that he has a net worth of about $400 million (via Marie Claire). And it looked as though Charles' coordinated suits and great winter coats caught the eye of the Esquire, because the international magazine named him Best Dressed Man in 2009. Esquire's United Kingdom-based edition took the opportunity to comment on the decision, with its fashion director, Nick Sullivan, saying that he "applaud[ed]" the call. "[Charles] may not have quite the same look as more predictable list toppers like David Beckham or Justin Timberlake, but as British Esquire's editor-in-chief, Jeremy Langmead, put it, 'It's the men who dress like grown-ups who really caught the judges' eyes.' Hurrah for that," Sullivan wrote. 
So who else made the list that year? You might not be surprised by this one, given that he was arguably the swaggiest president to ever exist, but former-President Barack Obama came in fourth. Honestly we love to see it.
Prince Charles survived an avalanche in 1988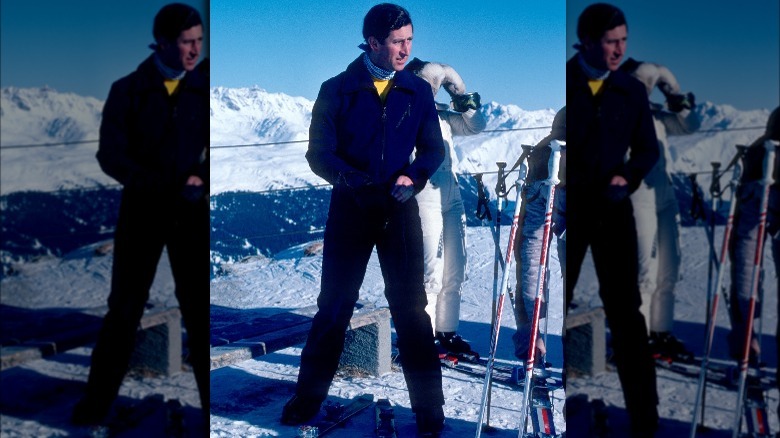 Anwar Hussein/Getty Images
Netflix's period drama "The Crown" may have gotten some backlash for its inaccuracy, especially in Season 4, but an aspect that it did get right was Prince Charles' encounter with an avalanche. As noted by Marie Claire, Charles was skiing in Switzerland with a group of friends in 1988 when an avalanche came tearing down the mountain. Charles, by the grace of the universe, escaped unscathed. Unfortunately, the natural disaster killed a member of his group and former royal aide Major Hugh Lindsay. Charles was reportedly "weeping" and in distress when he was rescued by helicopter, and all in all, it sounds like a harrowing incident. 
But things got complicated in the aftermath. The Los Angeles Times reported at the time that Charles was investigated due to Major Lindsay's death. It turned out that an avalanche warning had gone out earlier in the day, but Charles — who was very keen on getting out on the mountain for the day — ignored it. The rest of the group followed him, and of course, things went from bad to worse. Charles wasn't charged for his involvement, but it certainly wasn't a good look.