Here's Why Meghan Markle's Funeral Wreath Has The Internet Fuming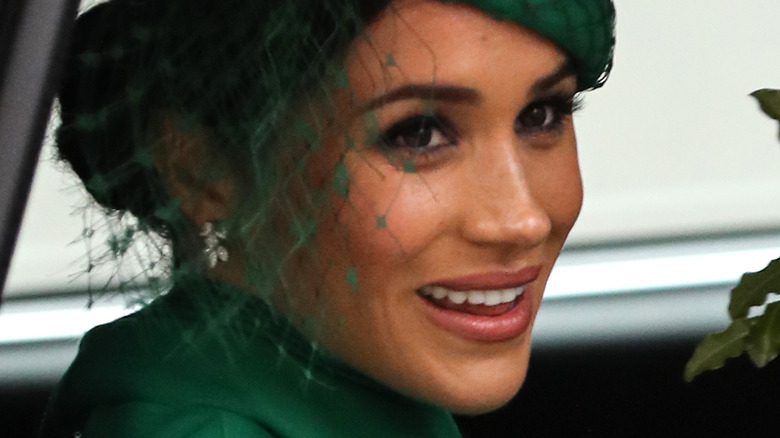 Chris Jackson/Getty Images
Due to her pregnancy, Meghan Markle was not able to attend the funeral of Prince Philip, the Duke of Edinburgh, who died on April 9 at the age of 99 (via Town & Country) and whose funeral took place on Saturday, April 17 (via BBC).
When news broke that she wouldn't be accompanying Prince Harry to the UK, tabloids like Daily Mail ran stories suggesting that the Duchess of Sussex had opted out of the ceremony to avoid being "the center of attention." While Meghan, herself, never released a public statement after the death of Prince Philip, Harry did, on his family's behalf. "Meghan, Archie, and I (as well as your future great-granddaughter) will always hold a special place for you in our hearts," he wrote (via People). Meghan, per Harper's Bazaar, watched Prince Philip's funeral from the comfort of her California home. She also sent a handwritten note to Prince Philip, which accompanied a customized funeral wreath, and lay against the pews of St. George's Chapel during the Duke of Edinburgh's funeral service.
Whatever her intentions may have been, when news of Meghan's wreath broke, it sparked almost immediate outrage from British tabloids and followers of the royal family on social media. It's not that the funeral wreath was an unusual gesture. Far from it. Telegraph reports that hers joined eight other wreaths at St. George's Chapel. Queen Elizabeth, herself, had a lily, rose, freesia, waxflower, sweet pea, and jasmine-filled funeral wreath made for her late husband, and wrote a final letter to Philip, which she put inside of it.
What was the significance of Meghan Markle's funeral wreath?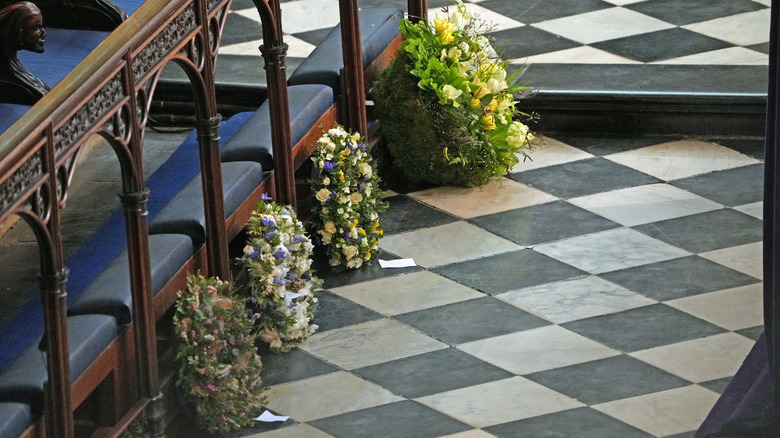 Wpa Pool/Getty Images
As reported by Hello! Magazine, Meghan's wreath was created by Willow Crossley, the florist who was in charge of the floral design at both Prince Harry and Meghan Markle's wedding reception and their son, Archie's, christening. It included acanthus mollis, the national flower of Greece, in honor of Prince Philip's heritage; eryngium for the Royal Marines; campanula to represent gratitude and love; rosemary for remembrance; lavender, which stands for devotion; and roses, since the queen's husband was born in June.
On the face of it, sending flowers when someone dies is a sweet and customary tradition. Many on Twitter recognized the gesture as such. "She never stops surprising me. I admire her so much," wrote one Twitter user. Another tweeted that "Meghan is gracious, handwriting her condolences with a lovely thought-out very personal wreath" (via Express). But British media pundits were quick to speculate over why details of Meghan's funeral wreath leaked to the press, while details of other wreaths at Prince Philip's funeral did not. As royal historian, Marlene Koenig, told Page Six, the "royal family doesn't usually say, 'Well, this [wreath's] from Charles, this one's from Andrew, this one's from Beatrice' ... the only wreath of interest was the one placed on the casket that was from Queen Elizabeth." Koenig added: "I think it was a little bit drawing attention back to [Prince Harry and Meghan] rather than just not saying anything at all." Many on Twitter agreed.
Some accused Meghan Markle of a publicity stunt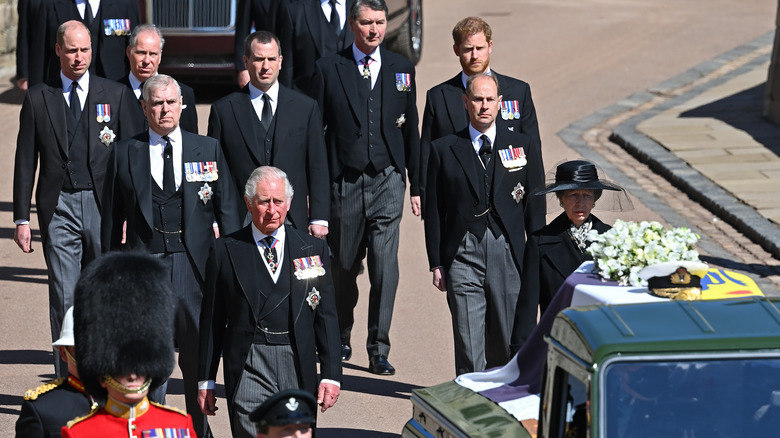 Pool/max Mumby/Getty Images
As is now customary with any Meghan Markle-related royal news, the wreath she contributed to Prince Philip's funeral has sent Twitter into a tailspin. One person tweeted, "She just can't help herself. Me, me, me. It's quite sickening." Another Twitter user wrote, "Do you feel you got enough recognition for your wreath now Meghan? Did your PR work how you wanted?" Yet another critic tweeted, "Just when I didn't think she could get lower, I found it utterly sick, as I would if it happened at any funeral. The flowers are private, between you and the deceased. This was a final nail in the coffin for poor PP." A fourth went after her choice of flowers, pointing out that Markle's wreath was not white, like others at the funeral. "Meghan of course decided to choose flowers that wouldn't blend with the other wreaths. But hers ended up looking like a fall wreath for a house front door," they tweeted.
Of course, Meghan Markle supporters were quick to point out that negative, Meghan Markle-focused media coverage was inevitable, no matter how she chose to pay her respects for Prince Philip. "If ... it had transpired ... that Meghan had NOT sent a wreath. Run that scenario, what would you say then?" a Twitter user wrote. Meghan, Harry, and Archie, meanwhile, have been reunited in California. They are unlikely to have read any of the Twitter critiques themselves, as none have personal social media accounts to speak of.