Tony Bennett's Stage Name Was Given To Him By This Icon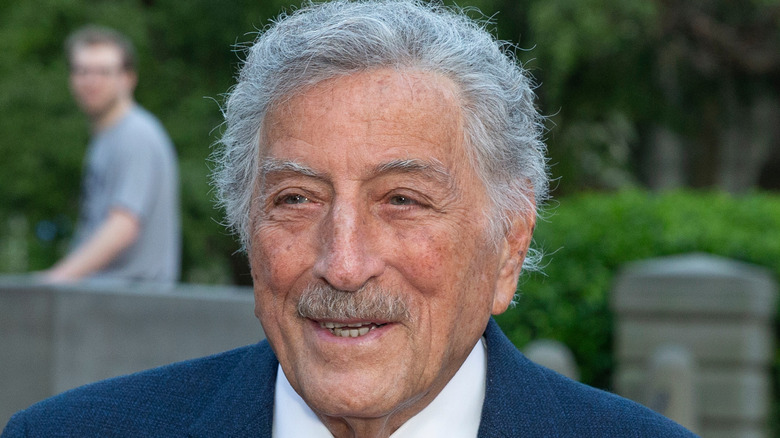 Shutterstock
Before Tony Bennett became the iconic voice and award-winning singer we all know and love, he was someone else — at least when it came to performing onstage. The veteran entertainer has endured through the years, winning won 19 Grammy Awards and selling more than 50 million records worldwide. Before all that, though, he started performing at a very young age and, as a young aspiring artist, he was trained in the bel canto style of singing, according to PBS. It clearly served him well because, at just 10 years old, he was already gaining attention performing at the opening of New York City's Triborough Bridge, standing alongside Mayor Fiorello LaGuardia, according to MetroFocus.
Before his singing career took off, Bennett served in combat during World War II. Upon his return stateside, another famous performer left his mark on him. According to PBS, Tony Bennett found himself performing at the New York's Village Inn in 1949, and that's where he was discovered by legendary actor and comedian Bob Hope.
Bob Hope gave Tony Bennett his stage name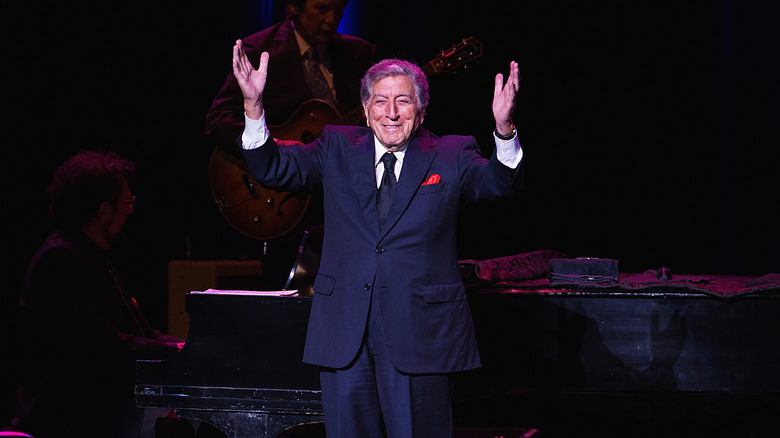 Mat Hayward/Getty Images
Bob Hope invited Tony Bennett to be in his show at the famed Paramount Theatre, "But first he told me he didn't care for my stage name and asked me what my real name was. I told him, 'My name is Anthony Dominick Benedetto,' and he said, 'We'll call you Tony Bennett.' And that's how it happened," Bennett said, per the bio on his website. Previously, Bennett performed under the name "Joe Bari," but Hope clearly had something else in mind.
According to his website's timeline, Bennett quickly went on to sign with Columbia Records' in 1950 after singing "Boulevard of Broken Dreams" and had his first No. 1 song with "Because of You" a year later. Famous albums like "The Beat of My Heart" and "Basie Swings" followed and in 1962, Bennett recorded his signature song, "I Left My Heart in San Francisco."
The rest is history, but it hasn't always been easy. In February, Bennett announced he was battling Alzheimer's disease, and had been doing so for four years. His family spoke out for the first time to AARP and his wife, Susan Benedetto, said, "Singing is everything to him. Everything. It has saved his life many times." In spite of his illness and thankfully due to its slow progression, Bennett has continued to record and perform.