Here's What's In This Year's Oscar Gift Bags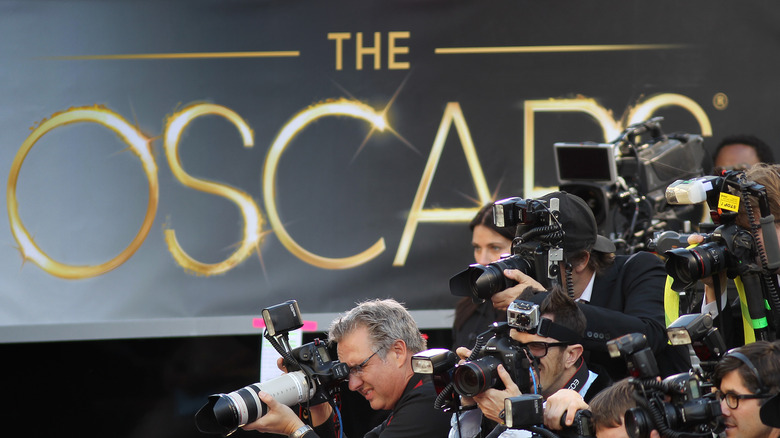 David Mcnew/Getty Images
The Oscars may not be quite back in full swing this year, but they're certainly back in full swag. The star-studded awards show featuring Hollywood's elite (and everyone else who, you know, makes it all possible) is set to air this Sunday, April 25. Those nominated will receive their legendary gift bags via Postmates if not attending in person, and it's quite the special delivery. Each bag is valued at $60,000. So what exactly is inside?
Much of the value in the bags isn't actually in stuff at all. It's in the true luxury commodity of the pandemic recovery era — TRAVEL! According to Cosmopolitan, the bags include vouchers for three nights at the Kahari Resort in the Bahamas, three nights at Casa del Campo in the Dominican Republic, two nights at the exclusive Raiwasa Resort in Fiji, and, for nominees only, four nights at the Sailrock Resort in Turks and Caicos, which alone is valued at $10,000. Our bags are packed. When do we go?
There are also vouchers and invites for spa treatments, plastic surgery, Postmates' "Don't Cookbook" (which features QR codes to order stellar takeout) and even personalized investment advice from venture capitalists (via The Independent).
This year's Oscar swag bags are valued at $60,000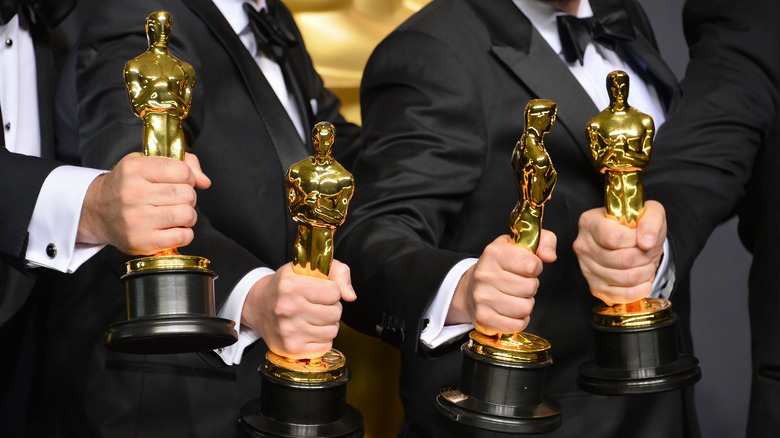 Shutterstock
This year, Distinctive Assets, (the company that assembles and distributes the bags for the Oscars and many other awards shows) says it's focused not just on premium products, but on companies with an ethical focus. Distinctive Assets founder, Lash Fary, told InStyle, "The companies we are featuring embrace diversity, inclusion, health, and philanthropy and are giving back to their communities and the world at large in significant ways."
More instant gratification type items include LOCI vegan sneakers, beauty products from Hotsy Totsy Haus, British M Annatto Hair Oil, and Miage Transformative Skincare, as well as Elixinol good Night CBD capsules, a Taiyi Institute sound acupuncture device, and a Muse S brain sensing headband complete with sleep and meditation tracker (via InStyle).
If it seems difficult to tell how these items represent diversity or philanthropy, there's also a PETA hammer for breaking into cars (to save overheated dogs of course!) and a copy of "Change-Maker Village," a children's book designed to teach anti-racism to the under-10 set. Though Fary added that "a great gift has nothing to do with a price tag" when talking up the bags to InStyle, it's a bit hard to take that statement at face value when the face value is, in fact, five figures. Then again, where does opulence belong if not at the Oscars?