Who's The Richest Cast Member Of Marrying Millions?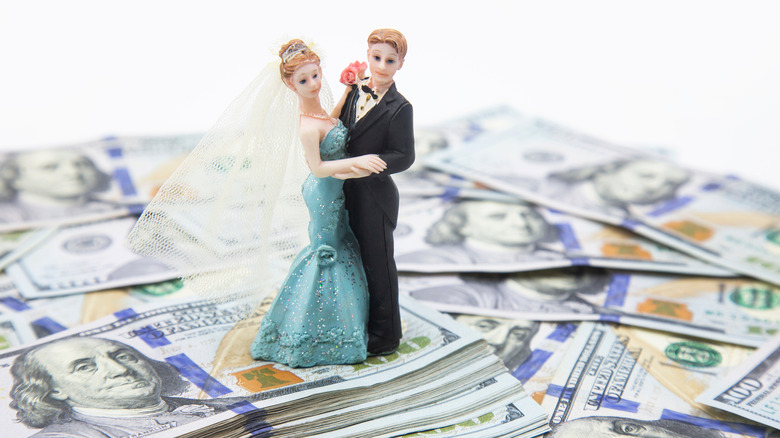 Shutterstock
Lifetime's hit series "Marrying Millions" follows the lives of mixed-wealth couples, where one person is extremely wealthy and the other lives on the opposite side of the income scale. 
The reality show documents the many challenges these couples face, such as doubts surrounding the validity of their relationships, culture clashes, and even demands from family members for prenuptial agreements. However, while the series frequently showcases these difficult moments, it also offers viewers a peek into what it is like to live an incredibly lavish lifestyle.
From picking out jewelry from private collectors to getting whisked away on tropical vacations and receiving generous allowances, the less well-off parties on the series are finally living the sweet life. Though, while all of the couples feature a millionaire, like the show's title promises, the degree of wealth of each varies. One millionaire in particular has a net worth that's significantly higher than the rest of his castmates.
Bill Hutchinson founded his own real estate company
Season 2 of "Marrying Millions" features a few couples from Season 1. One of the seven includes Bill Hutchinson and Brianna Ramirez, who actually lead the most luxurious lives. According to Showbiz CheatSheet, Hutchinson revealed in Season 1 that he worth the "'hundreds of millions'— and pushing the billions," whereas the other millionaires are in the $5 million to $50 million range.
Hutchinson is the founder and President of Dunhill Partners which is a commercial real estate company based in Dallas (via the company's website). His company has over 4.5 million square feet of investments. Hutchinson first got into real estate when he found a "help wanted" ad in his local newspaper for a broker as he explains on his personal website. Despite having zero experience in the real estate industry, Hutchinson quickly learned how to successfully negotiate deals and made a name for himself in the commercial real estate game.
In addition to running a successful company and starring on a hit reality series, Hutchinson also wrote the novel "When the Dogs Ate Candles: A Time In El Salvador" based on his experience living in El Salvador in the 1980s (via Goodreads). Though Hutchinson is about 63 years old, according to Stars Offline, he continues to run Dunhill Partners and has the potential to make many more millions.