Zac Efron's Startling New Look Is Raising Eyebrows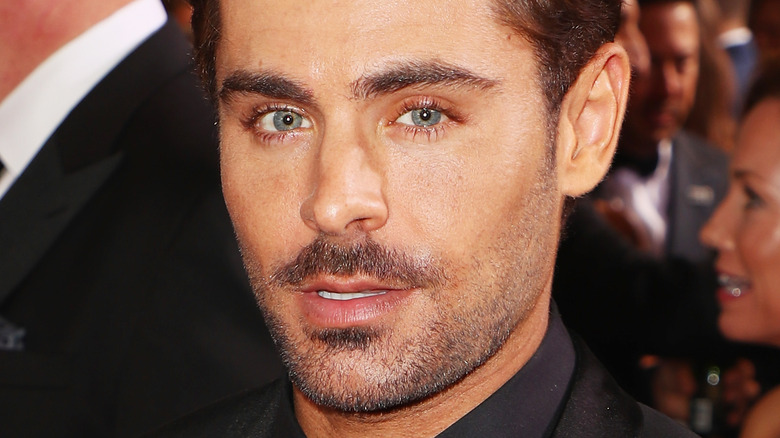 Joe Scarnici/Getty Images
Zac Efron is one of the hottest leading men in Hollywood. He's dated an array of beautiful women, such as actresses Vanessa Hudgens, Alexandra Daddario, Lily Collins, and Halston Sage (via Us Weekly). He's even been romantically linked to Olympic swimmer Sarah Bro, though he most recently split with girlfriend Vanessa Valladares (via Fox News). In addition to his handsome good looks and dating life, he's also made headlines for his chiseled body.
In early 2020, Efron was a guest on First We Feast's popular show "Hot Ones." During the interview, he opened up about his buff body, and admitted that there was a time while he was filming "Baywatch" that he felt like he was too in shape. "That was actually a really important time to do 'Baywatch' cause I realized that when I was done with that movie, I don't ever want to be in that good of shape again," Efron admitted. 
He also confessed that, while changing his body is sometimes part of his job when he takes a role, it's much more important to be the healthiest version of yourself. "Take care of your heart, take care of your brain. You're good," Efron added. Now, the "High School Musical" star is sparking rumors about another part of his body after a brand new clip raised eyebrows about the actor's appearance.
Did Zac Efron have plastic surgery?
As noted by a report from Page Six, Zac Efron recently joined TV scientist Bill Nye to promote his "Earth Day Musical" on Facebook Watch. In a clip posted online, Efron's face appears to look different than it has in recent years. The outlet claims that the actor's jaw and lips appeared to immediately draw attention from fans. It seems that many fans believe that Efron may have had some sort of plastic surgery procedure done, such as Botox injections and/or fillers in his lips and around his jaw area (via Just Jared Jr.).
"Whoever made Zac Efron feel like he needed to change his face, I hate you," one fan tweeted. "There's a pic of Zac Efron with terrible botox and jaw fillers circulating on Twitter," another account commented. "I refuse to believe this is Zac Efron's face now," another person wrote. "I just found out about this and I am literally crying, there are actual tears coming out of my eyes please tell me it's all just a nightmare," a social media user stated. 
Although Twitter is buzzing about Efron's new look, the actor has yet to make a statement regarding the rumors that he altered her face.