The Real Difference Between Blue Shampoo And Purple Shampoo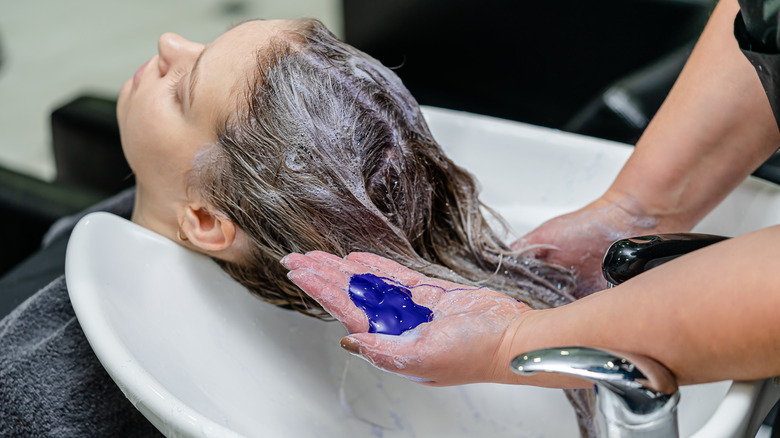 Shutterstock
If you've just had a summer-ready balayage or highlights treatment done to your hair, you might be wondering about maintenance for lighter locks. While professional hair color should last a substantial amount of time, brassy undertones can appear anywhere from 4-6 weeks after your salon visit (via Redken). To prevent your mane from going buttery-blond to downright orange, a blue or purple shampoo may be just the trick for long-lasting, cool-toned hair (with more time between appointments!). The question is, should you choose purple or blue shampoo for your hair type?
According to Redken, both purple and blue shampoos work to eliminate brassiness, and prevent cool-toned bleached hair from turning orange. These toning shampoos fight against warmer colors that can crop up after a few washes, as they infuse hair with cool pigments. That being said, purple and blue shampoos are designed for very different hair types. In short, using the wrong one can mean a potential hair disaster, so knowing which one is best for you is crucial.
As BeautyHeaven explains, purple shampoos should be the go-to for anyone with blond hair wanting to eliminate brassy yellow tones in their hair. Since purple is directly opposite to yellow on the color wheel, the mauve pigments in the shampoo will slowly counteract any tinge of warmth, keeping locks as icy as possible. Your gorgeous hair color will be neutralized with each wash, with no risk of veering into orange. Blue shampoo works similarly, but on the opposite side of the color wheel.
Everything to know about blue shampoo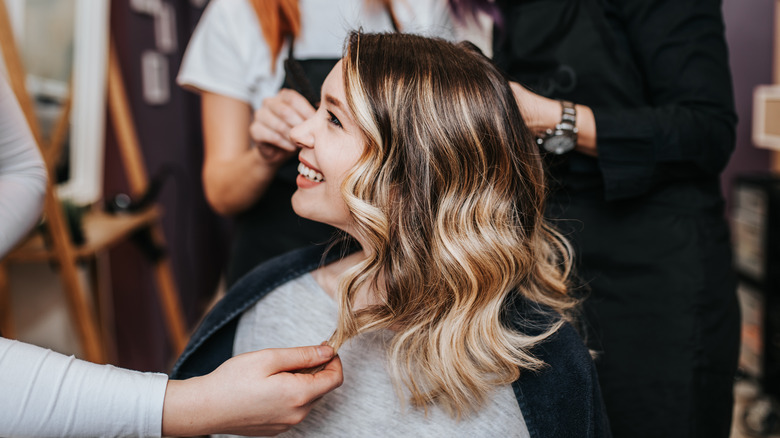 Shutterstock
While purple shampoo is best for those with blond hair who want to maintain their platinum or buttery highlights, blue shampoo is utilized for the opposite side of the spectrum: brunettes! As Redken explains, blue shampoo works for brunettes who want to neutralize red or orange tones in their hair. Whether coming after a balayage treatment or all-over hair color, a blue shampoo will work to counteract brassiness, and will have just the pigment to be effective for darker hair.
New York colorist Calla Dawn told Byrdie that "using a blue shampoo is a great way to keep [brunette] hair looking cooler-toned between appointments," while those with blond 'dos will surely benefit from purple treatments. While both kinds of shampoos will maintain hair color beautifully and effectively, BeautyHeaven warns that using the wrong one might lead to a full-blown catastrophe.
The outlet explains that blue shampoos are heavily pigmented and may stain more than purple, so it is recommended to use it with caution. Using gloves will prevent staining your hands, and making sure your hair is dark enough to use blue shampoo will be best. Whether going the purple or blue route, each of these toning shampoos will make sure your hair color lasts longer, even with a few extra beach and pool trips in between!