Here's How Much People Get Paid To Be On House Hunters
The popular HGTV reality series "House Hunters" follows people that are searching for a new home. The buyers choose from three different locations selected for them by a local real estate agent. After visiting each of the properties, the buyers discuss the pros and cons of each option before revealing their final decision. To close each episode the new homeowners discuss how the purchase affected their lives. Each episode follows a new couple and showcases a different aspect of the emotional journey of moving and buying a home.
"House Hunters" has been on the air since 1999 and is currently in its 199th season (via HGTV). So far there have been over 500 couples who have documented their home search for the network's viewers. Since the series is so successful and filming a reality show takes a great deal of work, fans often wonder how much these individuals are paid to open up about one of their biggest decisions.
The pay for House Hunters is extremely low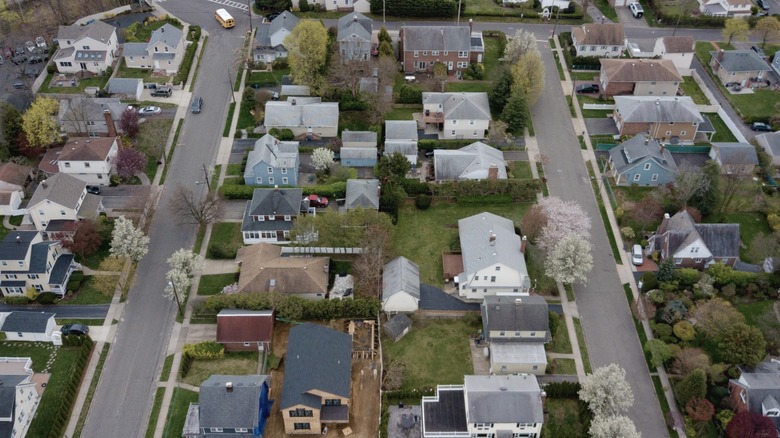 Bloomberg/Getty Images
According to Showbiz Cheat Sheet, the couples and families featured on the show are only paid $500 for their time. This amount is split between the entire party filming the episode (Via Mental Floss). It reportedly takes about 30 hours to film each "House Hunters" episode over the course of 3-5 days, meaning these individuals are working long hours for very low pay. It's shocking that the pay is so low because the "hunters" compete against 100 to 200 applicants for their specific episode.
While the pay is quite low for the people buying the homes, at least they receive some compensation. The realtor isn't paid anything to appear on "House Hunters" but agrees to film for the free publicity. According to The Washington Post, this HGTV original has over 25 million viewers per month. The massive popularity of the series helps these unpaid laborers to increase their sales and profile in their neighborhoods. While the pay for a "House Hunter" ranges from little to nothing, the experience of appearing on the series and finding your dream home is priceless.