This Is How The Royal Family Signaled The End Of Their Mourning Period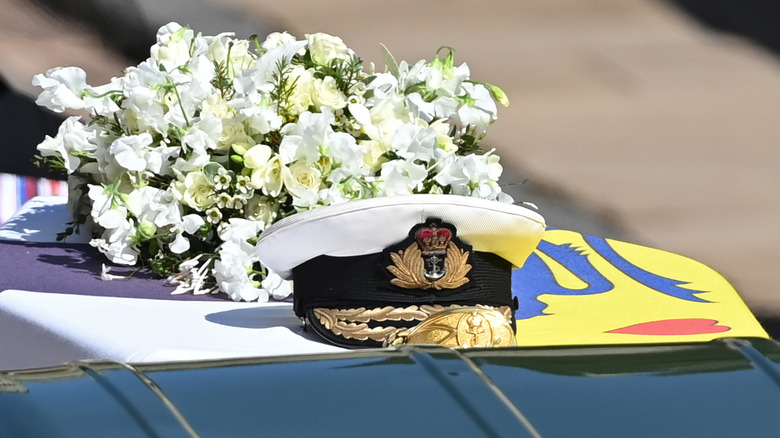 Leon Neal/Getty Images
As the Bible says, "For everything there is a season ... a time to weep and a time to laugh; a time to mourn, and a time to dance." The royal family may not exactly be ready to do a jig in the grand ballroom, but they recently sent a quiet signal that they are ready to move on to life without Prince Philip. 
Immediately following the Duke of Edinburgh's death, the official Royal Family Instagram account changed its profile picture to a black-and-white photo of the prince. Other royal family members, such as Prince William and Kate Middleton, followed suit on their accounts, using either the duke's photo or simply their family coat of arms. The social media tribute continued throughout the palace's official two-week period of mourning; then, on April 24, the palace changed the profile picture to a recent shot of the queen. In it, she is smiling and looking her usual smart self in an aubergine suit and flower-trimmed hat.
William and Kate's @KensingtonRoyal account now has a profile picture of the Cambridges and their three children, while Prince Charles' @ClarenceHouse Twitter account shows a profile pic of the prince and Camilla, Duchess of Cornwall. No official announcement was given about the end of the mourning period, but the pictures literally said it for them.
A royal mourning period has special customs
As with anything involving British royalty, there are special protocols and procedures that are carefully followed when a member of the royal family dies. According to The Scotsman, a royal death is announced both via a release sent out to news outlets and a note attached to the gates of Buckingham Palace. Broadcasters are expected to wear black on-air when covering the announcement.
With the approval of the queen, the British prime minister then announces a national period of mourning, during which flags are flown at half-staff at royal residences and government buildings, and political campaigning is suspended (via The Guardian). Businesses and sporting events are permitted to continue as usual, though if they do so on the day of the funeral, it's strongly suggested that they observe the minute of silence at the appropriate point during the service.
The royal family themselves observe a "royal mourning" period of two weeks, starting from the date of the family member's death. During that time, "engagements will continue according to the circumstances," an official told The Guardian. For example, on April 21, Queen Elizabeth spent her 95th birthday quietly at home and had a small lunch with her younger sons. (A bigger celebration actually takes place in June, according to the royal website.) Princess Anne also attended an engagement during the mourning period that would have pleased her father: She visited three hospitals to thank the essential workers for their service during the ongoing pandemic.