Here's Why Kellyanne Conway's New Book Deal Is Facing Backlash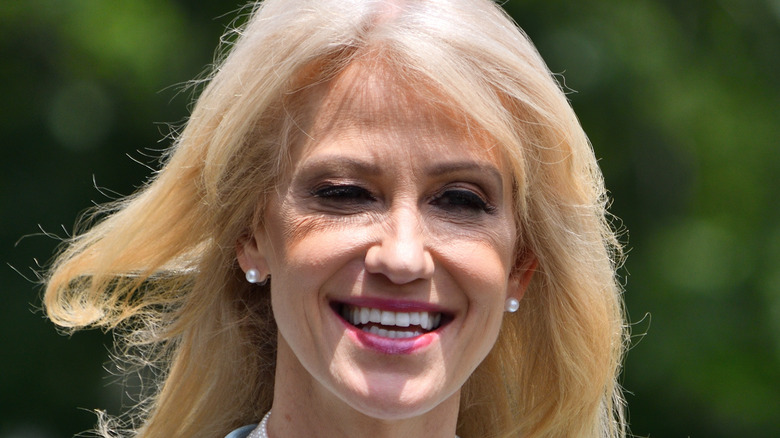 Shutterstock
Kellyanne Conway is the latest person associated with former President Donald Trump to stir up controversy, thanks to a book deal offered to the former Trump campaign manager by publisher Simon & Schuster (via The New York Times). The news comes after many Simon & Schuster employees drafted a petition demanding the company cancel book deals and not initiate new ones with authors associated with Trump. The petition, which circulated after the publisher announced a multi-book deal with former Vice President Mike Pence, acquired 216 internal and thousands of external signatures, according to Fox Business. 
Conway has always been a controversial political figure. After serving as Donald Trump's campaign manager during his first election, she became one of the former president's closest advisors and earned the reputation of being a propaganda peddler from those opposed to the administration (via Fox News). 
KellyAnne Conway's book is expected to be a memoir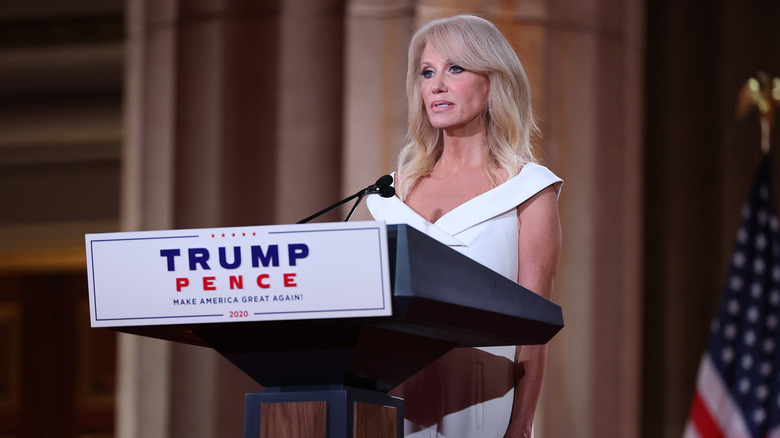 Chip Somodevilla/Getty Images
KellyAnne Conway's book, which will be published by Threshold, Simon & Schuster's imprint that focuses on conservative titles, is expected to be closer to a memoir than a book focused on politics, according to The New York Times. Conway should have plenty to write about, just on her home life alone. Not only is she married to George Conway, a Republican lawyer who is an unwavering Trump critic, but her volatile relationship with her daughter, Claudia, has repeatedly made headlines in the last few years. In a now-deleted TikTok video, the 16-year-old accused her mother of tweeting a topless photo of her in January, prompting a visit by police, according to CNBC. 
Conway, who has four children, resigned from her position as a senior White House advisor in August 2020 after negative public attention created by tweets from Claudia criticizing both of her parents, according to The Wall Street Journal. Most recently, The Columbus Dispatch reported that Conway has joined Ohio senate candidate Bernie Moreno's campaign staff as senior adviser.