How To Do Makeup Like Jane Fonda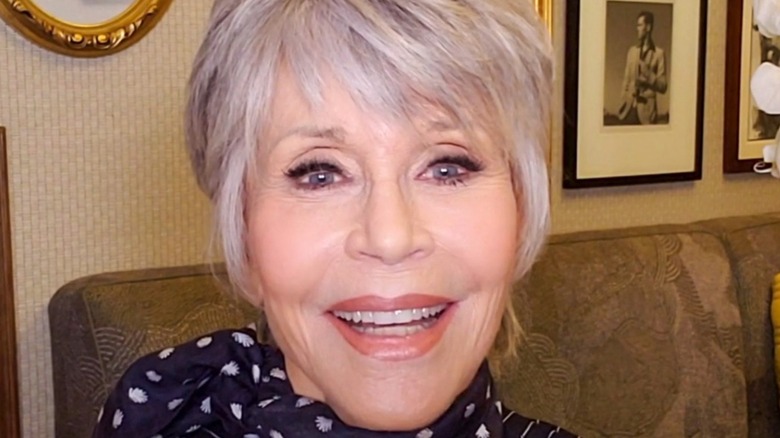 Getty Images/Getty Images
The timeless Jane Fonda proves that everything gets better with age, including your skin — if you play your cards right. The two-time Academy Award winning actress (via Britannica) has been a Hollywood staple for decades, and has managed to age gracefully in that time. Fonda's famous healthy lifestyle (see: her intense workout videos circa the '80s) and skincare routine cement her status as the ultimate beauty icon. One glance at her polished but natural-looking makeup will have you convinced she's discovered the secret for aging backwards.
Fonda shared her coveted skincare regimen with Glamour and highlighted moisturizers — specifically Uncle Bud's 100mg CBD Daily Face Moisturizer and L'Oréal Paris Age Perfect Cell Renewal Rosy Tone Moisturizer — as key ingredients to her youthful appearance. "It's just about keeping my skin from being dry. As I've gotten older, my skin and hair have become even drier. So keeping moisturized and protected with sunscreen is pretty important."
On top of taking great care of her skin, Fonda makes intentional makeup choices that highlight her best features without aging her. Here's how you can steal Fonda's makeup routine and reverse the clock.
Age backwards like Jane Fonda with these makeup tips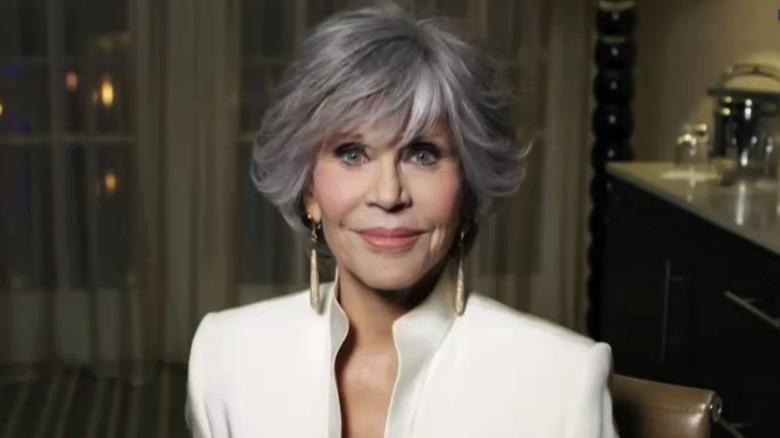 Handout/Getty Images
Jane Fonda's long-time makeup artist Shawnelle Prestidge spilled the beans to Coveteur about makeup tricks that make her shine on and off the carpet. Fonda and Prestidge are both big on skincare, which is why Prestidge applies a natural facial serum before putting on foundation. She's adamant about pampering your skin first. So lay the groundwork before the makeup comes on, check.
Prestidge also stressed the importance of wearing concealer that complements your skin tone, and opting for contour powder versus cream for a more seamless look. Instead of the gorgeous but complex contouring that's popular on TikTok, she draws a simple line from ear to ear before blending in products (via Coveteur).
In an interview with Glamour, Fonda shared the power of a good lipstick and liner. "I didn't wear lipstick when I was younger, but when you get older, and especially with gray hair, you need a color on your mouth or you just fade away," she explained. "I need lipstick and then a lip liner because the line of my lips has become kind of porous, and I must say that putting a lip liner on is like riding over a bumpy road. Every wrinkle is like oof." She swears by L'Oréal's Paris Age Perfect Satin Lipstick With Precious Oils and their Anti-Feathering Lip Liner (via Glamour).
We're soaking up all of these expert tips for just a smidgen of Fonda's glow.