Kayleigh McEnany's Tweet During Biden's Address Didn't Get The Reaction She Hoped For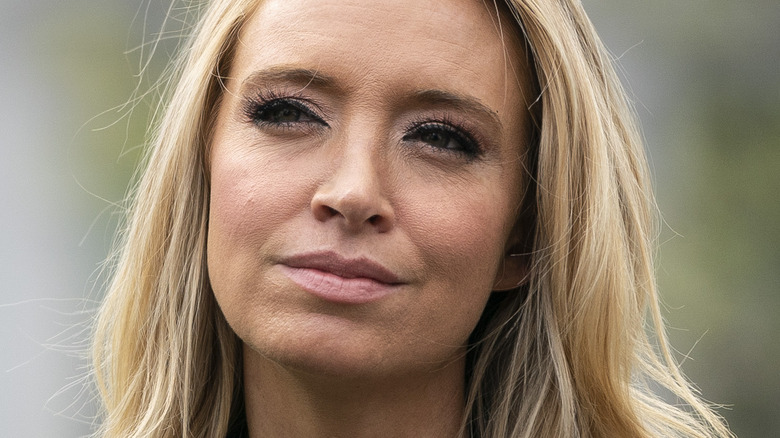 Drew Angerer/Getty Images
Former White House press secretary, Kayleigh McEnany, who has since found a home at Fox News, wasn't able to sit still through President Biden's first speech to Congress.  Instead, McEnany took to Twitter, pinning a new post to her profile to express her disappointment in the evening: "Underwhelming. Uninspiring. This is difficult to watch," she tweeted.
In an apparent attempt to defend her mortification, the "Outnumbered" cohost searched for things to critique about Joe Biden's speech and picked up neither on content nor on expressions, but on, well, background noise. If you were busy listening to the president's words and missed the moment, Forbes documented it for Twitter. A cellphone ringtone went off during the president's speech to Congress while Biden was talking about tax reform. "The old school iPhone cellphone ring bursting out, and palpably audible during Biden's address is wholly fitting," McEnany pounced (via Twitter). But Twitter wasn't buying it.  
Twitter claps back at Kayleigh McEnany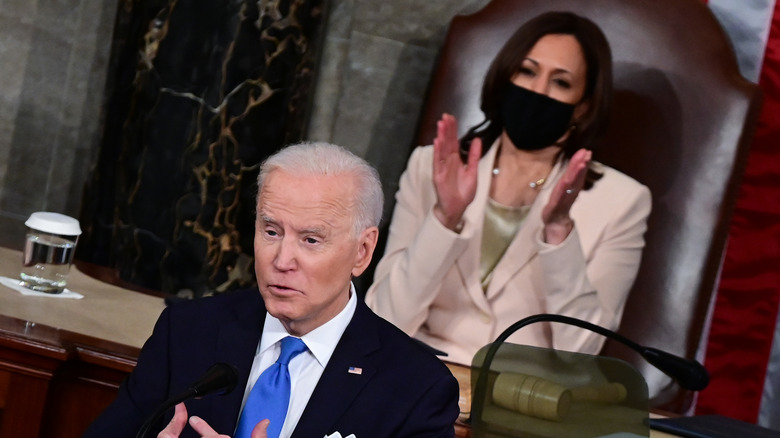 Pool/Getty Images
Social media saw Kayleigh McEnany's attempt at shading the president and raised her about a hundred snappy comebacks. "Lol, I'm loving how much you're hating this," tweeted one Twitter user. "Just Rudy butt dialing somebody again. He's going through some stuff right now. Relax," joked another (via Twitter). "It's probably you, or your old boss in Mar-a-Lago calling one of the numerous old white Republicans sleeping in front of President Biden, trying to wake them up and telling them to 'stop the steal!!'" snarked a third via tweet. "Someday you may grow up," tweeted a fourth. 
This is far from the first time that McEnany's attempts to critique President Biden have backfired. Just last week, Mecanany went on-air and denounced Biden for his remarks on the Chauvin trial, suggesting that "it's the role of the president of the United States to stay back, to not inflame the tensions." But the former press secretary's suggestion provoked so much ire on Twitter, which was quick to call hypocrisy, that it made the national news (via HuffPost).