Miley Cyrus' Upcoming SNL Appearance Has Fans Seeing Red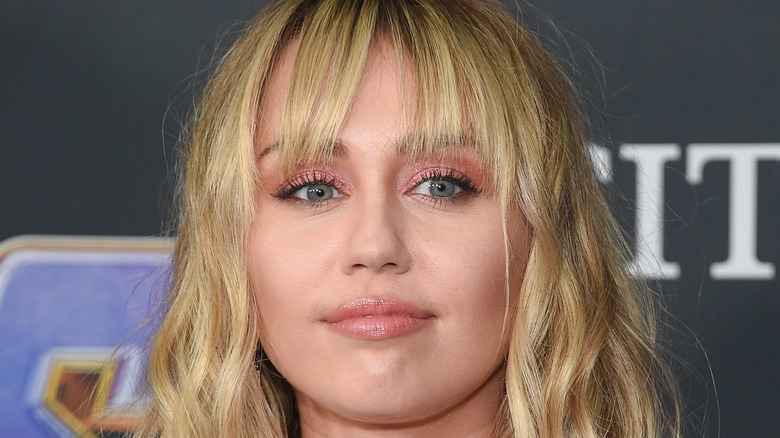 Shutterstock
Tesla CEO Elon Musk is slated to host the May 8, 2021 episode of "Saturday Night Live." Following the announcement that the business mogul would host the long-running sketch show, many fans of "SNL" and even a few cast members expressed their apprehension (via CNBC). In an Instagram story, cast member Bowen Yang wrote "what the f*** does this even mean?" in response to Musk's tweet which read, "Let's find out just how live 'Saturday Night Live' really is." Another cast member, Andrew Dismuke, wrote on his Instagram story, "ONLY CEO I WANT TO DO A SKETCH WITH IS Cher-E Oteri" over a photo of the "SNL" alumna Cheri Oteri.
Pop star Miley Cyrus — who has a stunning net worth — is scheduled to take the "SNL" stage alongside the SpaceX CEO as the musical guest. Cyrus has performed for the variety television series six times before, but is drawing criticism from fans for performing the same week as Musk's hosting debut (via NME).
Miley Cyrus suggested a potential collaboration with Elon Musk
On April 28, 2021, a fan tweeted a meme of Elon Musk in a Miley Cyrus inspired outfit riding a wrecking ball with the caption, "Alright Elon just... hear me out". The billionaire responded, "Might be something there haha," to which Cyrus replied, "I'm down if you are!" with an emoji of a rocket, moon, and Saturn (via Billboard). She also added the hashtag "#MileyAndMusk to the moon!"
This exchange prompted a few angry replies from fans who were upset to see Cyrus joking around with the man who's been accused of "destroying the planet" (via Daily Mail). One Twitter user wrote, "Miley please you don't have to pretend to like him," while another wrote, "Delete this we will pretend that we didn't see." Another user referenced Musk's billionaire (almost trillionaire) status tweeting, "Yes queen infiltrate and redistribute that wealth we love to see it."
Cyrus, as of publication, has yet to respond to the backlash from her fans.