Kate Middleton Reportedly Couldn't Understand This About Harry And Meghan's Relationship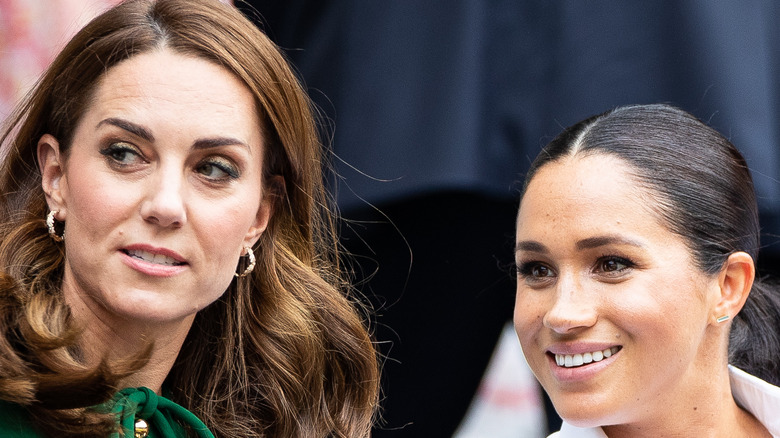 Simon M Bruty/Getty Images
All weddings are typically all about tradition, from the bride's white dress to the exchanging of rings. British royal marriages, however, are more tightly bound to custom than most. From menus to flower arrangements, royal wedding ceremonies are carefully choreographed events that, as Meghan pointed out in her interview with Oprah, are largely meant for public consumption. Even before tying the knot, British royals are bound by etiquette (sometimes laid out in law) to comply with no-doubt antiquated protocols. For example, The Royal Marriages Act of 1772 requires any royal family member who plans to propose to get the queen's blessing first (via Brides). 
This rule is similar to the mostly-forgotten tradition we know of as "asking for one's hand in marriage." It's a custom often called out as "sexist" (via Cosmopolitan) in which the proposer traditionally asks for permission from their partner's father before proposing. Prince Harry, who got down on one knee while making roast chicken with Meghan at Kensington Palace (via BBC), paid no heed to it. Here's the thing: Prince Harry didn't actually meet Meghan Markle's father before their marriage, at all. This — according to royal biographer Ingrid Seward — "worried" Meghan's future sister-in-law, Kate Middleton (via The Sun).
Kate voiced her concerns after Harry and his wife-to-be stayed at her home, shared with Prince William, in Norfolk, Anmer Hall. Following their visit, Harry revealed to Radio 4's "Today" program that his loved ones were "like the family she [Meghan] never had" (via The Sun). Of course, it all snowballed from there. 
Kate Middleton was reportedly worried about Meghan Markle's strained relationship with her family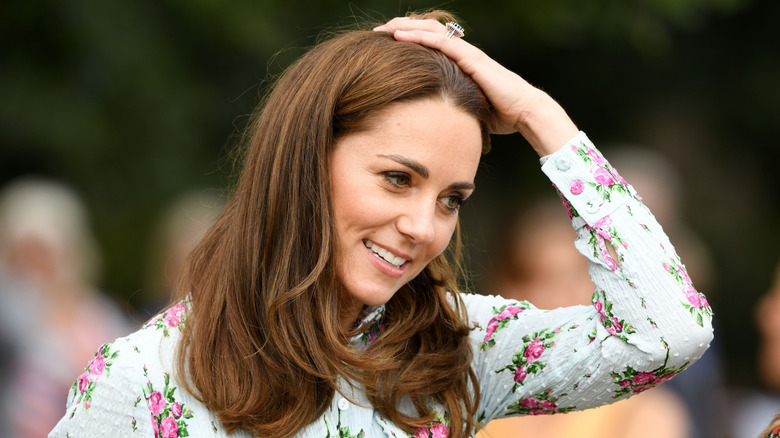 Shutterstock
When Harry and Meghan announced their engagement, Kate Middleton was quick to publicly show her support, telling the press at a public outing that she and William hoped that the newly engaged couple "enjoy[ed] this happy moment" (via BBC). But the media rang alarm bells when Meghan declined to attend Kate's sister's wedding.
Page Six reported that Meghan pulled out of Pippa's wedding for fear that she would steal the show. Behind the scenes, however, things might have been tenser than we ever realized. According to royal biographer Ingrid Seward, Kate Middleton found the situation surrounding Meghan Markle's father (and Prince Harry not meeting him) "all a bit worrying." Seward claimed that Kate "could not understand why Harry had never met his future father-in-law, nor why Meghan ... appeared embarrassed about her family and unwilling to speak about them apart from her mother" (via The Sun). On the day of her wedding to Harry, Meghan walked down the aisle with her father-in-law, Prince Charles (via Town & Country). Her mother, Doria Ragland, was the only family member (on Meghan's side of the family) to attend the wedding.
In her bombshell interview with Oprah Winfrey, Meghan revealed how emotionally draining the experience with her father has been. "I look at Archie, I think about this child [on the way], and I genuinely can't imagine doing anything to intentionally cause pain to my child," Meghan told Oprah (via People). "I can't imagine it. So it's hard for me to reconcile that."
Did Kate talk to Harry before his wedding?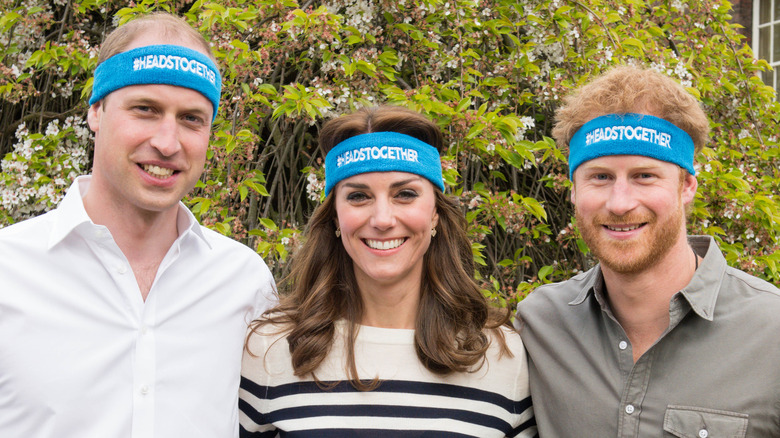 Nicky J Sims/Getty Images
If Kate Middleton was worried about Harry's relationship, she may well have voiced her concern to Harry before the wedding. In their 2020 book, "Royals at War," journalists Dylan Howard and Andy Tillett allege that Kate suggested to Harry that he slow down (via The Daily Mail). "She gently reminded him that he was dating someone with a completely different life, past, and career and it would take time, care, and attention for them to integrate," as per the books' authors.
One thing is certain. There is no doubt that the press has delighted in pitting Middleton against Markle. Royal biographer Ingrid Seward maintains that while Kate tried her best to like Meghan, "the women had little in common beyond some polite chatter and their shared interest in tennis" (via The Sun). In "Finding Freedom: Harry, Meghan and the Making of a Modern Royal Family," Omid Scobie and Carolyn Durand report that by Meghan's last public appearance as a working royal, the relationship between the royal sisters-in-law had disintegrated (via Vanity Fair). "Although Meghan tried to make eye contact with Kate, the duchess barely acknowledged her," Scobie and Durand wrote.
In her interview with Oprah, however, Meghan told a different story, insisting that "[Kate's] a good person" (via Elle). "I think so much of what I have seen play out was this idea of polarity [but] if you love me you don't have to hate her, and if you love her, you don't need to hate me."