Inside Miley Cyrus' Relationship With Her Brother, Musician Trace Cyrus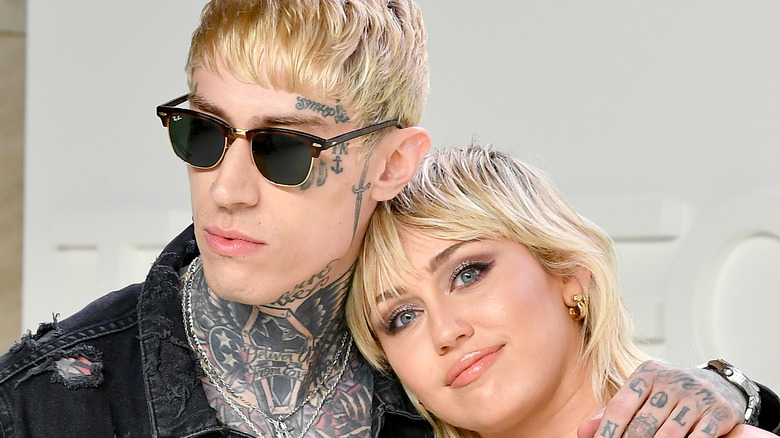 Amy Sussman/Getty Images
Miley Cyrus – who has a stunning net worth — came onto the scene starring alongside her real-life dad, Billy Ray Cyrus, on the Disney Channel hit series "Hannah Montana" (which, if you can believe it, celebrated its 15th anniversary in 2021). Miley played a pop star with a secret identity, allowing her to be an international superstar and a regular high school student (via Disney+). Of course, a few people knew her secret, including her two best friends, her father, and her older brother. In reality, Miley also has a big brother, Trace Cyrus, with whom she appears to share a solid bond.
Like Miley, Trace is also a musician (via The Things). He plays guitar and was one of the founding members of the band Metro Station, which was on the music scene from 2010 to 2014. The band gathered a cult following after hitting it big on the social media platform Myspace (talk about a throwback). While Trace's music career is well known to his fans, it's his appearance that is commonly spoken about, as he's covered in tattoos. 
While Trace and Miley seem to have a lot in common — including a love for music and ink — many fans don't know that they're not full siblings. Trace is Miley's half-brother, as the two share the same mother, Tish, but a different father. Trace's biological father is Tish's former husband, Baxter Neal Helson, although he was adopted by his step-father Billy Ray. Miley and Trace also share three siblings, sisters Brandi and Noah, and brother Braison (via Good Housekeeping).
Miley Cyrus and Trace Cyrus share a sweet bond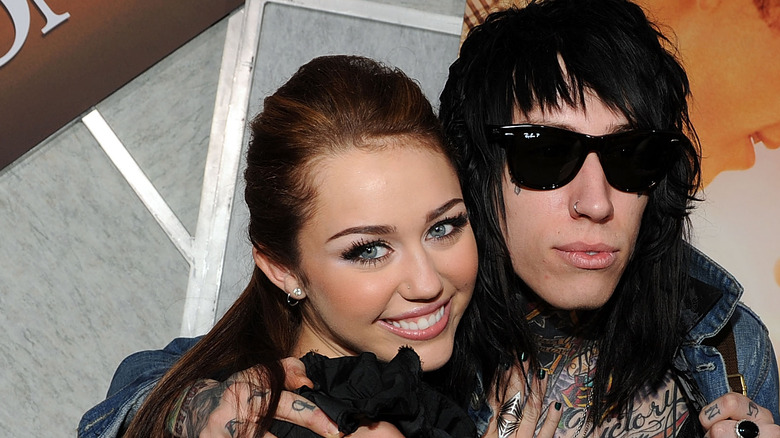 Kevin Winter/Getty Images
Miley Cyrus — who's had a stunning transformation — looks to have a good relationship with all the members of her famous family. However, her connection with Trace Cyrus has been well documented on social media. For example, Trace gave his younger sister a very special shoutout via his Instagram account to kick off the year 2020. The siblings looked to be celebrating the new year together — in the photo, Miley wore a sparkly party hat and decorations could be seen in the background. The duo snuggled up together and smiled for the camera as Trace admitted that he can also turn to his younger sister for love and support.
"Thank u @mileycyrus for always being there for me.. Love you sooo much sissy!" Trace wrote in the caption of the post, as noted by Fox News. Trace continued, saying, "Happy New Year!!! This year I don't have any specific goals. I just want to focus on my family, music, & fitness all I can! Some of u might already know but I'm recently single & extremely thankful to have my family around me during this time. I've just been feeling so blessed lately!"
Just days before the New Year bash, Trace shared another family photo with Miley. Miley also posted the same photo to her feed, giving fans a laugh with a caption that read, "Happy Holidays from America's most dysfunctional family." Through all of their ups and downs, Miley and Trace have been through for each other, and seem to share an unshakable bond.