Mike Pence Hints At His Future Political Plans In First Speech Since Leaving Office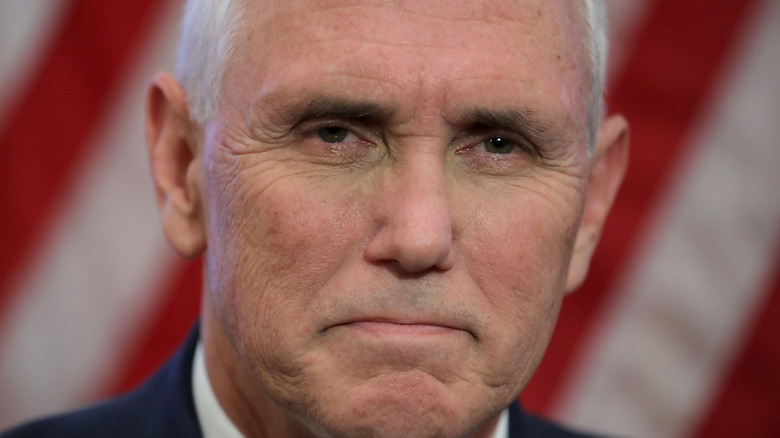 Chip Somodevilla/Getty Images
Former Vice President Mike Pence has made his first speech since leaving the White House and hinted at his future political plans (via The New York Post). Speaking at an event hosted by a conservative Christian nonprofit in South Carolina on Thursday, April 29, Pence made suggestions of a potential return to elected office, adding that he plans to push back on the so-called "liberal agenda." 
"We've got to guard our values ... by offering a positive agenda to the American people, grounded in our highest ideals," the former VP told the audience, adding, "Now, over the coming months, I'll have more to say about all of that."
As USA Today reports, Pence did not go into detail about former President Donald Trump during the speech, but he did speak positively of the Trump agenda. However, the Republican politician had strong words for President Joe Biden, who he accused of imposing "an avalanche of liberal policies" that includes "a war on traditional American values." Speaking to the audience, he asked, "Had enough? I have."
Mike Pence had strong words for the Biden-Harris administration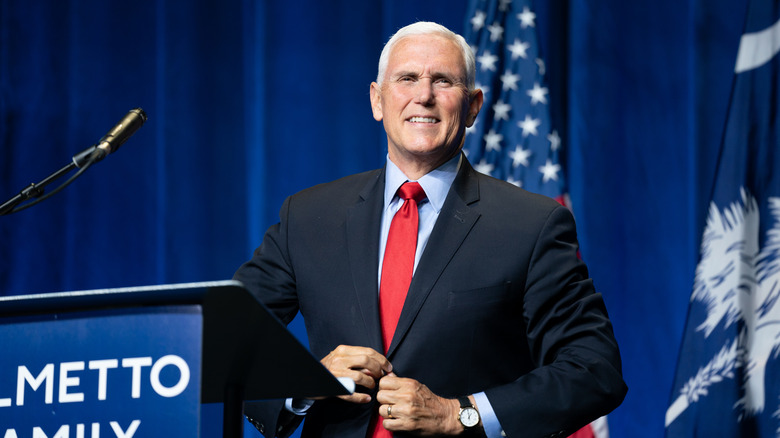 Sean Rayford/Getty Images
Elsewhere, Pence also touched upon a range of issues he has long advocated, including abortion restrictions and the overturning of Roe v. Wade (via The New York Post). "We will stand with the right of every American, of every faith, to live, to work, to speak and to worship according to the dictates of their conscience," the former vice president added.
Per NBC News, Pence later doubled down on his criticism of President Biden and his successor Vice President Kamala Harris, accusing them of "canceling our most cherished liberties." 
"After 100 days of open borders, runaway spending, plans for higher taxes, a bigger welfare state, more government, defunding the police, abandoning the right to life." Speaking to the South Carolina crowd, he continued, "The time has come for freedom-loving Americans to stand up to the far left agenda of the Biden-Harris administration and say enough is enough. It's time to unite behind a positive agenda."