Inside Colton Underwood's Relationship With Olympian Aly Raisman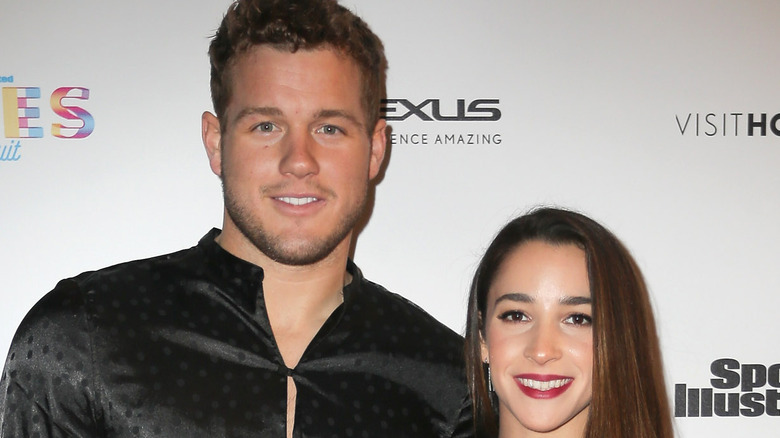 Bob Levey/Getty Images
In an exclusive interview with Robin Roberts of ABC's "Good Morning America" in April of 2021, former "Bachelor" star Colton Underwood came out as gay. "I've ran from myself for a long time," Underwood said. "I've hated myself for a long time. And I'm gay. And I came to terms with that earlier this year and have been processing it. And the next step in all of this was sort of letting people know." Since jumping over the fence for Cassie Randolph on his season of "The Bachelor" in 2019, Underwood made headlines for allegedly harassing and stalking Randolph after the couple called it quits in 2020. As far as the famous exes go, this is how Randolph reacted to the news. 
Prior to landing the lead on the 23rd season of "The Bachelor" — which included this interview that almost revealed Underwood's well-kept secret – Underwood played on the practice squads of several NFL teams, including the Oakland Raiders in 2016. While playing for the Raiders, Underwood's teammate Andrew East and his wife, former Olympic gymnast Shawn Johnson, introduced him to fellow former Olympic gymnast Aly Raisman. Underwood then asked Raisman out on a double date with himself, East, and Johnson in a video. "If you're ever here in San Jose and want to go on a double date with me and Andrew and Shawn, let me know," he said in the video, according to USA Today. Raisman accepted, and the rest is history.
Aly Raisman was Colton Underwood's first love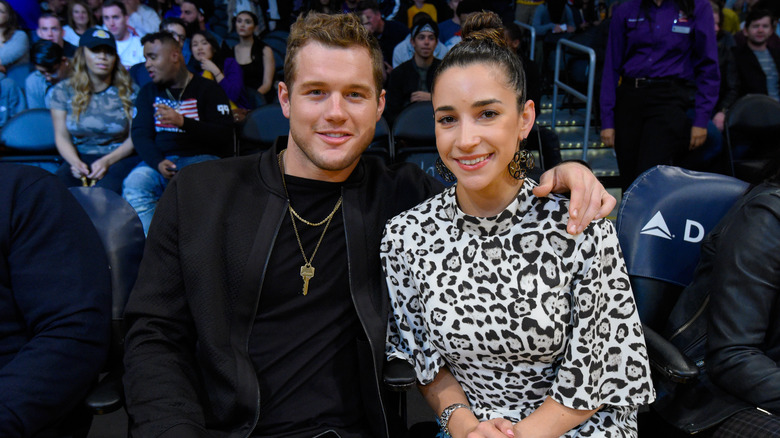 Noel Vasquez/Getty Images
Though their romance was fairly short-lived (the couple dated from late 2016 until they split during the summer of 2017) as USA Today reported, Underwood revealed that Raisman was his "first love" and "worst heartbreak" on the "LadyGang" podcast. Underwood also spoke about his relationship with Raisman in his 2020 memoir, "The First Time: Finding Myself and Looking for Love on Reality TV." 
"Aly was easy to talk to," Underwood wrote in his memoir, according to Us Weekly. "She was open, funny, bright, honest, and inquisitive. The more time I spent with Aly, the more attractive I found her. She was very mature for her age, no doubt from having to grow up fast. She worked hard in and out of the gym." Underwood also spoke about what it was like supporting Raisman as she prepared to face sex offender and former Olympic doctor Larry Nassar in court. "I wanted to find Nassar and rip his head off," Underwood wrote in his memoir. "Just watching her go through that was painful."
In June of 2017, Underwood told The Lincoln Journal Star that the athletic power couple had called it quits, admitting that the internet "put a lot of pressure on" them. For her part, Raisman told People that she didn't watch Underwood's season of "The Bachelor." 
"I don't watch the show," Raisman told People. "We broke up a couple of years ago and we really — we have not talked in a really, really long time."