The Truth About HGTV's New Show Clipped
Roy Rochlin/Getty Images
This year, HGTV has announced and debuted a ton of new series for the home décor and house hunting lovers. The new year got fans excited to see Leanne and Steve Ford back for a new spin on their show with "Home Again with the Fords" and Lara Spencer, the host of "Flea Market Flip," with her new show "Everything but the House."
They also announced a range of new shoes, including "Divide and Design," where sisters help transform homes on a budget, and "Fresh Starter," which focuses on young couples with small homes and even smaller budgets. One of the most talked about new shows, though, is the series "Clipped," a reality competition featuring Martha Stewart.
The show is a bit out-of-the-box for the network, taking a nod to the garden in Home and Garden Television (HGTV). Featuring some of the best garden sculptors in America, "Clipped" focuses on topiary design, but there's more to it than just gardening skills (via People).
Clipped is a tough competition series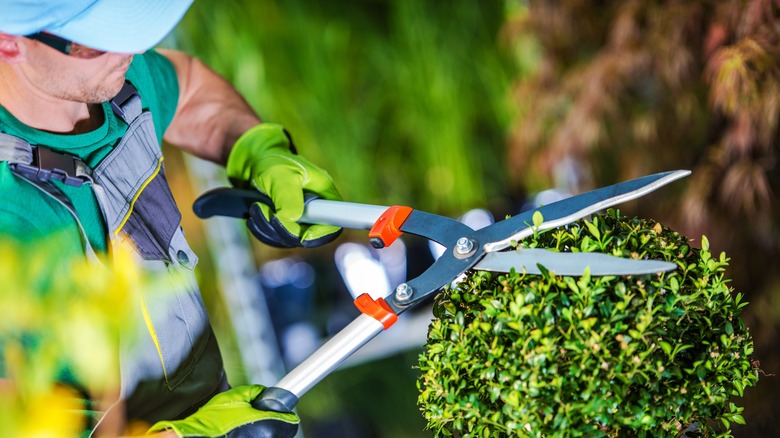 Shutterstock
According to People, "Clipped" is currently a six-episode series. It starts with seven artists who are tasked with creating out-of-this-world sculptures made of flowers, plants, and shrubbery. Michael Urie, who you may recognize from Broadway or shows like "Ugly Betty" and "Modern Family," (via Broadway Buzz) plays host alongside three judges: Martha Stewart, landscape pro Chris Lambton, and critically-acclaimed landscape designer Fernando Wong.
Each episode features a new competition, where the topiary artists are tasked with creating everything from large-scale animals to living rooms with full-size, functional furniture — all made entirely of things like sod and grass (via TV Show Ace). "It's colorful, bold, playful, and it's alive. It's topiary—the art of transforming ordinary plants into extraordinary, living sculptures shapes and characters," host Michael Urie told TV Show Ace. "And now, for the first time ever, seven top topiary artists are taking part in a competition like no other."
You can catch the 90-minute series premiere on May 12 on discovery+.