The Real Reason 1000-Lb Sisters' Tammy Slaton Missed Amy's First Wedding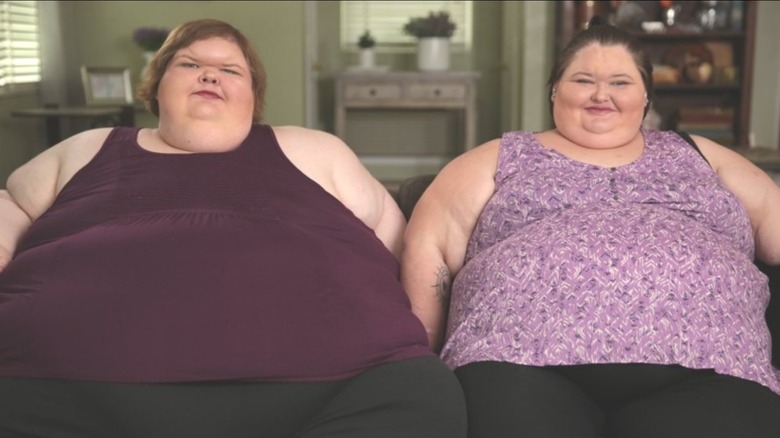 TLC
TLC's "1000-lb Sisters" is the latest mega-hit reality show documenting the fascinating lives of people on the fringes of society. Following sisters Amy and Tammy Slaton, who originally found fame by sharing their day to day lives on YouTube, and whose combined weight tips the scales at close to 1,000 pounds, the show has proven irresistible to fans of the likes of "My 600-lb Life." Viewership increased so much for Season 2 that fans actually petitioned to get a third going, according to CheatSheet, with the Change.org petition arguing it's many people's favorite show. 
Producers clearly paid attention, with Alon Orstein, SVP Production and Development at TLC, telling Deadline, "Tammy and Amy Slaton have captivated us with their fun-loving personalities, heartfelt challenges, and uplifting victories. We admire their genuine, evolving journeys and we are rooting for them as they pursue paths toward healthier lifestyles." The sisters' unbreakable bond is one of the biggest reasons to tune into "1000-lb Sisters," so fans were understandably confused about why Tammy didn't attend Amy's wedding in Season 1. Now, we finally have the answer.
There was a good reason Tammy wasn't present at Amy's first wedding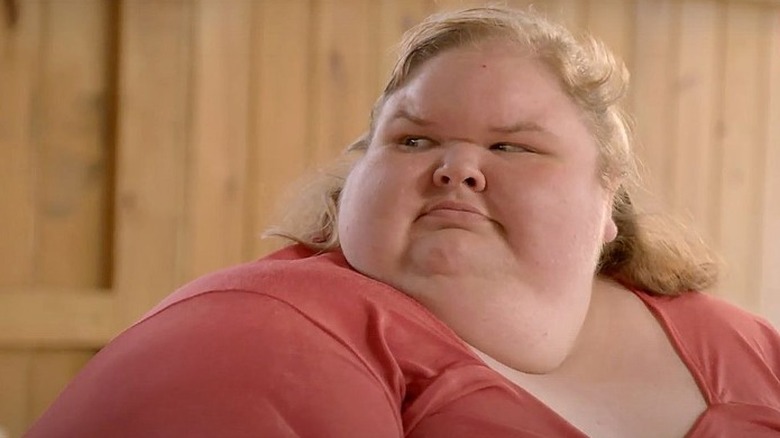 TLC
Season 1 of "1000-lb Sisters" found Amy Slaton remarrying her husband, Michael Halterman, since, prior to the ceremony, they had simply made it official at a courthouse. Although her sister, Tammy Slaton, was there to celebrate with her the second time, it became clear that she did not attend the initial courthouse nuptials (via CheatSheet).  According to Soap Dirt, there was a good reason Tammy wasn't present at Amy's first wedding. She was taking diet pills at the time that were making her so sick the reality star worried she'd throw up in front of everybody and spoil Amy's big day. Thankfully, she made it through the second ceremony with no issues. Tammy explained on the show that it had nothing to do with any personal issues between her and Amy, since she adores her sister and only wants the best for her. However, Tammy couldn't take the chance with the medication she was on at the time. 
"1000-lb Sisters" documents the Slatons' struggles to lose weight and gain control over their lives, with Amy faring considerably better than her sister, who ended up housebound by the close of Season 2. Tammy has tried everything over the years but can't seem to find a program that works for her, although, as TV Shows Ace reports, she appears to be doing much better these days. Hopefully, the reality star can stay on the right track and not miss any other important family events in future.