Here's What Bill Whitaker Really Thinks About Alex Trebek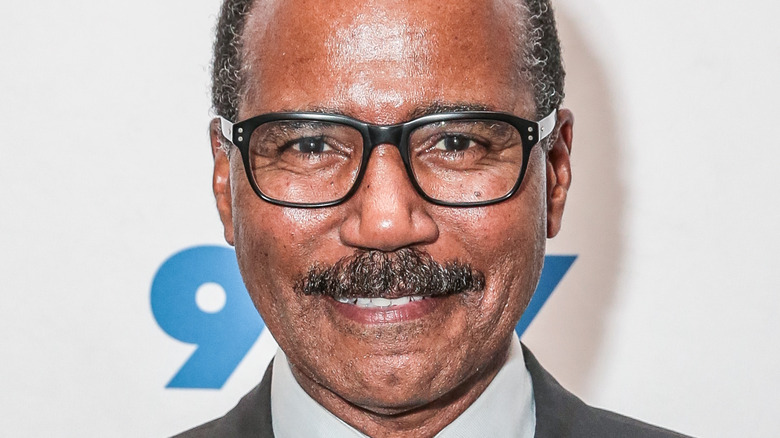 Cj Rivera/Getty Images
Famed journalist and "60 Minutes" correspondent Bill Whitaker is the latest in a long line of guest hosts to appear on the iconic television game show "Jeopardy!." Whitaker will be taking over the series for two weeks to fill in for the late Alex Trebek (via CBS Boston). On receiving this honor, Whitaker said, "Was I nervous? Yes. This is a totally different animal. I've been doing the journalism thing for more than 30 years and I could almost do it in my sleep ... but this is different."
Whitaker will begin his hosting stint on May 3, following his coworker Anderson Cooper's run on the series. Other celebrity guest hosts scheduled to appear are Savannah Guthrie, Robin Roberts, and David Farber. Whitaker talked to The Washington Post to reveal his thoughts about stepping into his new position. He told the publication he found his first day on set jarring because he is an avid viewer of the series. "A couple of times I had to pinch myself to say, 'Oh my gosh! Look where I am. This is crazy.' It looks just like it looks on television. You're not watching on the box, you're actually there." The journalist also shared his thoughts on  Alex Trebek's long run as host.
Bill Whitaker had nothing but kind words for Alex Trebek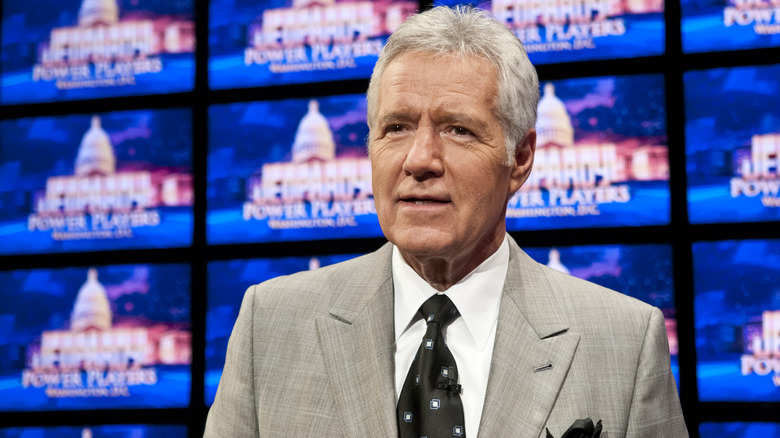 Kris Connor/Getty Images
Bill Whitaker told The Washington Post that he spent a lot of his time on the "Jeopardy!" set thinking about Alex Trebek. He added that he thought the late host was amazing and made his job look easier than it actually is. Whitaker said, "He was always kind and personable and he seemed to be brilliant himself. He made the contestants feel welcome and appreciated." The "60 Minutes" correspondent also shared that he was impressed by Trebek's ability to make all of the contestants feel like his focus was on them despite how hectic the show is.
Whitaker revealed that a few years ago when he lived in Los Angeles, he spotted Trebek at the Hollywood Bowl while enjoying a beautiful summer day with his wife. He noted that people began clapping for Trebek when they noticed him and that by the time the game show host got to his seat, the audience erupted into a full-on standing ovation. "He had that kind of impact, made that kind of an impression on people. Everybody liked Alex Trebek," Whitaker said. "So it was intimidating and wonderful to be tapped to stand on the same stage where he ruled for so long."