How Much Is SZA Really Worth?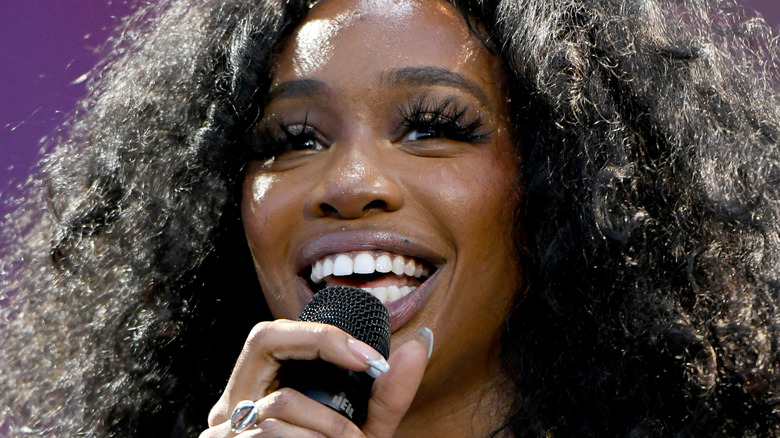 Craig Barritt/Getty Images
Solána Imani Rowe, professional known as SZA, has taken the world by force with her incredible bops that illicit a sense of nostalgia and longing. 
She has made a career for herself within the world of music not by forcing herself into a specific mold, but rather by standing out through her fusion of hip hop, R&B, indie rock, and more, creating something reminiscent of neo soul. Since the start of her career in 2010, SZA has released a series of albums. In 2012, she released her debut album, entitled "See.SZA.Run," an EP that put her unique music style on the map. 
In 2013, she released her second EP, "S," which eventually led to her signing with the label company Top Dawg, who have also worked with the likes of Kendrick Lamar, Isaiah Rashad, and ScHoolboy Q, (via HypeBeast). The following year she dropped "Z" which featured upcoming artist at the time, Chance The Rapper, as well as Lamar and Rashad. 
Although fans are (impatiently) waiting for the highly anticipated "A" release to complete the trilogy – though her wildly successful debut 2017 album "Ctrl" definitely helped with this – onlookers are wondering just how much money the singer has earned up until this point. 
SZA has been raking in success and dollar bills
So how money has the young singer's incredible success amassed her? According to Celebrity Net Worth, SZA is worth an impressive $3 million.
Her ascent into mainstream media began in 2017 with the release of her debut album, "Ctrl." She has called the album "grimy," and believes that the "truth" found within the album exposes her "skeletons," (via Entertainment Weekly). Critical reception of the album, which many considered her true debut into the spotlight, was incredibly positive. It debuted on Billboard 200 as No. 3, and received four Grammy nominations, as well as a ranking of "Best Album of the Year" by Time. 
Most recently, SZA can be found performing alongside the singer-rapper Doja Cat for their new song, "Kiss Me More," (via Rolling Stone). The accompanying music video is an upbeat sci-fi vibe that is currently sitting at No. 6 on the Billboard Hot 100 (via Billboard), with fans sharing sentiments such one social media user who calls it, via Twitter, "the summer anthem we deserve."