The Surprising Reason Meghan Markle's New Children's Book Has The Internet Seeing Red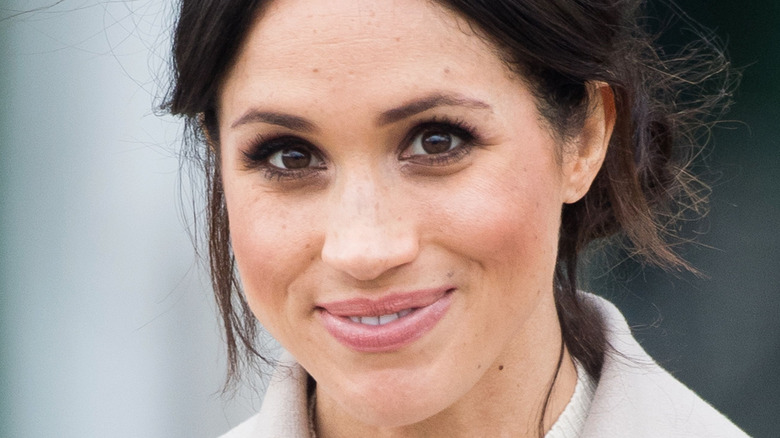 Shutterstock
Since Prince Harry and Meghan Markle made their move to California, they've made good on their vow to pursue their own interests away from the commitments of royal life. In addition to their charitable Archewell Foundation, the couple made a deal with Netflix to produce their own original programming. Earlier this year, they also announced their own personal "production" by revealing that they are expecting their second child, a girl, this summer.
Then in early May came the news that the Duchess of Sussex is about to publish her first children's book. Penguin Random House is releasing "The Bench" on June 8, written by Markle and illustrated by Caldecott honoree Christian Robinson. Robinson told "Today" that "it's really important to me to create pictures that are empowering to as many different kids as possible" (via Twitter). Based on a poem the duchess wrote for her husband on Father's Day, the book "touchingly captures the evolving and expanding relationship between father and son and reminds us of the many ways that love can take shape and be expressed in a modern family," according to the official press release.
The picture book seems like a sweet addition to any family's library, not to mention an appropriate Father's Day gift. Many have voiced unequivocal support. One social media user tweeted: "I hope Meghan Markle moonwalks over every bestseller list for weeks!" But since this is Meghan Markle we're talking about, controversy was bound to follow the project. Sure enough, some are accusing the duchess of violating one of the cardinal rules of writing.
Some think Meghan Markle copied another author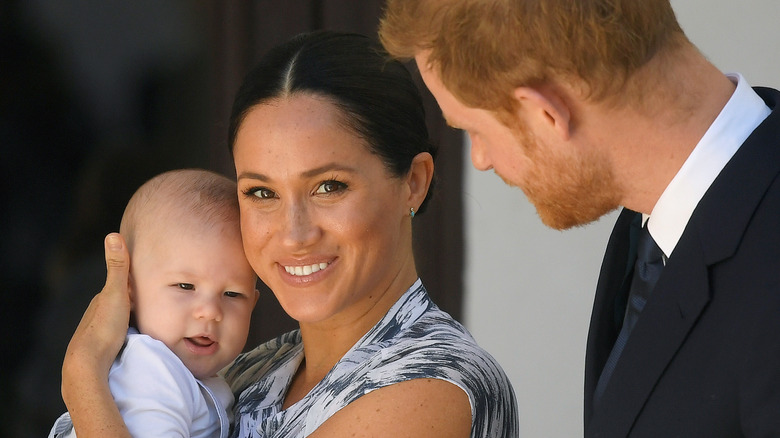 Pool/Getty Images
It seems that a British author named Corrinne Averiss wrote a book three years ago called "The Boy on the Bench," featuring a boy sitting on a playground bench with his father. That prompted outrage among UK Twitter users, who responded with remarks such as "I hope the author of this book is going to sue her, the cheek of this woman!" (via Newsweek). Another observed, "The graphics and the colours are almost identical. She is about as authentic as a $3 bill" (via Today UK News).
Never wanting to be left out, Piers Morgan jumped on the opportunity to write a column condemning the book in Daily Mail, harping on the strained relationship between Meghan and her father. Morgan's column further fanned Twitter's flames, sparking more outrage and calls for the queen to take away her title (via Twitter). If Piers Morgan's and his followers' critique of Meghan's book seems a bit extreme to you, you're not the only one. Media personality Nancy Giles snapped back, "What is wrong with you? Why all the Meghan hate? Did her rejection hurt that much? Have you tried therapy? Meds? You gotta let it go, man" (via Twitter). Another retorted via Tweet: "So if 1 person has a bad relationship with their dad, it must mean that person wants everyone else to have a bad relationship with their dad? Is that your point?!?"
It didn't take long for Averiss, the author of the book that some tweeters claim Meghan plagiarized, to jump into the fray. 
What Corrinne Averiss has to say about Meghan Markle's new book
Averiss wasted no time in promptly condemning the accusations of plagiarism as rubbish. In a statement she released (as reported by the Daily Mail), the children's author said, "Reading the description and published excerpt of the Duchess's new book, this is not the same story or the same theme as "The Boy on the Bench." I don't see any similarities apart from the use of a bench — which exist in as many stories as they do parks and gardens."
A look at the two books on Amazon shows that "The Boy on the Bench" tells a specific story about a boy named Tom who feels too shy to join the other children on a busy playground until he finds the courage to help a girl who lost her toy. "The Bench," on the other hand, is a rhyming book about the little moments that fathers and sons share. Saying that Markle plagiarized Averiss' book is like saying Dr. Seuss ripped off Shel Silverstein because "The Lorax" and "The Giving Tree" both feature trees.
The Duchess of Sussex, meanwhile, has revealed in a statement that she worked closely with illustrator, Christian Robinson, to "depict this special bond [between fathers and sons from all walks of life] through an inclusive lens." Meghan further wrote, "My hope is that "The Bench" resonates with every family, no matter the makeup, as much as it does with mine."