What You Should Know About Anuel AA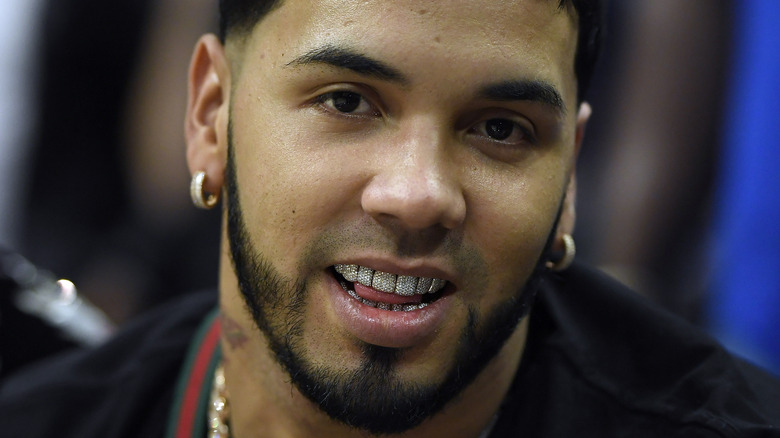 Kevork Djansezian/Getty Images
Puerto Rican singer Anuel AA has become one of the biggest names in reggaeton in just a few years. Anuel AA, whose real name is Emmanuel Gazmey, started publishing his music online in 2010 and soon amassed a legion of fans worldwide. 
In 2016, the rising star ran into some legal troubles after being arrested and convicted on weapons possession charges, although the singer claimed to know nothing about the guns (via Latin Times). He was sentenced to 30 months in prison, and during that time, he continued to record and release music (via All Music). His famous collaborators include J Balvin, Daddy Yankee, and Ozuna, with whom he released the joint album "Los Dioses" earlier this year (via Vulture).
While he's extremely popular among Latin music fans, the 28-year-old artist has also received strong criticism. In 2018, Anuel AA publicly apologized after someone leaked an offensive song that was rife with homophobic lyrics and insults directed at rival artist, Cosculluela, among others (via Billboard). "I apologize to all the people I offended. To homosexuals, to people with AIDS, to La Taina [the model] and to those who lost everything after Hurricane Maria ... My fans deserve from me to be a better person, and I apologize to everyone in Puerto Rico," he said in a five-minute video apology following the leak. 
Despite all the controversies, however, Anuel AA won Billboard's Latin Music Award for New Artist of the Year in 2019.
Anuel AA dated fellow Latin singer Karol G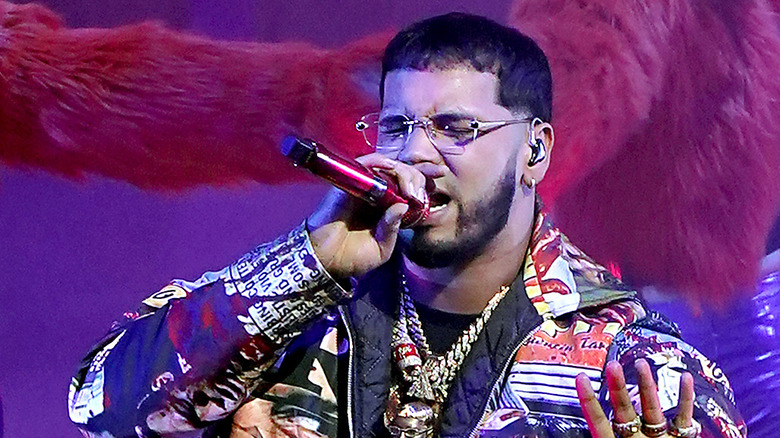 Alexander Tamargo/Getty Images
Anuel AA met Colombian Latin singer Karol G while shooting the music video for their first collaboration "Culpables" in 2018 and soon fell in love (via Glamour Mexico). After months trying to keep their relationship secret, the couple confirmed their status when they shared a kiss at a New York show. Anuel AA and Karol G then went into working on several songs together including "China," "Location" and "Secreto." The couple had an on-and-off relationship for almost three years and even announced they planned to get married. However, in April 2021, the artists confirmed their breakup. "The truth is that we're not together," Anuel said on an Instagram Live on April 20 (via Billboard). 
While the singers are no longer dating, they still care about each other as they both admitted on social media. "There's no negativity between us. We have a great relationship," he said in the livestream. In her Instagram Stories, Karol G shared a similar message. "The incredible things that happened to us as people and artists was a blessing and the result of a beautiful love that arrived in our lives when we most needed it," she wrote. "I love you, Emmanuel, my gratitude towards you, your family, and everything we lived, grew, and learned together is infinite."