This Pencil Bun Hack Is Taking Over TikTok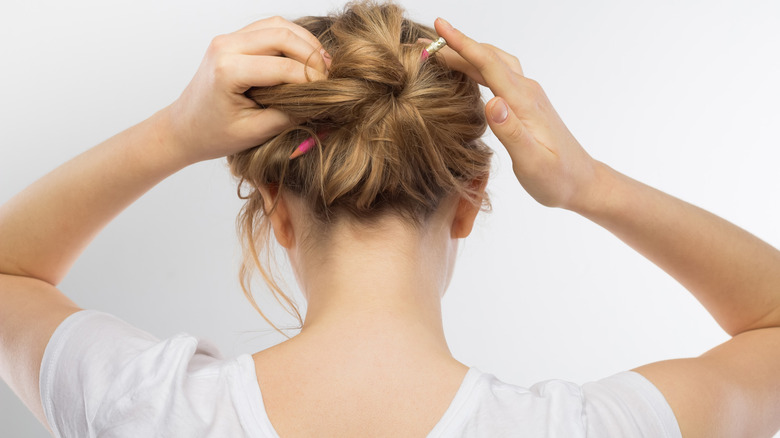 Shutterstock
Since its inception, TikTok has been a source of hair hacks and bizarre beauty tips. According to Into The Gloss, things like the #LipstickChallenge, heated lash curlers, and Manchester Girl Makeup are just a few of the wacky fads that have been taking the internet by storm. 
It's no surprise that a new trend is making its rounds in the social media world as TikTokers try their hand at their own version of the hairstyle aptly dubbed the "pencil bun." Per Allure, the pencil bun was inspired by a scene from the Netflix drama "Money Heist" in which one of the main characters, Inspector Raquel Murillo grabs a pencil from her desk and effortlessly twists her long, dark hair into a near-perfect updo.
So, what is the pencil bun? It's exactly what it sounds like. To create your own pencil bun, you simply wrap your hair around a pencil, twist, and insert the pencil into your hair to hold the bun in place. It sounds simple enough, but is it actually?
The TikTok pencil bun might not be as easy as it looks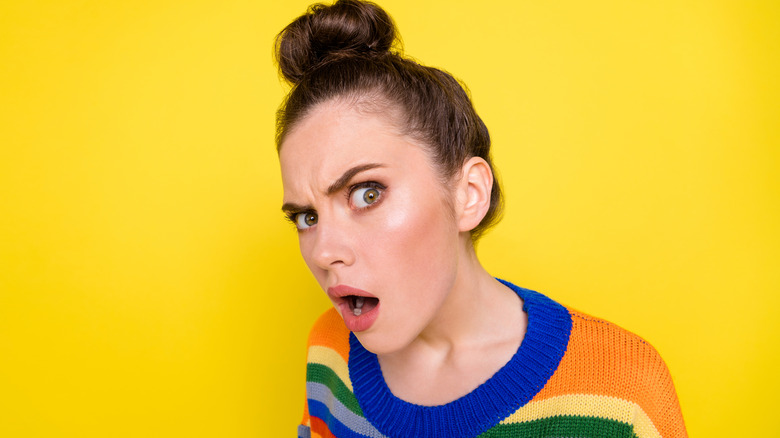 Shutterstock
A quick search for #moneyheistchallenge on TikTok will yield countless videos, which, as of this writing, have amassed more than 73 million views. Many of the videos are of TikTokers attempting their own pencil bun — and some execute it flawlessly. Meanwhile, some add a joke, some create variations such as a side pony, and some make a funny but failed attempt to create a pencil bun that looks just as good as the original. 
In a YouTube video created by Hair.com from L'Oreal, some users make it look easy while another snaps the pencil right in half. While the pencil bun may not be your new everyday hairstyle, if you can get the technique right, you might just have a new go-to on the days you hit the snooze button a couple of extra times or for when you find yourself without a hair tie. Be sure to upload your attempt to TikTok — and don't forget the hashtag!