Melinda Gates' Reported Hideaway From The Press Will Make You Jealous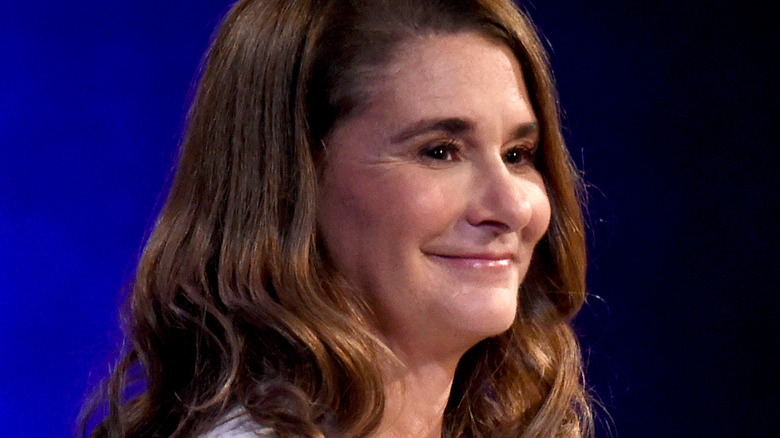 Jamie Mccarthy/Getty Images
Despite celebrities attempting to convince us that they're regular people, from time to time, that carefully crafted illusion falls apart. 
We see it all the time in the media – take Kim Kardashian, for example, who threw an extravagant island destination party for her 40th birthday in October 2020, despite being in the midst of the COVID-19 pandemic. According to her tweets at the time, the goal of her celebration was to "pretend things were normal just for a brief moment in time," (via The Washington Post). Well believe it or not, Melinda Gates is giving off a similar lavish Kardashian energy.
According to reports, Melinda had intended on announcing the news of her divorce to Bill Gates in March 2020, but wasn't ready to do so until she could find a place of recluse to avoid the media. And unsurprisingly, news of the couple's breakup after their 27 year marriage certainly has created quite the ruckus amongst the media, clearly explaining why Melinda would need a break from the world to this luxurious extent.
Melinda decided not to invite this one person on the private getaway
Melinda Gates rented a remote, private island for her and her family to stay at so they could avoid the attention from the media after their big announcement. 
According to The NY Post, she rented Calivigny Island in Grenada, which is costing her a whopping $132,000 a night. The island has been deemed one of the most exclusive in the world, offering 10 luxury suites and a master bedroom with its own jacuzzi room, (via The Sun). She invited her children and their significant others to stay as well, but decided against inviting Bill Gates to the island.
A source reportedly told TMZ that the reason behind the lack of an invite is because the family is angry with him, and that their divorce has not been a friendly one. They added that nearly everyone in their family took Melinda's side, and people were furious at Bill for his part in what led to their ultimate split. Based on this news, it's no surprise that Melinda called their relationship "irretrievably broken," (via The Sun U.S.).