The Shocking Number Of Calories Mark Wahlberg Ate Daily To Gain 20 Pounds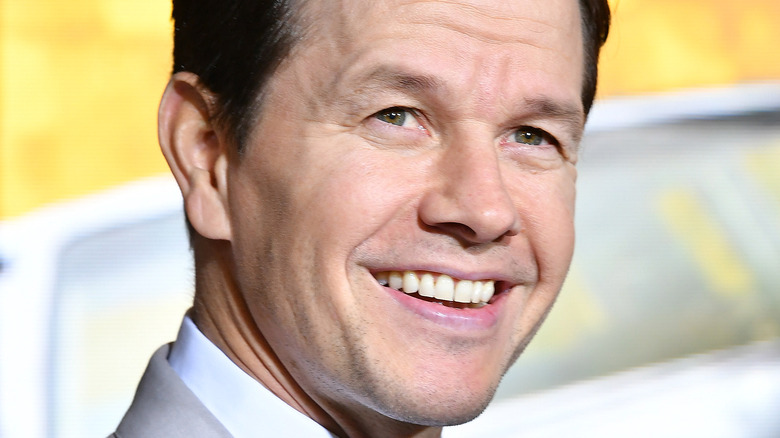 Amy Sussman/Getty Images
In the past, Mark Wahlberg has been known for his extreme body makeovers and gym routines. The BBC reported that in 2018 the actor shared his daily routine which included waking up at 2:30 in the morning, working out twice, and spending an hour on cryotherapy for recovery. It was a lot for many people to take in. And now he's shared his latest transformation for a new role. His chef created a plan to get him ready for his upcoming role in "Stu," and he had to eat a shocking number of calories, daily, to gain 20 pounds. 
Lawrence Duran is Wahlberg's personal chef and he revealed to E! News that he designed a 7,000 calorie-a-day diet to help the actor reach his goal weight. While he revealed to the outlet that the six week diet plan includes Wahlberg gaining another ten pounds before they start shooting, he stressed that his focus on designing a meal plan was to help Wahlberg gain weight in a healthy way.
"We try to hit 7,000 calories a day, but it's not easy for anyone to take in that much food even though we're breaking it up into smaller meals," he explained to E! News, "He's eating about every three hours. We do good carbohydrates, dark green vegetables, and then, just switch up the protein throughout the day and, at least, a dozen eggs a day."
On Instagram, Wahlberg explained that he'd followed the diet for three weeks and had almost reached his goal weight for the role.
His chef has offered a glimpse into Mark Wahlberg's daily meal plan
Eating 7,000 calories a day is no easy task. Mark Wahlberg told Jimmy Kimmel that he thought the process might include more chicken nuggets and beer but he said, "They want me to do it as healthy as possible. I'm like, "Dude, I've been on such a regimen for so long, I just want to eat everything in sight."
Duran told E! News that Wahlberg starts his day at 3 a.m. with four eggs. Then, he'll work out and chase that up with another eight eggs, one cup of rice, six strips of bacon, two tablespoons of olive oil, and a protein shake.
Throughout the day, the actor eats pork chops, fish, grains, and rice every three hours. He finishes the day with "steel-cut oatmeal, two tablespoons of applesauce, two tablespoons of jelly or jam, two tablespoons of almond butter, and a tablespoon of molasses."
Adapting your diet so dramatically can have implications. "We go to a specialist every two weeks to see where we're at and adjust things. We went from taking in about 2,000 calories a day, which is where he was in that first picture – all slim and ripped — eating maybe four meals a day, to eating eight meals a day at about 7,000 calories," explained Duran.