Billie Eilish Reveals The Reason Behind Her Iconic Baggy Clothes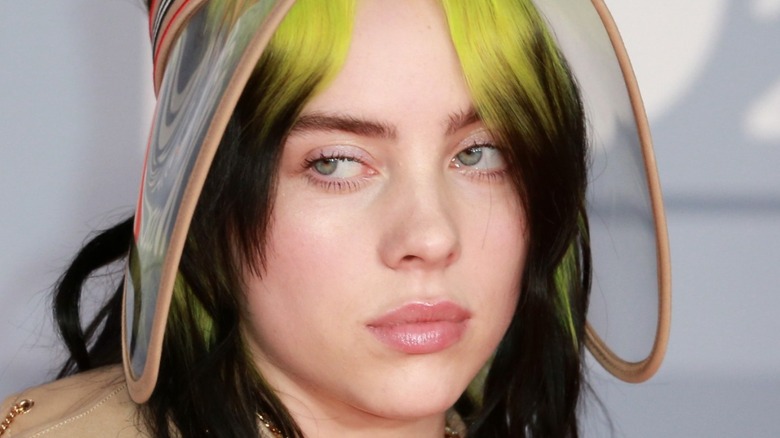 Shutterstock
Billie Eilish isn't looking for your approval. The multitalented singer-songwriter has a jaw-dropping seven grammys in her growing collection of awards (via Recording Academy), and consistently dropped so many viral records that she earned the title of Spotify's most streamed female artist in 2020 (via Daily Mail). But her music isn't the only thing that has people talking. Eilish topped Google's 2019 Year in Search thanks to fans rushing to imitate her distinctive personal style (via Refinery29). 
Eilish's reach is so strong that even if you've never listened to her music before, you've definitely heard about her iconic uniform of baggy clothes and brightly colored track suits. Her clothing choices may be unconventional, but they compliment the star's creative personality. But there's a specific reason why Eilish gravitates towards loose-fitting clothes, and it's more than just a stylistic choice.
Billie Eilish wears baggy clothes for this seriously upsetting reason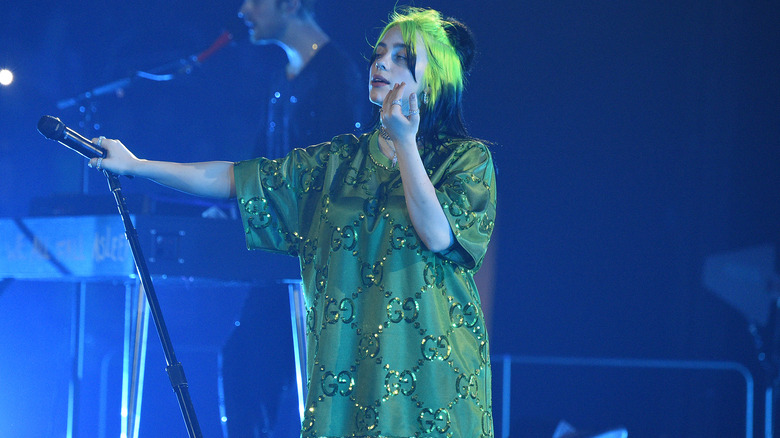 Kevin Mazur/Getty Images
As reported by Seventeen, Billie Eilish appeared in Calvin Klein's 2019 campaign titled "I Speak The Truth in #MyCalvins" and revealed that her baggy style protects her from being sexualized and body shamed. "Nobody can have an opinion because they haven't seen what's underneath," she explained in the video. "Nobody can be like, 'she's slim-thick,' 'she's not slim-thick,' 'she's got a flat a**,' 'she's got a fat a**.' No one can say any of that because they don't know."
Eilish catapulted to fame in 2016 after her song "Ocean Eyes" went viral on SoundCloud, which means that at just 14 years old, she was already thinking about the scary and disgusting possibility of being sexualized as a minor (via Harper's Bazaar). This sad and very real reason speaks volumes about the hypersexualization of young girls in the entertainment industry — the gross sexualization of women, period.
Her style evolution makes a powerful statement about women's autonomy
Billie Eilish has no time for people who try to put her in a box or force her to fit their own idea of what a successful female pop star should look or act like. Because she's known for her iconic baggy clothes, she's faced ridiculous backlash any time she wears an outfit that veers away from this image, including for something as simple as being photographed wearing a tank top.
In May 2021, Eilish's vintage-inspired cover shoot for British Vogue completely broke the internet, and saw the pop star artfully dressed up in corsets and designer lingerie. Already anticipating a negative response to the shoot, which British Vogue confirmed was 100% her own vision, Eilish admonished body shamers. "Suddenly you're a hypocrite if you want to show your skin, and you're easy and you're a s**** and you're a w****," she exclaimed. She firmly added, "Showing your body and showing your skin – or not – should not take any respect away from you."
Her poignant response proves that society is the real problem, not the clothes. Judging women for what they choose to wear is problematic. Pitting women's bodies against each other is problematic. How you decide to react to her personal choices is not her issue.