The One Makeup Brand Billie Eilish Can't Live Without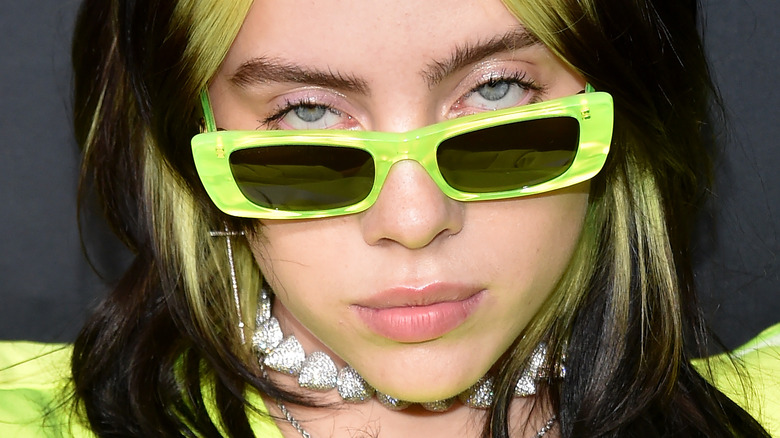 Shutterstock
Billie Eilish can't stop wowing the world. The 19-year-old singer left behind her characteristic baggy clothes and green hair for a pink corset and blond waves to bring out the most feminine side of her personality in her cover shoot for British Vogue. The photoshoot soon went viral, with fans praising her new look. Eilish has been stunning the music sphere since her home-recorded debut single "Oceans Eyes" at age 13, alongside her brother Finneas O'Connell (via Vogue). Her delicate yet mysterious voice became extremely popular among millenials and Gen Zers and won her several accolades, including a Grammy for Album of the Year in 2020 which made her the youngest artist ever to win this award.
Besides her music and awards, Billie Eilish's makeup and fashion choices also make headlines. The artist often opts for colorful clothes with eye-catching accessories while keeping a natural makeup style. The man behind most of her makeup looks is Robert Rumsey, and he's always using this one makeup brand on the singer.
Billie Eilish's Grammys 2020 makeup look was all done with only one brand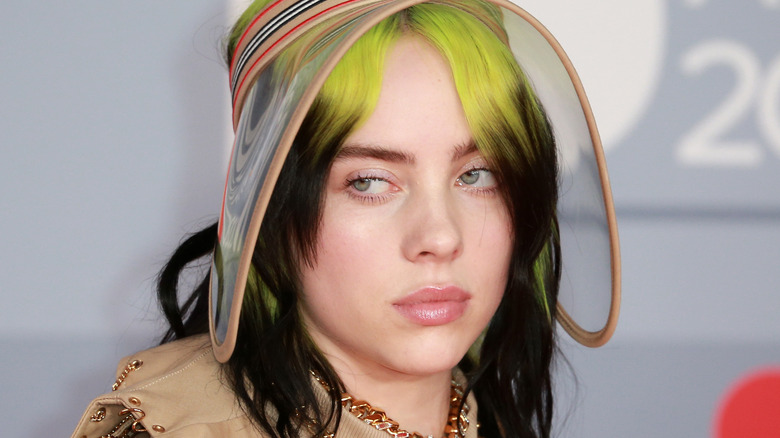 Shutterstock
All of Billie Eilish's most iconic award ceremonies have had something in common: Milk Makeup products. Her 2020 AMAs look, her 2020 Grammys look, and the one for this year's Grammys were all made exclusively with products by the New York-based makeup brand. "My inspo was glow, glow, GLOW, " Eilish's makeup artist Robert Rumsey told Milk about the singer's 2020 look and the AMAs. "I knew she was performing with fire around her. I kept the skin clean with flawless, bushy brows, and perfectly separated lashes. Always a wet lip."
Milk Makeup is vegan and cruelty-free, and considering that Eilish has been vegan for seven years, it makes sense that this makeup brand would be appealing to the singer (via Insider). Rumsey usually preps her face for evening makeup looks with Milk's Cooling Water Eye Patches, Vegan Milk Moisturizer, and the Melatonin Overnight Lip Mask, per Teen Vogue. Rumsey enhances Eilish's staple thick brows and separated lashes using Kush Waterproof mascara and Kush Clear Brow Gel (via Cosmopolitan). When it comes to the skin, Rumsey creates the perfect no-makeup look with Milk's Sunshine Skin Tint, Flex Concealer, Matte Bronzer, and Flex Highlighter.
Considering how much Billie loves Milk Makeup, we hope to see a makeup collab soon.