The Obamas Share The Heartbreaking Death Of Their Dog Bo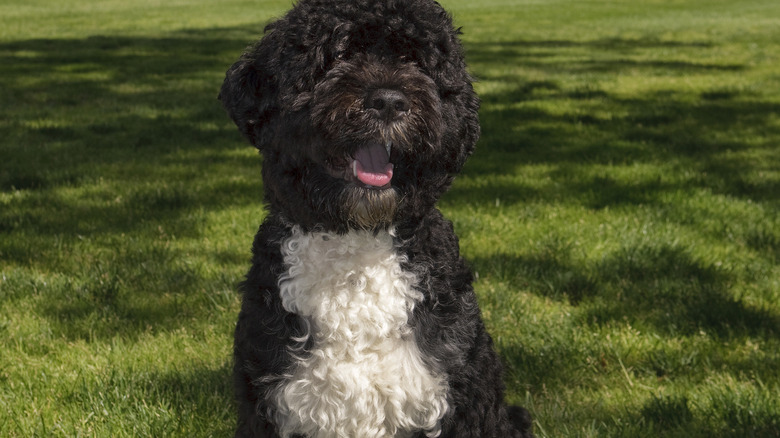 The White House/Getty Images
All dogs gain access to that rainbow bridge equally, and the time has come for former first dog Bo to cross it. Announcing in a heartfelt tribute on May 8, former President Barack Obama shared, "Today our family lost a true friend and loyal companion. For more than a decade, Bo was a constant, gentle presence in our lives—happy to see us on our good days, our bad days, and everyday in between" (via Twitter).
Bo joined the Obama family in the White House in 2009 as the result of a campaign promise made to the Obama children, that win or lose, dad would get them a dog (via the Obama Foundation). The curly-haired pooch was six months old when he arrived in April of that year as a gift from Sen. Edward M. Kennedy of Massachusetts and his wife, Victoria (via The New York Times).
The name Bo was coined by daughters Sasha and Malia. The name was a tribute to their cousin's cat (also Bo), their maternal grandfather (nicknamed Diddley), and the famous musician Bo Diddley himself. Portugese water dogs like Bo are considered low-shedders and hard workers (via AKC). The average lifespan is between 11-13 years for this breed who are generally eager and athletic companions built for water work, too.
Yet this only begins to describe this beloved family pet, and internationally famous pup.
Bo was a beloved member of the family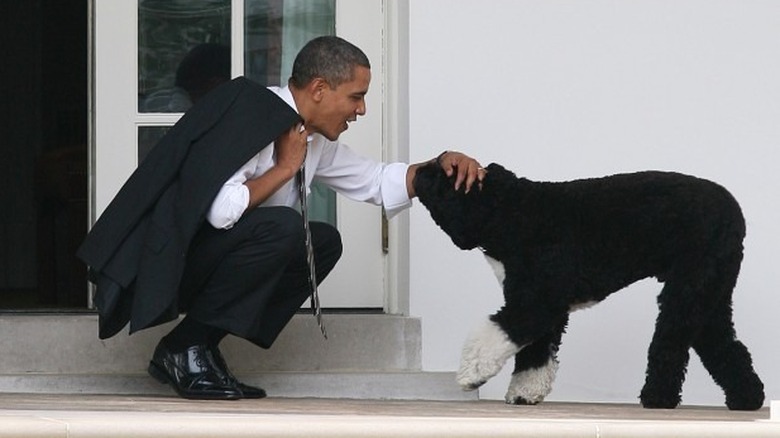 Pool/Getty Images
President Obama continued his tribute to Bo, "He tolerated all the fuss that came with being in the White House, had a big bark but no bite, loved to jump in the pool in the summer, was unflappable with children, lived for scraps around the dinner table, and had great hair."
As part of the Obama dogs, Bo had his own calendar packed full of pawsidential appearances in his role as an official family representative (via The Washington Post). The canine was a regular at Christmas benefits and the Easter Egg Roll, in addition to making sure his family got adequate exercise through the many walks on the South Lawn. Bo also took his duties in helping out groundskeeper Dale Haney and the National Parks workers very seriously, inspecting many of the White House plants (via PBS).
Yet at the end of the day, Bo was most important to his immediate family, the Obamas. In closing, the former president left us with these parting thoughts of his former companion, "He was exactly what we needed and more than we ever expected. We will miss him dearly." Bo is survived by his former co-first-dog Sunny, who joined the Obama family in 2013.