The Lie That Got Rachel McAdams A Role In A Major Film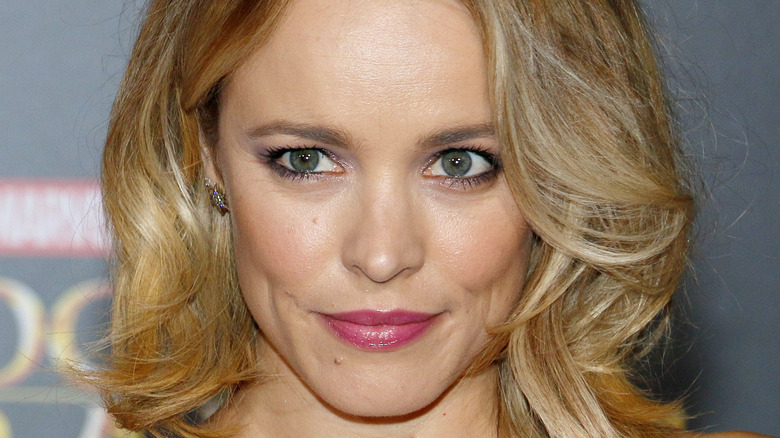 Shutterstock
Rachel McAdams is one of the most beloved and in-demand actors in Hollywood. The Canadian native is well-known for her scene-stealing turns in classic comedies like "Mean Girls" and "Game Night," as well as her breakout role opposite real-life boyfriend, and fellow Great White North defector, Ryan Gosling in "The Notebook" (via IMDb). Suffice to say, McAdams has proven herself adept at tackling comedy, romance, drama and everything in between. Name it, she can do it. 
It's highly surprising, then, to learn the stunning star has frequently been forced to fudge the truth in order to land jobs. Most worryingly, and perhaps indicative of Hollywood's prohibitive standards for women, the actor has been accused of lying about her age in the past, according to Radar Online. Likewise, Elle noted in 2007, "IMDb states (her age) is 30, but is really, truly, ask her mother, 28." Elsewhere, McAdams told a little white lie to nail another key role. 
Rachel McAdams is incredibly dedicated
Brian De Rivera Simon/Getty Images
Rachel McAdams was already well-established in 2012, with several key roles behind her, including both "Mean Girls" and "The Notebook" (via IMDb). Although she had already proven herself a bankable star, when it came to auditioning for legendary director Terrence Malick's latest offering, "To the Wonder," McAdams had to go above and beyond to seal the deal. Vocal noted the Canadian was so determined to be cast in the role of a horse-wrangler, she lied to Malick about being severely allergic to horse hair. She still loves horses regardless, so the actor simply told him that. As Hollywood notes, the lie cost her as, once they got to set and McAdams actually had to work with the horses, her eyes swelled up completely. 
The Canadian may love horses, but she admitted to The Guardian, "I'm very intimidated by them, because they seem to have such a soul. It's almost like they can read your thoughts." Thankfully, some antihistamines helped McAdams work through it and Malick was none the wiser. The actor quipped, "It's like when people ask if you can ride for a medieval film — you think you can just get away with it. And I did, somehow!" 
Evidently, it paid off, as McAdams later gushed to the Los Angeles Times about working with Malick, "He asks us to exercise muscles we don't exercise, in a time when movies have maybe gotten too easy," she said. "We're uncomfortable with the challenge. But it can be so rewarding."