Inside Todd Chrisley's Relationship With His Son Chase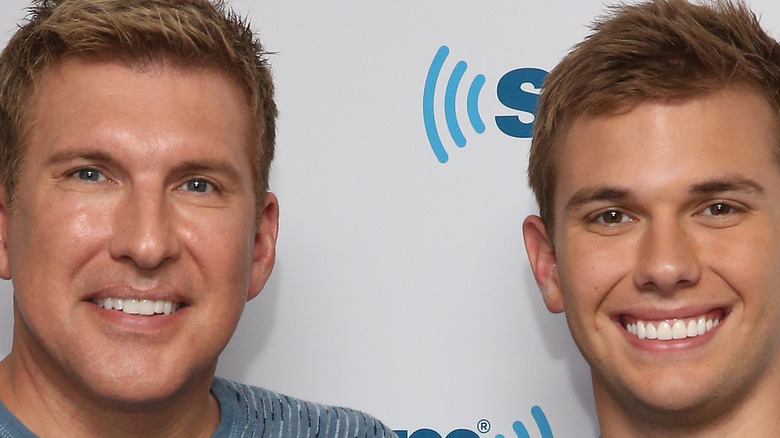 Robin Marchant/Getty Images
Todd Chrisley is one of the most famous patriarchs in the reality television world. On his wildly popular reality tv series "Chrisley Knows Best," the charismatic entrepreneur offers viewers a look at his unique approach to parenting and the many hijinks his various family members get into. 
Though "Chrisley Knows Best" has changed a lot since it first premiered in March 2014, the heart of the show remains the relationship between Todd and his children, specifically Chase and Savannah. As the USA Network series began to gain traction, so did Chase's popularity. Chase has 1.2 million followers on Instagram. 
He's used his notoriety to start his successful candle brand, the Chase Chrisley Collection. Chase is also currently pursuing a career in acting and has a spinoff series, "Growing Up Chrisley," with his sister Savannah, where they pursue their dreams in Los Angeles. While Chase has recently become a lot more independent, he continues to prioritize his relationship with his family.
Todd is very close with his son chase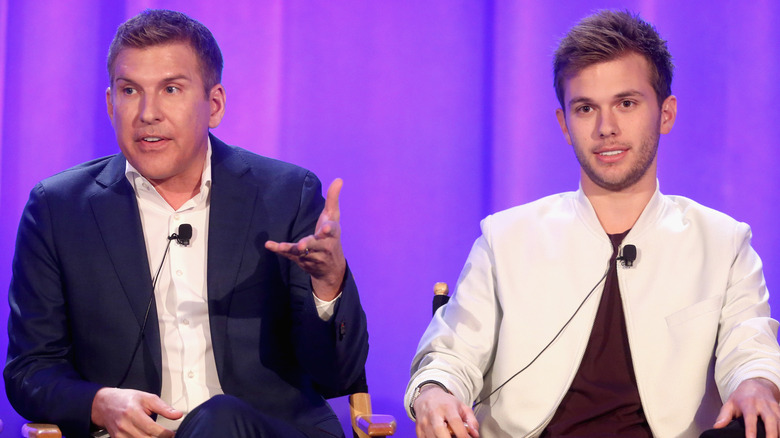 Frederick M. Brown/Getty Images
Watch almost any episode of the long-running series and you'll immediately see that Todd Chrisley and Chase share a strong bond. The pair are very similar to one another. Chase shares Todd's snippy sense of humor and ambition. He also has a deep fondness for pulling pranks on his father.
To celebrate Todd's 47th birthday, Chase teamed up with Savannah to pull a prank on their dad. In an interview for that episode Chase said, "Last year for my birthday, my dad decided to turn our house into a hotel. Now I'm getting my payback. I love messing with my dad, so this year for his birthday, I plan on just driving him crazy every chance I get."
Though the father and son love to joke around with each other, they also support each other through the more difficult moments in life. Whenever Chase has a setback in life whether it's professional, financial, or romantic Todd is always there to help his son however he can.
Todd is very involved in Chase's love life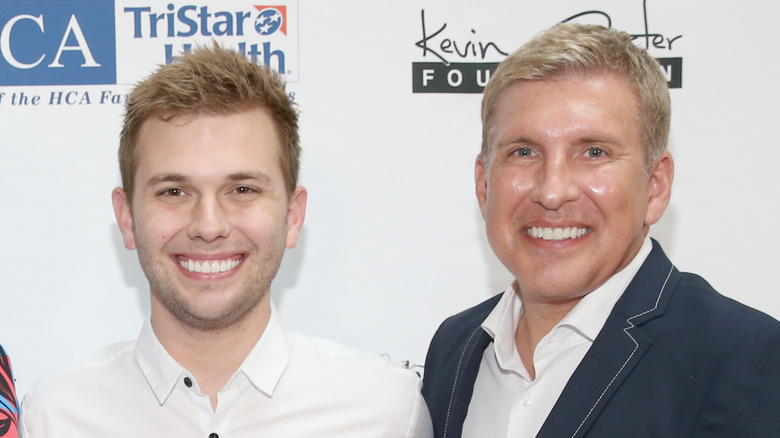 Terry Wyatt/Getty Images
In a 2018 episode of the series, Chase Chrisley breaks up with his girlfriend Brooke Noury. In an interview from the episode, Todd Chrisley said, "Listen, I'm not gonna say anything bad about anyone. If I don't like ya, I don't like ya. But my child, Chase, is broken-hearted over the fact that he's single from someone that none of us like, I'm not going to lie to you, that gives me great comfort."
Later in the episode, Todd takes it upon himself to set Chase up on two blind dates with women he thinks would be a good fit for his son. The two dates Todd sets up for his son weren't a success but this certainly wasn't the last time Todd meddled in Chase's love life.
Ultimately, Todd is a helicopter parent. He loves to know what his children are doing at all times and wants to steer them in, what he believes to be, the right direction. Regardless everything he does for Chase is out of love, which he explained in the caption of a birthday post for his son he shared in 2020. "My heart is always full with love for you and I take great pride in being your safe place to always come home to."