The Father Of Jan's Baby On The Office Finally Revealed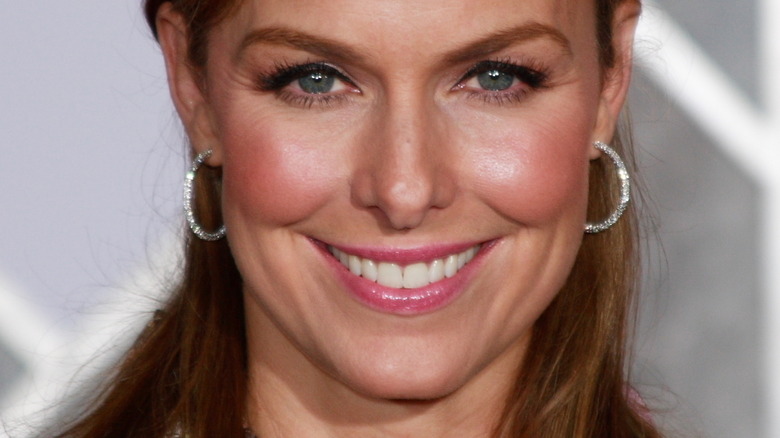 Shutterstock
One of the mysteries of "The Office" — like what was in the teapot note from Jim to Pam — is who was the father of Jan Levinson's baby. It definitely wasn't Michael, and she confirmed that while she got pregnant when she was with Michael. It wasn't because she cheated on him, but because she went to a sperm bank — "the really good one, next to the iHop." And while he wasn't the dad, Michael pitched in to help Jan through her pregnancy, including having Dwight mimic giving birth to a slippery watermelon. But the show ended without mention of who the father of baby Astrid was.
It's been eight years since "The Office" finale, but thanks to Jenna Fischer, who played Pam, and Angela Kinsey, who played Angela, we finally know the answer. The co-stars and best friends have a podcast called, fittingly, "Office Ladies," and in their episode "Goodbye Toby, Part 2," they dropped the bombshell. The father of Jan's baby was — drum roll, please! — Andy Roddick. Yep, the tennis star.
Andy Roddick was a big fan of The Office
In the podcast, Kinsey describes the reveal, which also came as news to Fischer. A scene was written into the script, but it never made it to air. Here's what was supposed to happen:
Jan told Michael she paid "top dollar" but it paid off since she got Andy Roddick's sperm. "The tennis player?" Michael asks. And Jan says, "Well, it's a little more than that. He's the sixth-ranked player in the world and he's won four grand slams." "That's a lot of grand slams, I guess," says Michael. Jan then says, "And he's a humanitarian — something with orphans." Then it's quiet, and when Jan says, "Michael?" Michael responds with, "Can I just sit here for a minute without more things coming into my head?"
Fischer goes on in the podcast to explain why that happened; it turns out that Andy Roddick is friends with Rainn Wilson, who plays Dwight, and was a big "Office" fan, which is why the role of Jan Levinson's sperm donor went to him.