The Real Reason You Don't See Todd Chrisley's Siblings On The Show
Shutterstock
Fans of "Chrisley Knows Best" will already be intimately familiar with patriarch Todd Chrisley, his wife Julie, and their gaggle of preternaturally blond children. The lovable family has been starring in their own reality show since 2014, and in the years since, we've come to know many different members of the Chrisley brood including Todd's mother, Nanny Faye, and his granddaughter, Chloe, of whom the dedicated family man and his wife have had custody for several years.
Todd and Julie's kids, Chase and Savannah, have such a sweet bond that the siblings were gifted their own spinoff show, "Growing up Chrisley," which charted the duo's adventures in California. However, Todd's own brothers have never made an appearance on the hit series. Considering how dedicated the proud Christian is to his brood, even making amends with estranged son Kyle, it's surprising we don't know more about them. So, why haven't they been on "Chrisley Knows Best"?
Todd Chrisley's brother, Randy, has a troubled background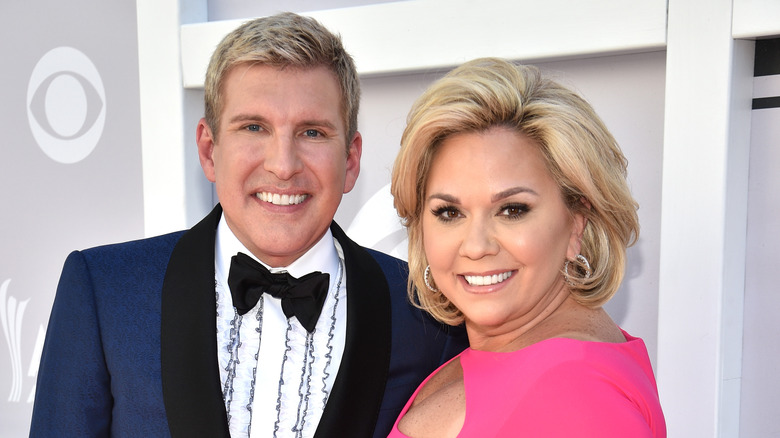 Kevin Mazur/acma2017/Getty Images
Todd Chrisley originally had two brothers, Randy and Derrick, but Networth Reporter confirms Derrick sadly died at just 4 months old, in 1971. Todd posted a Christmastime throwback on Instagram, which showed him and Randy playing with toys on the living room floor with a festive tree in the background. "God bless my mama, she worked 60 hours a week in a textile mill to make sure we had everything we wanted and needed," the reality star captioned it. According to People, although Todd clearly still has a lot of love for his brother, in 2016, Randy's wife, Pamela, was arrested after she attempted to blackmail the Chrisley clan by threatening to sell a story about them to notorious tabloid The National Enquirer. 
Todd tackled the rumors head-on in an Instagram post, clarifying, "Pamela has been involved in a scheme with other individuals in GA and SC to extort hundreds of thousands of dollars from our family because my brother filed for divorce from her." However, Radar Online also reported on a 2016 arrest involving Randy and an allegation of shoplifting, after Todd's younger brother allegedly attempted to steal $22 worth of candy from a Dollar General store. According to Distractify, Randy was also diagnosed with cancer in 2014 but appears to have fully recovered. Suffice to say, the two brothers have quite a complicated relationship, which may explain why Randy hasn't shown up on "Chrisley Knows Best" as of yet.