The Truth About Jennifer Garner And Jill Biden's Relationship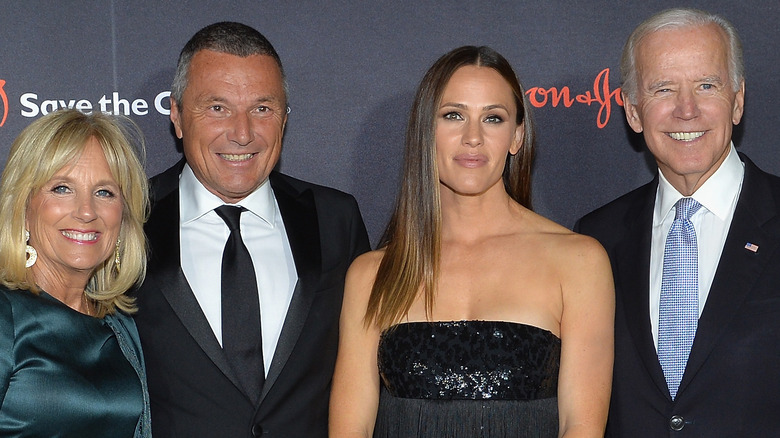 Noam Galai/Getty Images
Jennifer Garner is probably best known for her role in the popular television show "Alias" or for movies like "13 Going on 30," but the Hollywood A-lister is also an influential activist for children's issues, and her dedication to the cause has sparked a long lasting friendship with First Lady, Dr. Jill Biden (via IMDb).
In fact, on Thursday, the two will be traveling together to the Arnoldsburg Elementary School in Arnoldsburg, West Virginia, as well as to the Capital High School's vaccination site in Charleston, West Virginia. Garner is from Charleston, and she has been helping to promote getting vaccinated amidst the COVID-19 pandemic. Additionally, Garner and Dr. Biden are both Save the Children board members, as reported by People.
Visiting schools is just one way children are being supported by the Biden administration. Last year, Garner showed her support for the Bidens campaign. In particular, she discussed in an Instagram Live how they prioritize child-focused work. The stream also touched upon the friendship between these two women.
Work centered on children is important to both Jennifer Garner and First Lady Dr. Jill Biden
The live conversation between Garner and the First Lady of the United States happened on October 6, 2020. During it, Dr. Biden said, "We've had this relationship for years and years."
And the world got to see the relationship, as the pair discussed topics such as climate change, military families, and hope for the future. Of course, a good portion of time was devoted to children, with Garner telling Dr. Biden, "I have seen, as a teacher, you putting your relationship with your students above all else, because you really do see that as a sacred pact."
Recently, more positive steps were taken in this direction. President Biden signed the American Rescue Plan into law in March, which is expected to bring over five million children out of poverty, and he announced in April the American Families Plan, an investment in the future of kids, families, and the economy (via whitehouse.gov).