Shanna Moakler Has More To Say About Kourtney Kardashian And Travis Barker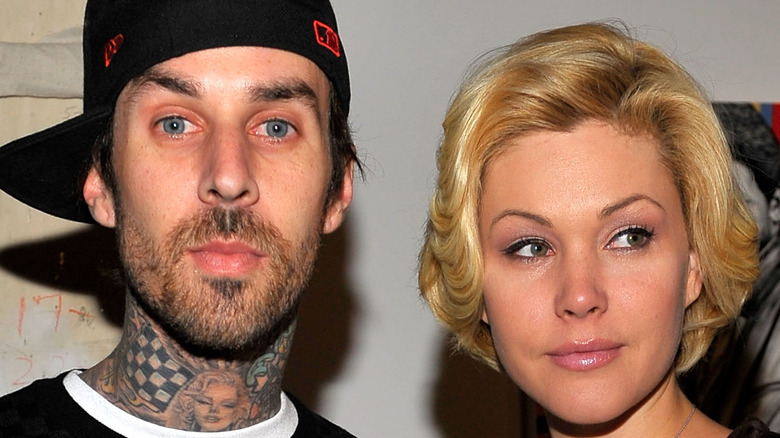 Charley Gallay/Getty Images
Kourtney Kardashian and Travis Barker continue to let everybody know that they're not just in love, they're crazy in love. The latest incident in their whirlwind romance occurred on Instagram, of course, where the reality star shared videos and pics of a tattoo that read "I love you," which she'd inked on the Blink-182 drummer's inner forearm herself. "Woman of many talents," Barker commented on the post. The move follows his inking Kardashian's first name on his chest just last month, as People reported at the time.
Prior to that, there was the gift of a Goop candle entitled "This Smells Like Kourtney's Orgasm" (via People), along with various PDA-laden outings. Suffice to say, these two are intent on sharing their blossoming romance with the world whether anybody wants to see or hear about it or not. One person who decidedly isn't impressed with all this oversharing, however, is Barker's ex-wife, Shanna Moakler, with whom he shares two children. As far as the former Playboy model is concerned, it's all a bit much.
Barker's ex is experiencing intense deja vu
Over the past few weeks, Shanna Moakler has been accused of taking shots at her ex-husband, Travis Barker, and his new lady, Kourtney Kardashian, in response to their gooey social media posts. As the model told People, however, her attitude to the new relationship has nothing to do with jealousy. "I'm very much over my ex. It's been a long time," she stated. However, at the same time, Moakler acknowledged the influx of PDA-laden posts is "weird." Explaining her position, she pointed out classic flick "True Romance," which the new couple appears to be "bonding over," judging by recent events including the Blink-182 star's "you're so cool" tattoo, was actually the theme of their wedding. Likewise, "Our daughter's [Alabama] named after the character in the movie," while "Flying banners overhead" was something the couple did on their short-lived reality show "Meet the Barkers." 
All things considered, Moakler admitted she finds the overlaps quite strange. At the same time, the mother of three was adamant she feels "no ill will" towards Kardashian and Barker, making it clear she hopes things work out for them in the long run. "I'm really, genuinely happy for him. I want the father of my kids to be happy and to have a partner that makes him happy ... and a better father," she reasoned, noting, "As long as she's good to my children, that's truly all I really care about." Anything she posts, meanwhile, is in good fun.