The Truth About Cheating Rumors Swirling Around Porsha Williams' Fiancé, Simon Guobadia
The public was first introduced to Falynn Guobadia and her ex-husband (well, future ex-husband, since the divorce has yet to be finalized), Simon Guobadia, during the previous season of "The Real Housewives of Atlanta" that aired in late 2020 and early 2021. Falynn (who is not a cast member on "RHOA") became friendly with "RHOA" star Porsha Williams throughout the course of the season, according to People. On Monday, just a month after the season finale of "RHOA" aired in April of 2021, Williams revealed in an Instagram post that she was happily dating Simon, just five months after he began divorce proceedings with Falynn. "Our relationship began a month ago — yes we are crazy in love," Williams said in the Instagram post. "I know it's fast but we are living life each day to its fullest. I choose happiness every morning and every night." For his part, Simon also posted a rather lengthy statement about their budding romance on his Instagram profile, adding that the couple was actually engaged.
Just two days after the couple announced their engagement, Jessica Harris revealed to Baller Alert that she actually had a romantic entanglement of sorts with Simon that began on March 30 (via Instagram). According to Harris, the pair exchanged DMs as recently as May 9. Though the divorce proceedings between Falynn and Simon began in January, Harris' claims make it appear as though Simon may have been cheating on Williams.
Simon is going to great lengths to establish his innocence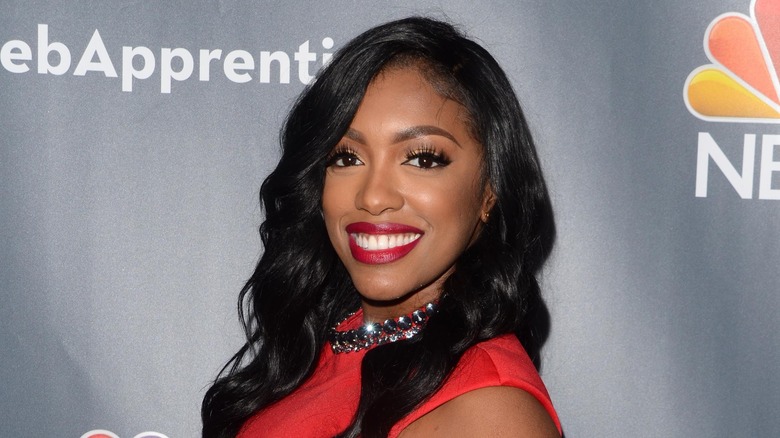 Shutterstock
During her interview with Baller Alert, Harris alleged that Simon had been calling and texting her every day — even while Simon was supposedly talking to Williams (via Instagram). She claims to have not realized that Simon was dating Williams at the time. On Thursday, Simon responded to these allegations by posting a photo of an image of Harris in his car on March 31, along with a caption that detailed his innocence and offered a cash reward to anyone who could provide the "receipts" that prove he cheated on his ex-wife and fiancé. "If anyone can show credible receipts that I cheated on my ex-wife between 6/14/2019 (date of marriage) and 1/15/2021 (date of initial divorce filing), I have $50,000 waiting for you," Simon Guobadia, who is worth a significant amount, wrote in an Instagram post. "In the meantime, we have timeline issues with someone claiming to have dated me at the same time as my fiancé Porsha. I have an extra $25,000 for any receipt showing that this actually happened. Let's get to some facts."
Though the comments are turned off on Simon's Instagram post, no one seems to have come forward with these receipts just yet.