Another Retailer Just Dropped Chrissy Teigen's Products
Dimitrios Kambouris/Getty Images
Retail giant Macy's has dropped Chrissy Teigen's kitchen line from their website following the controversy surrounding her past online behavior. As the Daily Mail reports, Macy's decision to disassociate from Teigen came after a string of tweets and messages resurfaced, in which she allegedly told a then-teenage Courtney Stodden to take their own life. 
Stodden — who identifies as non-binary and goes by "they/them" pronouns — also revealed that Teigen is yet to apologize to them directly and later put pressure on companies to drop Teigen from lucrative product deals, claiming that it isn't "a good look" for major brands to associate with someone who "encourages a minor to commit suicide." 
Taking to Twitter shortly after her previous tweets and messages came to light, Teigen apologized, writing, "Not a lot of people are lucky enough to be held accountable for all their past bulls*** in front of the entire world." She continued, "I'm mortified and sad at who I used to be. I was an insecure, attention seeking troll ... I am ashamed and completely embarrassed at my behavior but that ... is nothing compared to how I made Courtney feel."
However, it seems the damage has already been done, and by Sunday, May 16, the Cravings by Chrissy Teigen kitchen line had been removed from Macy's website (via The Sun). 
If you or anyone you know is having suicidal thoughts, please call the National Suicide Prevention Lifeline​ at​ 1-800-273-TALK (8255)​.
Macy's isn't the only retailer to ditch Chrissy Teigen's kitchen line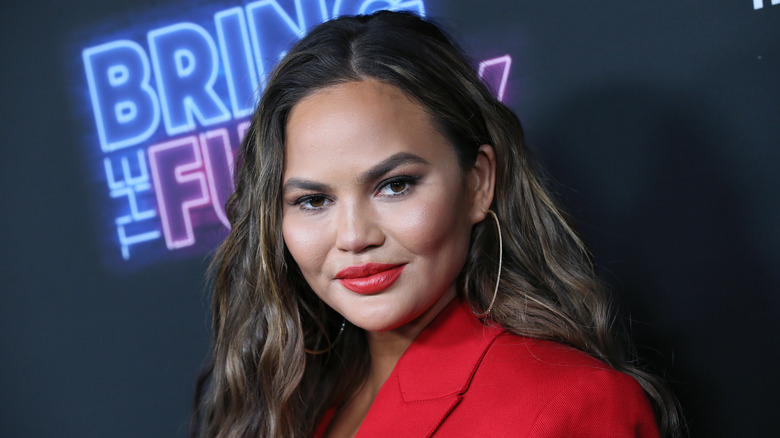 David Livingston/Getty Images
In the wake of Chrissy Teigen's social media apology, Stodden called out the model and TV show host once again, explaining they weren't able to read the apology online as Teigen had blocked them on Twitter (via the Daily Mail). "I feel if she was sincerely sorry she would have at least got in touch with me privately. She said she did but she didn't." Offering words of encouragement to those who have experienced similar "harassment and bullying," Stodden continued, "I think anybody dealing with a bully — you are so worthy and no matter how in power that bully is or how popular that bully is, life is always worth living."
Elsewhere, Macy's isn't the only major retailer to have cut ties with Teigen in recent months. Per The Sun, Cravings by Chrissy Teigen was also removed from Target's website shortly after news of the controversy broke. However, a spokesperson claimed that the company's decision to remove the kitchen line had nothing to do with Stodden's comments. 
"We made the mutual decision in December to no longer carry the cookware line, given our continued focus on brands we develop and that can only be found at Target," a company spokesperson said in a statement.